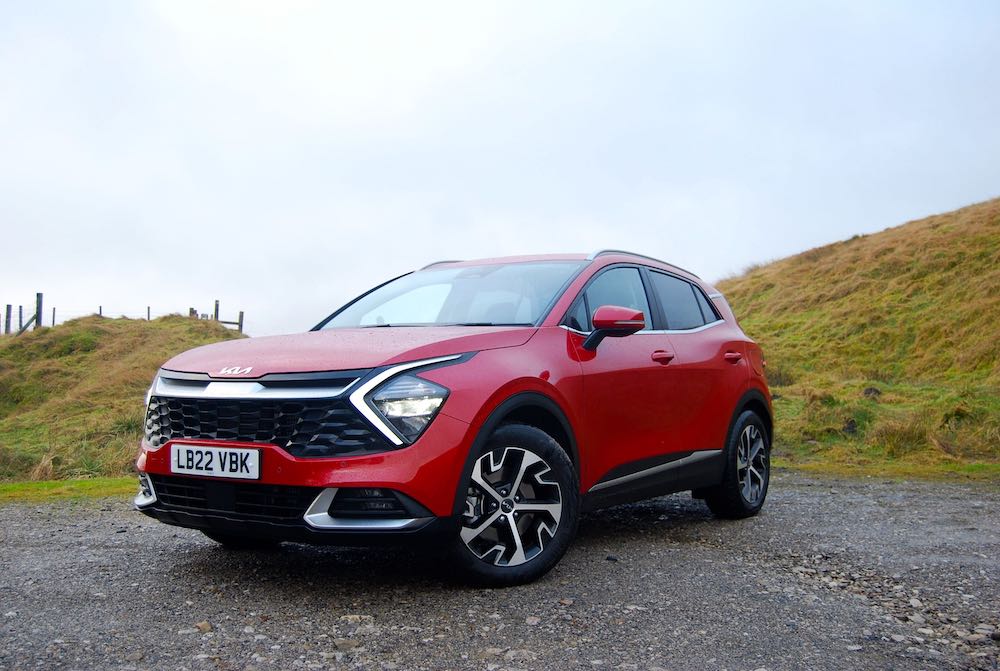 Kia Sportage
The Kia Sportage is the modern-day VW Golf. Yes, I am aware that the Golf is still in production, and – yes, I know that one's a German 5-door hatchback and the other's, well, not, but stick with me on this one. I'm not the first person to say that for decades the standard answer to 'What car should I buy?' has been 'A Golf'. But with the current insatiable taste for SUVs/crossovers, I've found the answer more people actually want to hear is this – the Kia Sportage.
Now in its 5th generation, the Sportage is a very recognisable fixture on the streets of the UK, Europe and worldwide. We love it so much in Blighty that it's regularly one of the best-selling cars here. We're not the only ones, though, the rest of Europe is also a bit partial to a Sportage, so much so that Kia justified making one specifically for us. The rest of the world gets a slightly larger SUV affair, but we just love the Sportage as a five-seat crossover, so that's what they gave us.
Shades of EV6
It was the 3rd-gen Sportage that really gained Kia a reputation for well-built, reliable motoring, followed by Schreyer's 4th-gen version that grabbed everyone's attention with its daring, unconventional look. This 5th-gen Sportage takes the design baton from its predecessor and sprints with it. The trademark tiger-nose grille is still there, just, but now it's flanked by ultra-slashy boomerang DRLs. The glass-housing has been reduced to add a sleeker look from the side and at the rear there's more than a hint of Kia's all-electric model, the EV6. It's all part of Kia's 'opposite united' design, apparently.
Much improvement inside
If you thought the Sportage's daring new body was radical, wait until you see the inside. Traditionally an area that let South Korean cars down thanks to some suspect plastics and bland design, the Sportage has ripped up that particular rulebook. There's a swoopy, curved screen incorporating both driver's info and infotainment/climate displays and it, quite unsurprisingly dominates the dashboard. That's not to say it's an exercise in designer minimalism, though, there's thankfully plenty of buttons and switches remaining for those functions you want to quickly access. Our '3' spec test car came with USB sockets in the back of the front seats for rear seat passengers; such a good idea and one I'm sure other manufacturers will copy soon if they haven't already.
Not only will those rear passengers have fully-charged phones, they'll be sat in some pretty high levels of comfort, too. The seats are elevated and well supported with a good view out and plenty of head and leg room even behind taller front seat occupants. The boot doesn't suffer to make space in the back either. Even with the rear seats in place there's 591 litres of available space, put the seats down and it's an impressive 1,780 litres.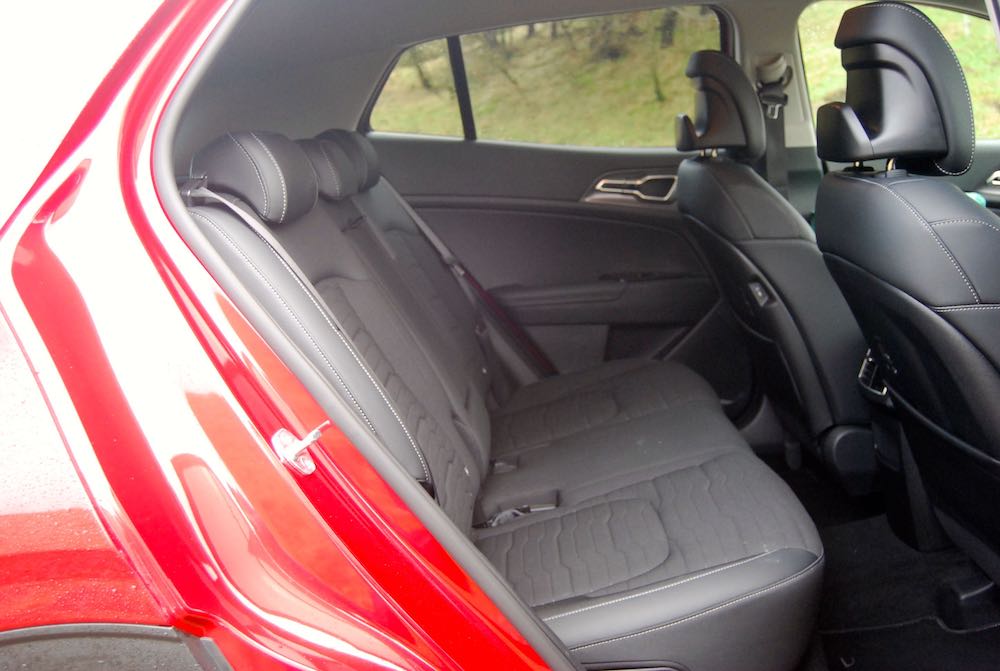 Which engine?
When it comes down to engines for your Sportage, the selection process has been trimmed somewhat. It's essentially a 1.6 litre, turbocharged petrol engine or, well, nothing. The diesel's gone which is a shame as they suited the Sportage's character nicely. Your engine options come down to either a non-hybrid with 148bhp, a 48v mild-hybrid – again with 148bhp, a hybrid electric with a 1.49 kWh battery that has a total of 226bhp, or the all-singing, all dancing plug-in hybrid with its 13.8 kWh battery and a combined total of 261bhp.
If you want a manual gearbox it's the 1.6l, non-hybrid we've got here only, all hybrid Sportages are either a true auto or DCT auto. The same rule applies to speccing your Sportage with AWD; it's available with every engine except the non-hybrid.
So, this is the cheapest, most basic engine available in your Sportage, in mid-range 3 spec. The Sportage range starts at £27,800 for the 2 spec version with the same engine, this one is £32,000. Performance isn't exactly breathtaking with 0-60mph taking 9.9 seconds but it doesn't feel woefully underpowered either and did anyone ever buy a Sportage for high-speed thrills?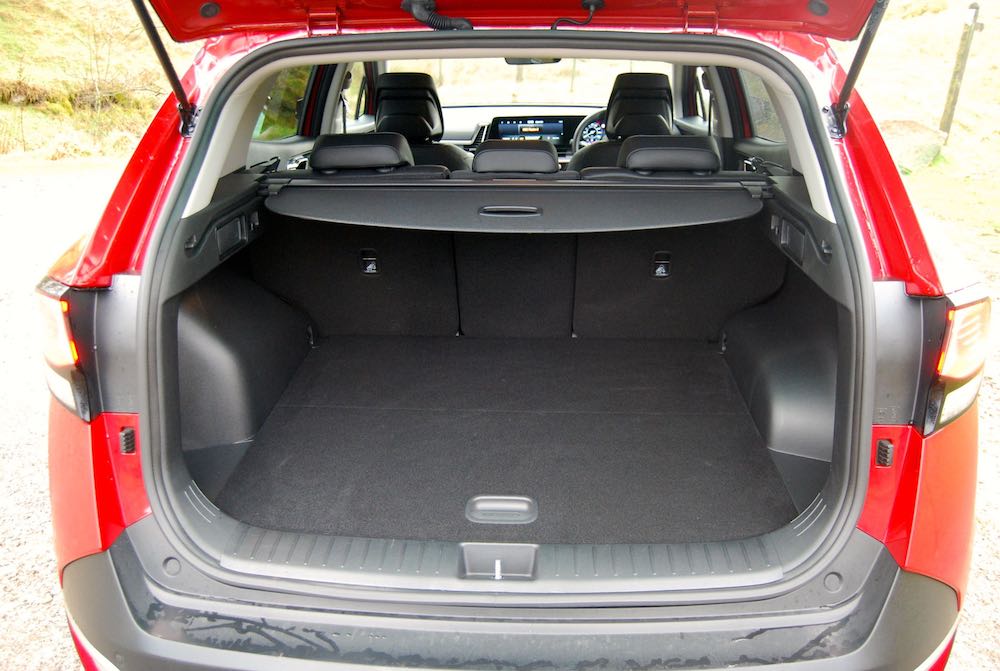 And if towing's your thing…..
What a lot of people do buy Sportages for, though, is towing, usually a caravan. For that you need torque, something diesel engines famously have in abundance. If that's you thing, you're going to be better off with the 226bhp hybrid-electric as it has 350Nm torque and a maximum braked trailer weight of 1,650kg. The lower powered Sportages can tow the same weight, it'll just be slower progress. The plug-in hybrid is limited to 1,350kg braked trailer weight due to its heavier drivetrain with batteries etc.
Should I buy a Kia Sportage?
It's been some time since Kias were what you'd call bargain-basement. They still represent value for money, especially with that all-important 7-year, 100,000 mile warranty that comes as standard. The Sportage is really the flagship of Kia's march onwards and upwards – brave styling 'n' all, and this 5th generation version shows no sign of slowing that march down.
By Ben Harrington
Kia Sportage 1.6 T-GDi '3' Specifications:
Engine – 1.6-l, 4-cylinder petrol, Transmission – 6-Speed manual, Layout – Front engine, FWD, Power – 148bhp, Emissions – 154g/km CO2, Economy – 41.5mpg, Maximum Speed – 113mph, Acceleration – 9.9-s 0-60 mph, Price – £32,000 OTR
The 2023 Kia Sportage is available now, priced from £27,800. For full details go to: www.kia.com/uk/