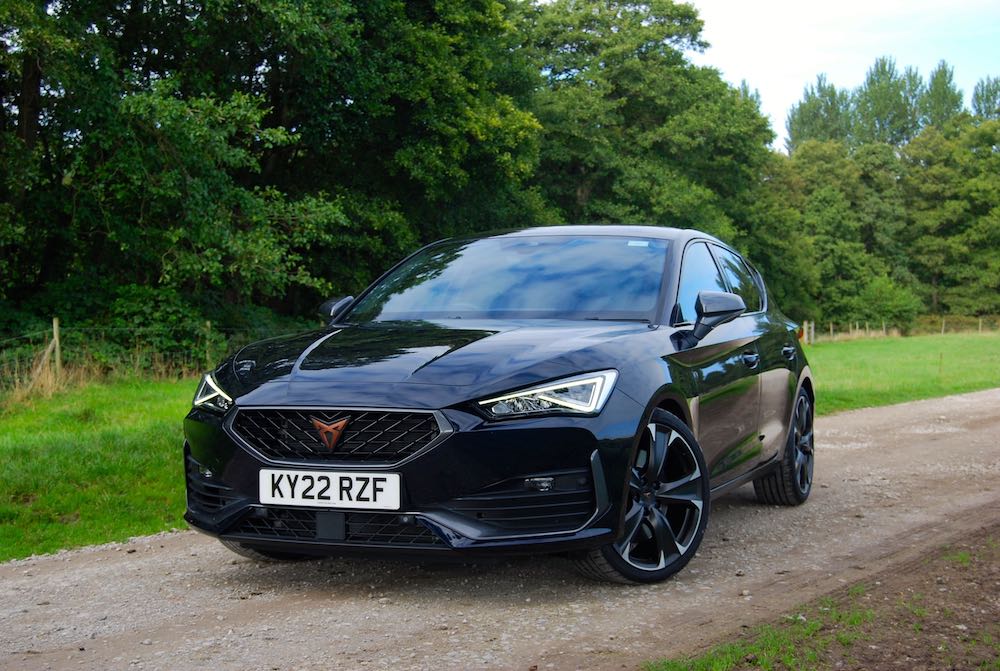 Cupra Leon
Having been the performance wing of Spanish brand, SEAT for over three decades, Cupra was cut loose as its own brand in 2018. Since then it's not only handled performance oriented cars, the Cupra badge has graced the standalone Formentor Coupe SUV and now there's an electric Cupra, the very avant-garde Born. Cupra's shaping up to be quite the forward-thinker, then.
When you consider Formentor and Born, plus the upcoming Tawascan and UrbanRebel models, it almost goes against the marque's USP to mention their existing models that are based on everyday SEATs. But that's not to say they don't exist, namely in the shape of Ateca and Leon, the latter coming in Cupra versions of the estate and hatch body-styles.
Many engines and trims
And that's exactly what we've got here. This is the Cupra Leon Hatch 2.0 TSI VZ2 300PS DSG, to give it its full title. Why is that important? – because as well as the usual spec choices based on the letters V & Z combined with numbers 1-3, there's also a choice of engines with various power outputs. There's a 1.5 litre with 150PS, a 1.4 litre hybrid with 245PS and then this 2.0 from the Golf GTI & R (amongst others) with either 245PS or the full barn-storming 300PS, like this one. They're all DSG 'boxes, by the way.
It's never fair to compare siblings, but we've already mentioned the Golf-shaped elephant in the room so we're going to continue down that path a bit. To draw comparison between the Cupra Leon and Golf GTI wouldn't be a just fight as the Golf gives away nearly 60PS to the Spaniard. The Golf R hatch has the group's 4motion AWD system – you need the Cupra Leon Estate for that drivetrain. So, the contender that provides the closest likeness turns out to be the Golf GTI Clubsport as it shares an engine, gearbox and drivetrain.
Best viewed as it passes you
In terms of looks, the Cupra Leon is far closer to the standard version than the Golf GTI is. From the front especially, the Leon is only really identifiable as a Cupra thanks to that sinister copper badge. The view as it's overtaken you, however is quite different. A set of quad exhausts flanking a diffuser screams performance, add that full-width LED light bar and it all gets a bit Star Wars baddie.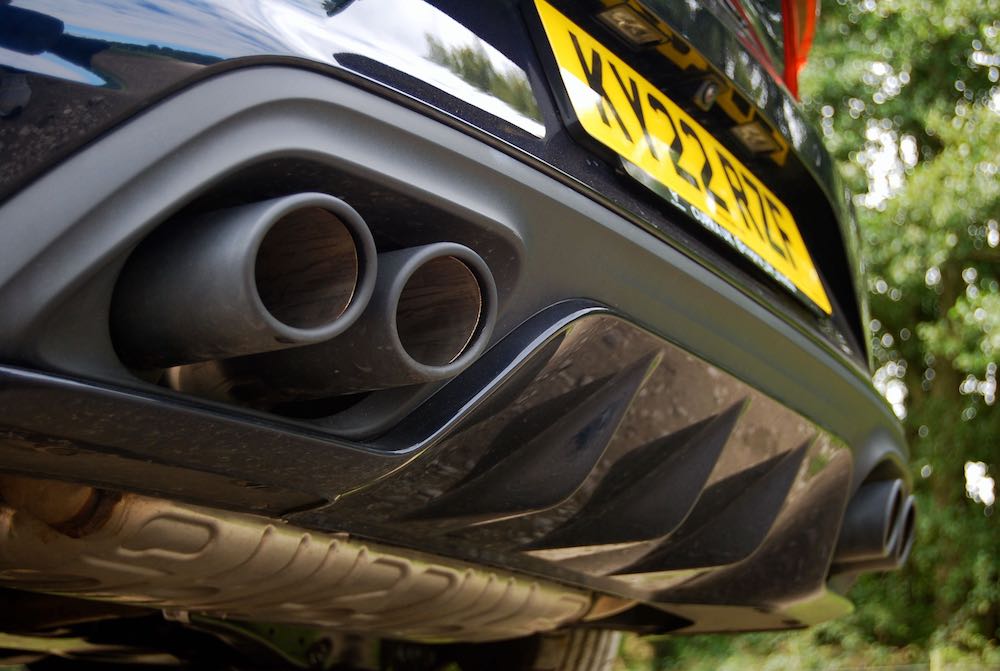 Open the door and the SEAT Leon's cheery 'Hola' puddle lights have gone, replaced with the Cupra logo. Sit inside and it's all very similar to the SEAT, as you might expect. The dashboard sports an LED pinstripe to mirror the back but now there's coppery bits liberally spread around and sports seats are standard. Seats which are part-leather on lower grades, full leather higher up in either black or petrol blue, because, well, it complements copper.
The truest comparison in terms of spec is the Cupra Leon VZ3, and that costs £40,485 OTR vs the Clubsport's £40,005. Not only that, the Golf is, officially at least, 0.1 seconds faster to 62mph (5.6s vs 5.7s). How can that be when they share so many mechanical bits? Surely VW haven't cynically ensured their model is the more attractive of the two because that would beg the question, why buy the Cupra?
What's the difference?
Well, similar as they may be, the Cupra Leon isn't just a GTI Clubsport in a coppery frock, that'd be silly. Even though they share a VAG MQB platform, thanks to its adjustable capability, the Cupra's wheelbase is over 6cm longer than the Golf's. Not only this, Cupra have tuned both the suspension and brakes to add their own feel to how the car drives. It's aggressive, without doubt, but those little difference add up to an extremely reassuring feel whilst cornering whilst giving a relaxing ride over day-to-day occurences like potholes.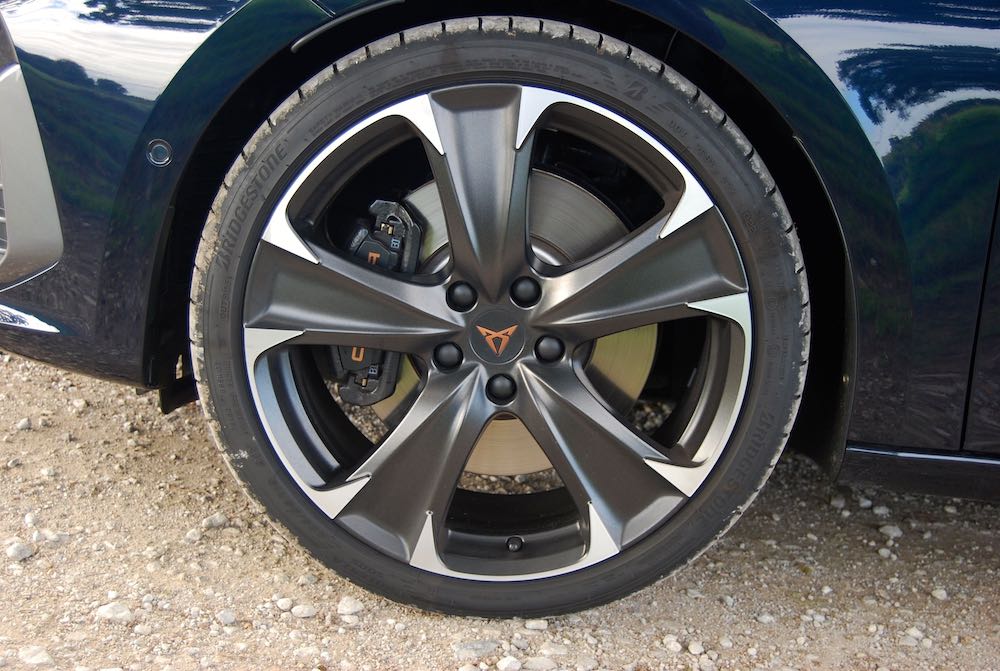 No mode button. Why?
There are, of course, multiple alterations that can be made to how the Cupra Leon drives and feels, all from the comfort of the driver's seat. There are three preset, cover everything modes in the form of Comfort, Sport and Cupra, but then almost all aspects can be individually altered if you opt for Individual mode and spend a couple of minutes configuring things to your desired settings. As is so often the case, the optimal setup for everyday use is more comfortable on the chassis, sport on the gearbox and however loud your ears can take the exhaust. Being able to adjust things so minutely means there's a setting for almost everyone, it's just a shame that changing modes requires some delving into menus and sub-menus on the infotainment system; there's no physical mode button.
Should I buy a Cupra Leon?
Going against a special edition Golf GTI is always going to be a hard press, even for a sibling. The Cupra Leon in full-on 300PS guise is far removed enough to be tempting, but only just. What's probably an easier sell is one of the lower-spec models, even a hybrid. That way you still get all the exclusive Cupra bits and drive without wondering if you should have bought the VW.
By Ben Harrington
Cupra Leon Hatch 2.0 TSI VZ2 300PS DSG Specifications:
Engine – 2.0-l, 4-cylinder petrol, Transmission – 7 Speed DSG, Layout – Front engine, FWD, Power – 296bhp, Emissions – 171g/km CO2, Economy – 37.2mpg combined, Maximum Speed – 155mph, Acceleration – 5.7-s 0-62 mph, Price – £37,425 OTR
The 2022 Cupra Leon is available now. For full details go to: www.cupraofficial.co.uk