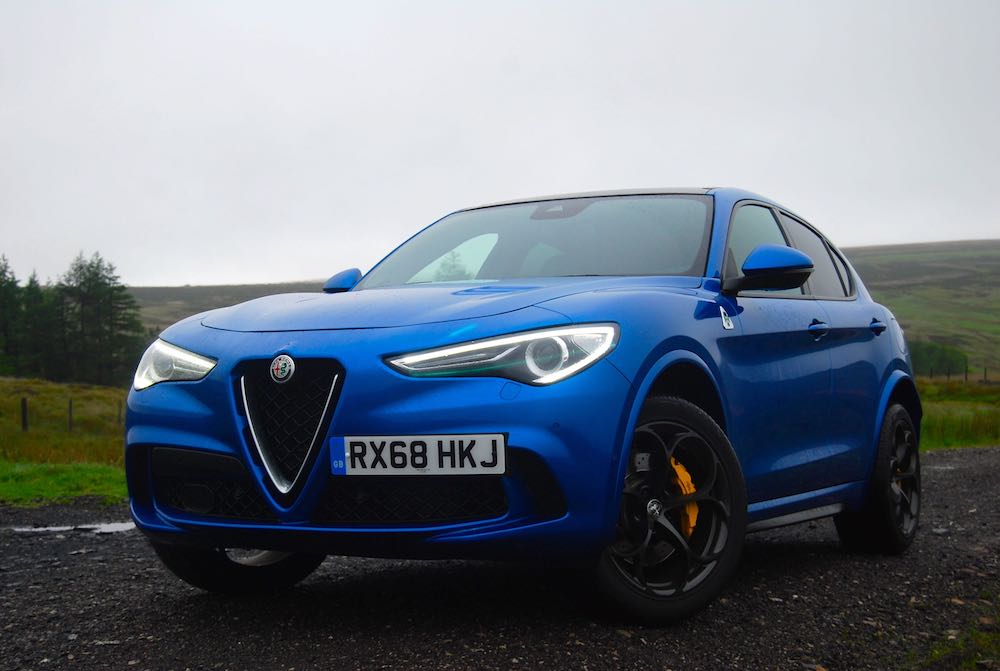 Alfa Romeo Stelvio Quadrifoglio
It's generally considered common practice to avoid overly swearing when writing car reviews anyway, so when I say I'm going to attempt to review the Stelvio Quadrifoglio without uttering the F-word, I hope you know where I'm coming from.
The 'basic' Stelvio is a good SUV and does an admirable job of continuing Alfa Romeo's recent resurgence. This one is far from basic, though, that green four-leaf-clover on the front wing is enough to get any self-respecting car lover's loins stirring. Under the bonnet is a twin-turbo, 2.9l V6 producing 503bhp & 600Nm torque. This is very far from basic.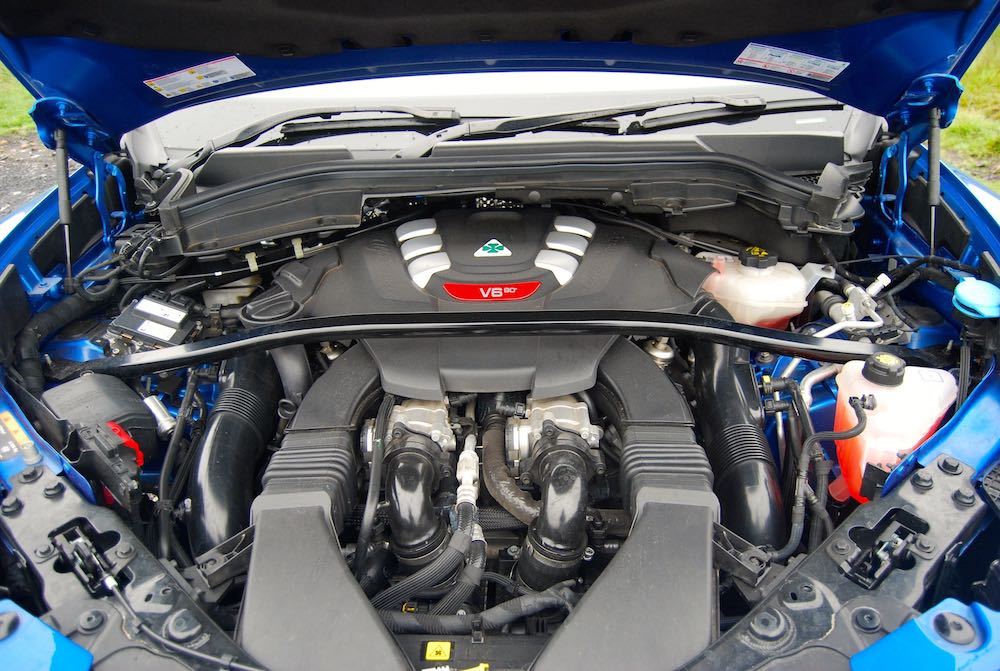 1.8 Tonne SUV vs Porsche 911?
What that equates to in terms of performance is an almost unfeasible 0-62mph in 3.8s & a top speed of 176mph, in an SUV weighing over 1.8 tonnes that comfortably seats 5 people. Just to put that into context, the latest Porsche 911 Carrera S does the 0-62mph dash in 3.7 seconds, and that costs over £93K – the Stelvio Quadrifoglio will set you back a still fairly considerable shade over £70K.
I appreciate that's a bit like comparing apples and oranges but I'm just trying to put across quite how fast this thing is. The thing is, though, other manufacturers, namely Porsche, Mercedes-Benz and even Jeep make SUVs that give us almost inappropriate performance, so what sets the Stelvio Quadrifolglio apart?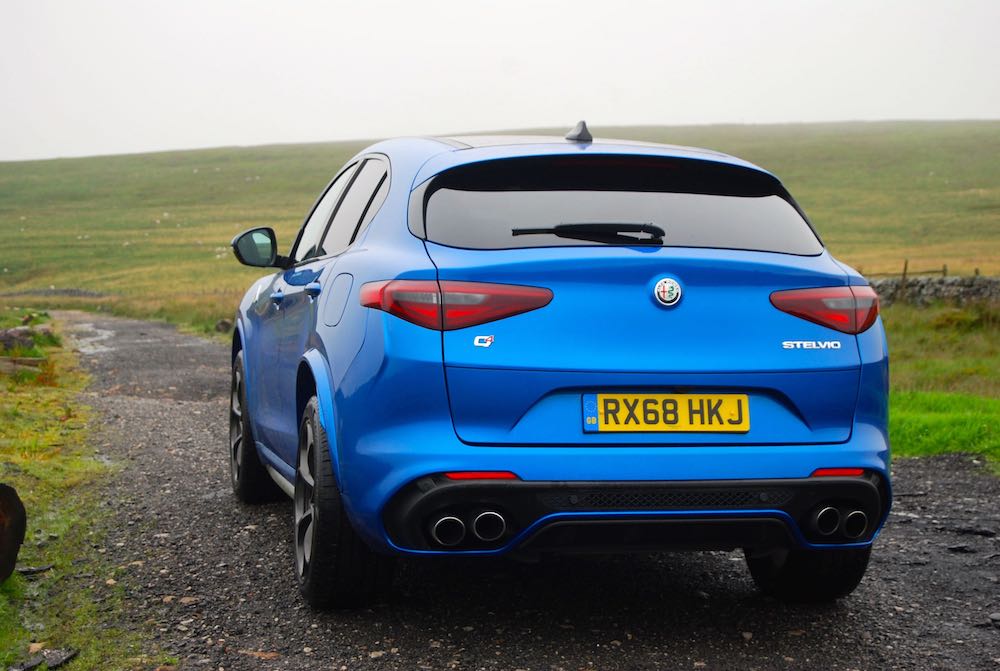 Many Giulia QF Parts
Much has been taken from its saloon equivalent, the Giulia QF, and that's a good thing. The majority of the chassis has been carried over with just the subframes being bespoke. The engine is the same and the 8-speed ZF transmission has just been recalibrated to allow for the extra weight an SUV inevitably brings, although that's apparently only 60kg in this case.
The 4WD system has been taken from FCA stablemate, Maserati's Levante – another SUV that's made more for track-days than dirt track. It feeds power to the rear wheels by default, with a trick torque vectoring system feeding the wheel that can use the power most. whichever way you look at it, though, over 500bhp is a meaty morsel for any pair of wheels to handle, so should it all become a bit too much, up to 50% of it can be channelled to the front wheels, and that's mighty handy should you overcook it a tad, particularly on slippery tarmac.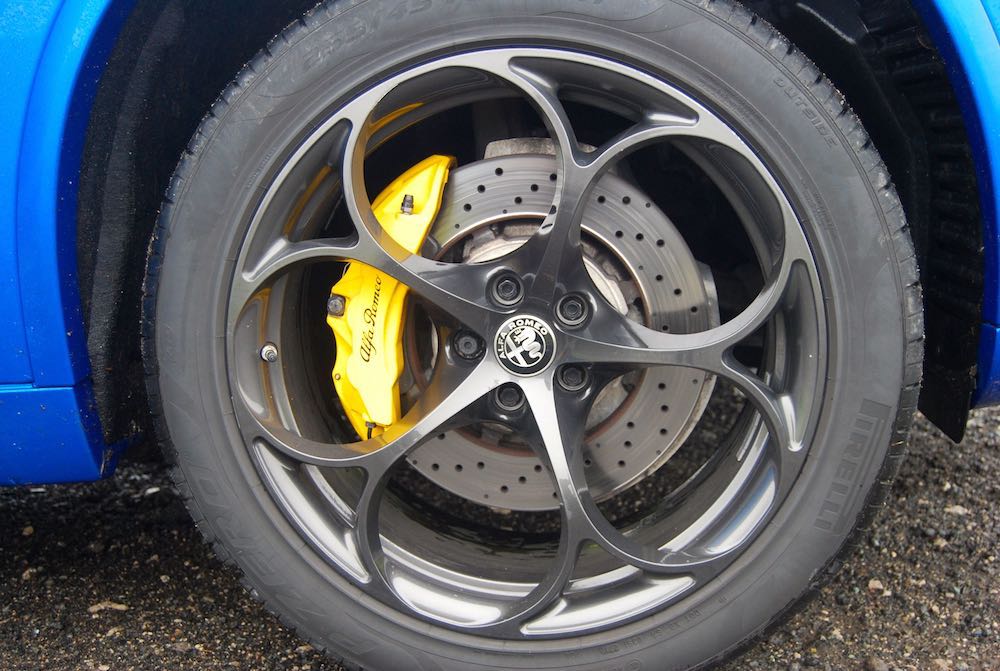 Sweetest Sounding Super SUV
One thing the Stelvio Quadrifoglio definitely does is put a smile on your face. The three-stage drive selector that's been a staple of many Alfa Romeos feels entirely at home in here, especially when you put it in dynamic mode. Floor it and your elevated driving position is all of a sudden propelling itself at almost unnatural speeds. Yes, the intake sound is piped into the cabin, but the noise coming from those quad exhaust piped is pure, unadulterated joy. Change gear yourself via some satisfactorily large paddles, or let the 'box do its own thing admirably well and the crackles and pops are surely the finest noise you'll find in any SUV, and that includes the Range Rover Sport SVR.
Sit yourself in the optional sports seats our Stelvio Quadrifoglio's specced with and the almost unnatural levels of grip are literally felt through the seat of your pants. And, no – the irony of opting for the Stelvio QF because of its elevated driving position, and then spending an extra £3,250 on wafer-thin, Sparco seats to bring it back down to Earth a touch isn't lost on us.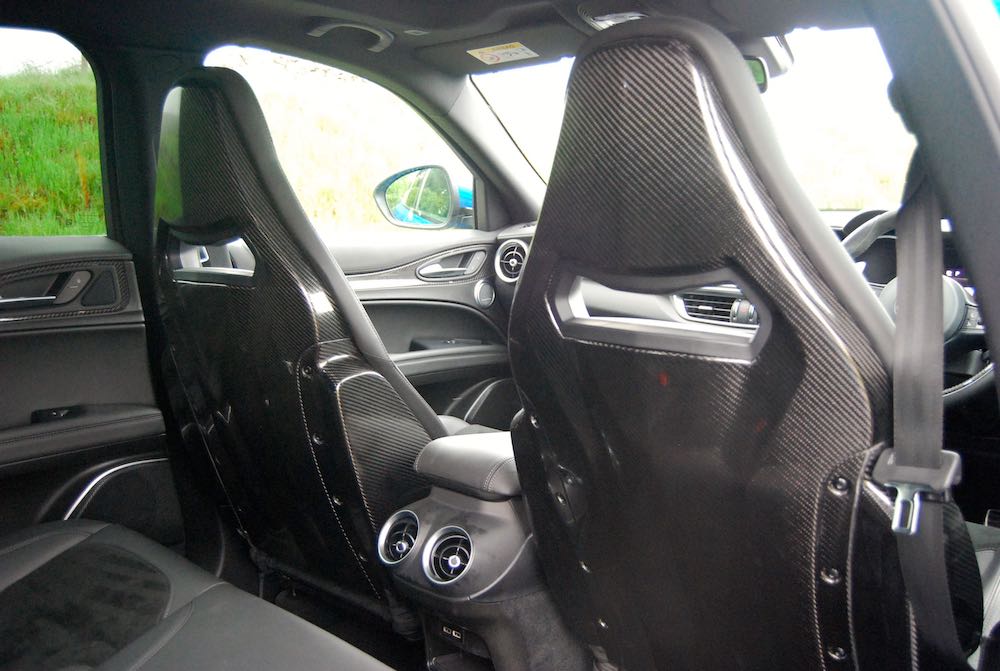 50/50 Weight Distribution
So, the Stelvio Quadrifoglio goes (it really goes), it looks the part and it handles well, partly thanks to the low centre of gravity afforded by the position of the engine, plus 50/50 weight distribution. What doesn't it do so well, then?
Well, despite the standard brakes being a larger diameter than many cars' wheels, they do have to be manhandled if you want them to match the outrageous performance. Carbon ceramic brakes are a £5,900 option; it's a big chunk of change but could be worth considering.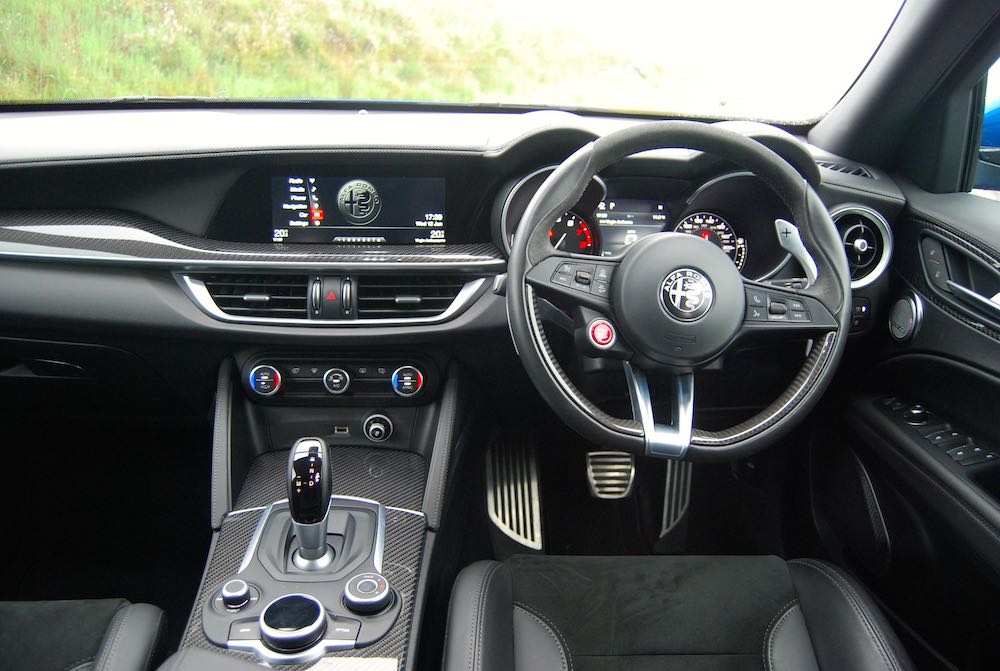 No Touchscreen
Despite looking smooth & pretty, the interior's showing its age a bit, too. Although it actually makes more sense for every-day driving, the 8.8" infotainment system isn't touchscreen; it's all controlled through a rotary wheel. I genuinely do prefer this approach and I think it's safer, but it's strange to not find a touchscreen in a £70K+ car.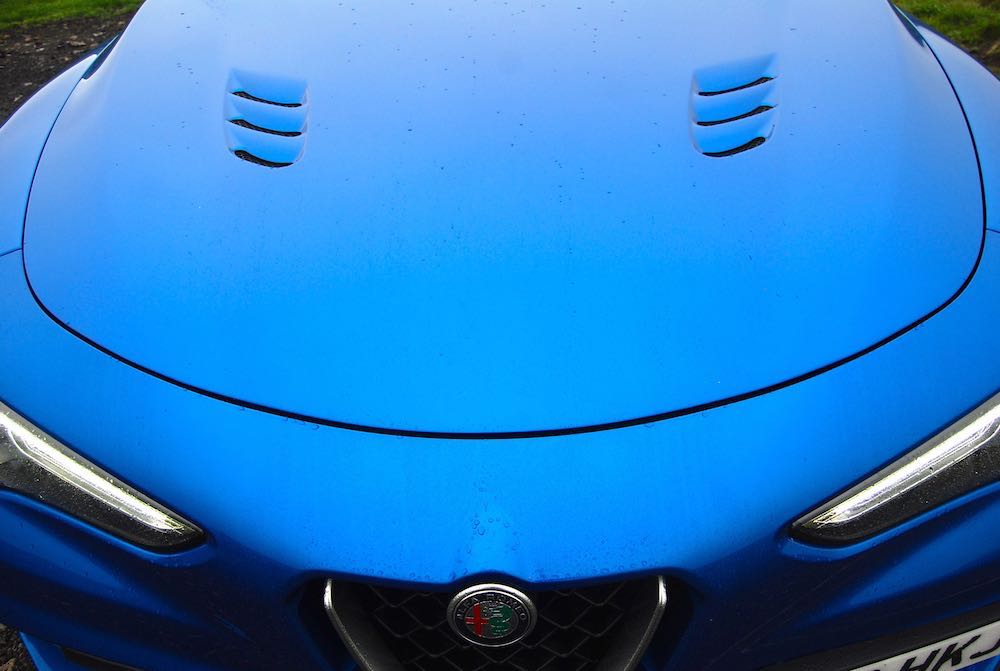 Should I Buy A Stelvio Quadrifoglio?
You obviously get the practicality of the 'regular' Stelvio with the QF, so weekends away are an easy option. Just be prepared for some stiffer suspension, and don't, for heaven's sake be tempted to put the suspension in super-firm race mode; your passengers probably won't thank you.
More pertinently, though, you also get what was the fastest SUV to lap a certain green, German test track. But then, so you should, when your SUV comes with an engine developed by Ferrari…………………..*so close, SO close*
By Ben Harrington
Alfa Romeo Stelvio Quadrifoglio Specifications:
Engine – 2.9l V6 petrol, Layout – Front engine, 4WD, Transmission – 8-speed automatic, Power – 503bhp, Acceleration – 0-62mph – 3.8s, Maximum Speed – 176mph, Maximum Torque – 600Nm, Economy – 24.6 mpg combined, Emissions – 222g/km CO2, Price – £70,900 OTR
The Alfa Romeo Stelvio Quadrifoglio is available now. For full details go to: www.alfaromeo.co.uk