Mercedes-Benz EQA
This is the EQA from Mercedes – the brand's entry level all-electric car if you disregard sub-brand, Smart, that is. It may look familiar and that's because it's not a ground-up new-build, it's based on the ubiquitous GLA – Mercedes' SUV'd A-Class. Look closely, though, and the EQA is easily distinguishable from its petrol-powered relative thanks to a full width 'bow tie' rear light bar and a full width front light sitting above the apparently compulsory blanked off grille.
The styling changes to turn it from GLA to EQA may not be revolutionary but the result is just enough new-tech mixed with reassuring familiarity. If you're prepared to sacrifice a bit of comfort and range and go for the optional 20" wheels, I'd go as far as to say it's a good looking compact SUV.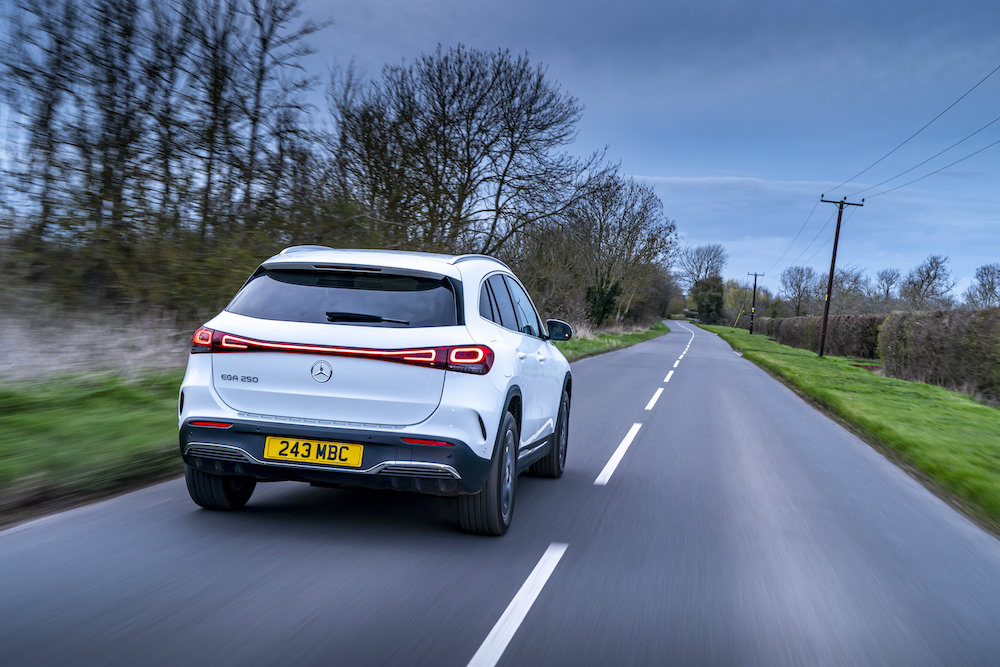 Three power outputs
The EQA comes in three power outputs; 140kW, 168kW & 250kW, badged as 250, 300 & 350 respectively which keeps the contemporary EQA name a bit more old school. This is the 250 version and it has a single, 190bhp motor driving the front wheels – it's also the most popular EQA to date. The 'bigger engined' EQAs have 228bhp in the 300 and 292bhp in the 350. They're 4Matic, too, meaning they have a second motor for the rear wheels.
WLTP range is over 260 miles across the, erm, range, it's actually largely dictated on whether you want the aesthetics of slicker rims or you're ok with a bit more of a shopping trolley vibe. We managed 242 potential miles from a charge which isn't a million miles from what Mercedes claim. Speaking of charging, the EQA's 66.5 kWh battery and 100 kW on-board charger mean you can get from 10-80% in 40 minutes, should you be lucky enough to find a rapid charger. Use an 11 kW charger at home and you'll get from 10-100% in 5 hours, 45 minutes.
How much is it?
Prices start at £47,510 for the 250 Sport and top out at £56,010 if you go for the 350 AMG Line Premium. To put those prices into some kind of context, the cheapest 250 badged GLA – the EQA's base is £38,255.
And it's what spawned the EQA that we come back to now. Electric cars are either built from the ground up to be electric only or they're designed to burn fossil fuels too and have electricity and batteries as an option. It can be seen as an advantage to be in, say, Tesla's position where petrol and diesel aren't ever a consideration as their designers can focus solely on electrical power. The clever chaps at Mercedes, however, had to make sure the GLA could also be an EQA – surely a far more taxing task. The flip side of this in terms of the car itself is a more regular appearance for those who prefer their electric car to look a bit more conventional. The same can be said of the interior, too; step from a GLA straight into an EQA and you'd be very hard pressed to tell the difference. And that's a good thing, because Mercedes do interiors very, very well, even in their 'cheaper' models with clever lighting and beautifully tactile touches like their much lauded 'jet engine' air vents that still impress.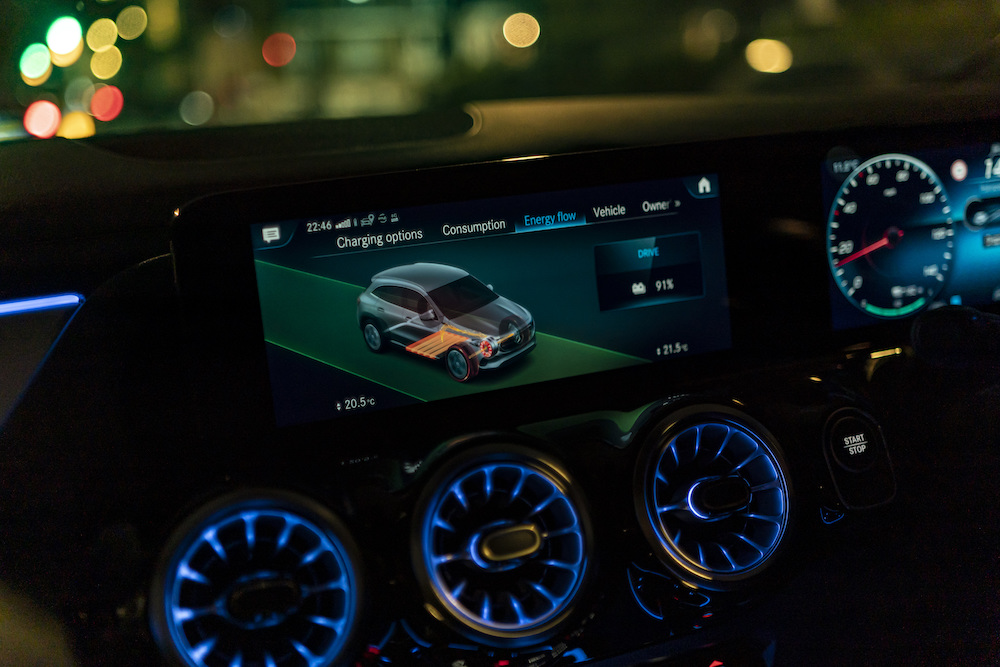 What's the catch?
It is, of course, far cheaper to convert an existing model to run on electricity than design a completely new car from a blank piece of paper, so what's the disadvantage? Well, the flip side becomes glaringly obvious if you sit in the EQA's back seats. A 480kg battery is always going to take up space and in the case of the EQA it's under the floor and this takes up valuable leg room in the back.
Performance will cost you
We've become accustomed to electric cars and their insta-torque that can propel even the most innocent looking family hatch away from the lights at break-neck speed. If performance is what you seek in your two-tonne EQA you'll have to go for one of the twin motor, 350 badged versions – they manage 0-62mph in 6.0 seconds. This 250 Sport takes a far more sedate 8.9 seconds; no fuss, no noise either, but hardly rapid. All EQAs are limited to 99mph too – high speeds kill electric range.
It's impossible to ignore the EQA's two tonne mass but thanks to some clever multi-link suspension it does a good job of absorbing lumps and bumps with hardly any crashing or banging, especially if you've resisted the temptation of those big, shiny wheels. Regenerative braking goes a long way towards reeling those two tonnes back in and they're easily adjusted on the fly via some flappy paddles – no delving through various touchscreen menus here.
Should I buy a Mercedes EQA?
The Mercedes EQA is a lovely place to be in and we think it looks better than the GLA it's based on too. With no frunk, a reduced boot and compromised rear leg room, it's not as practical as some and it's not cheap either. It is a Mercedes, though, and that shines through – potentially sealing the deal when the competition can't get close to its refinement.
By Ben Harrington
The Mercedes-Benz EQA is available now, priced from £47,510. For full details go to: www.mercedes-benz.co.uk