Honda Civic
Before a car-maker can even consider breaking records around the 'Ring in their 316bhp sizzling-hot hatch, they need to come up with the inevitably more mundane school-run shopping mobile it's based on. This, then, is the new Honda Civic. without this car and its global sales there's no Type R, so it's pretty important.
Honda seem to have an uncanny knack of making every new Civic, on initial impressions at least, slightly less appealing than the last. Thankfully, every new Civic also grows on you the more you look at it. What may first appear to be a slightly awkward line or angle all of a sudden makes sense.
Sportiest Civic Yet, apparently
Civics have evolved beyond recognition over the years and this 10th generation model is the biggest yet. It's longer and wider than the Civic it replaces, and that extra length is especially obvious just by looking from the b-pillar rearwards. Rear seat passengers will be thankful for the extra room. It's also lower than the outgoing model, though, going someway to justifying Honda's claim that this is 'the sportiest Civic yet'.
No Diesel Civic, or is there?
From launch, the Civic is available with a choice of two petrol engines; a 1.0l 3-cylinder or a 1.5l 4-cylinder producing 127 & 179bhp respectively. Both engines are available with either a 6-speed manual transmission or a CVT 'box.  There's no diesel option as yet, but that shouldn't really come as any surprise. You can still buy a diesel Civic from Honda, but it's the Mark 9 so that's obviously limited stock.
The new Civic comes in a choice of six trim levels, but there's a deliciously simple way of choosing which one to have. If you go for the lesser powered Civic, you can only choose from the 3 lower specs; SE, SR & EX. Plump for the bigger engine and it's the 3 most expensive trim levels; Sport, Sport Plus & Prestige. Easy-peasy.
This is the 1.0l EX Civic with a manual gearbox and it very much represents the middle ground of the range. Priced at £23,200 it comes with heated leather seats, electric sunroof, auto wipers, reversing camera with sensors front and rear, keyless entry and adaptive dampers. There's also an optional Tech Pack, which for £600 gives you wireless charging, led fog and head lights with washers and the rear seats will also be heated.
Tidier interior
Not only does the Civic come with lots of high-tech equipment as usual, though, the interior has improved massively in terms of ergonomics, too. The outgoing Civic's dashboard was something of a dog's dinner, with split-level displays showing fonts and colours that in no way complemented each other. It's a far neater affair now, there's some very cool-blue gauges and everything is just where you'd expect it to be. The infotainment system is big and the touchscreen is easy to use, with Apple CarPlay etc working seamlessly.
The interior is not only prettier, though, it's been ramped up a bit in terms of quality, too. Is it a Golf? No, but you'll struggle to find a button or switch that looks or feels flimsy. One class-leading area of note are the Civic's cup-holders that are actually large enough to hold a travel mug. Sounds petty? You'll soon change your mind when you're up at the crack of dawn and your inferior cup-holders aren't up to the task.
The all-round visibility is another area that's been improved in this new Civic, too. The seats and the way they're positioned has always been good but the split-level rear view that Honda are so keen on used to be a distraction. Well, I'm delighted to report that it's all but been eliminated, not only that, but the elongated shape of the rear door windows makes pulling out of poorly sighted junctions and changing lanes on motorways far less of a guessing game than it used to be.
Excellent 3-cylinder engine
Three-cylinder engines have been around a while now and their irregular putt-putt tune is pretty familiar. This is one of the best we've driven, though, and the way it uses all of its 129bhp and, more pertinently, its 200Nm torque with so much vigour is a pleasure to use. It feels far quicker down the road than its 0-62mph time of 11.2s would warrant, all whilst returning 55.4mpg combined & emitting 117g/km Co2.
How quiet and refined this Civic is may come as a surprise, especially at higher speeds. Cruise at 70mph and there's little in the way of wind noise, probably due to its lower stance. There's also very little in the way of engine noise which is a good effort from a 1.0l 3-cylinder.
The 6-speed manual transmission is smooth and light enough, if lacking a little in feel. It's about as user-friendly as manual gearboxes get, though, even the gear-knob is small enough for the daintiest hands.
The extra length of the Civic adds to the ride quality and it really feels planted to the road. Obviously, it's not going to set any lap-records in EX spec, but it does handle well with no unwelcome surprises on wet surfaces. This EX model comes with adaptive dampers but, to be honest, I could do without them as they just seem to make a great all-round ride a bit less comfortable.
Some clever toys
One feature that really impressed, though is the Civic's brake-hold that comes as standard on all grades. It's a similar idea to hill-start assist except, when activated, it'll hold the car's brakes on for up to ten minutes once you've come to a stop, regardless of gradient. Such a deliciously simple idea, yet so effective. Makes you wonder why all cars don't come with it.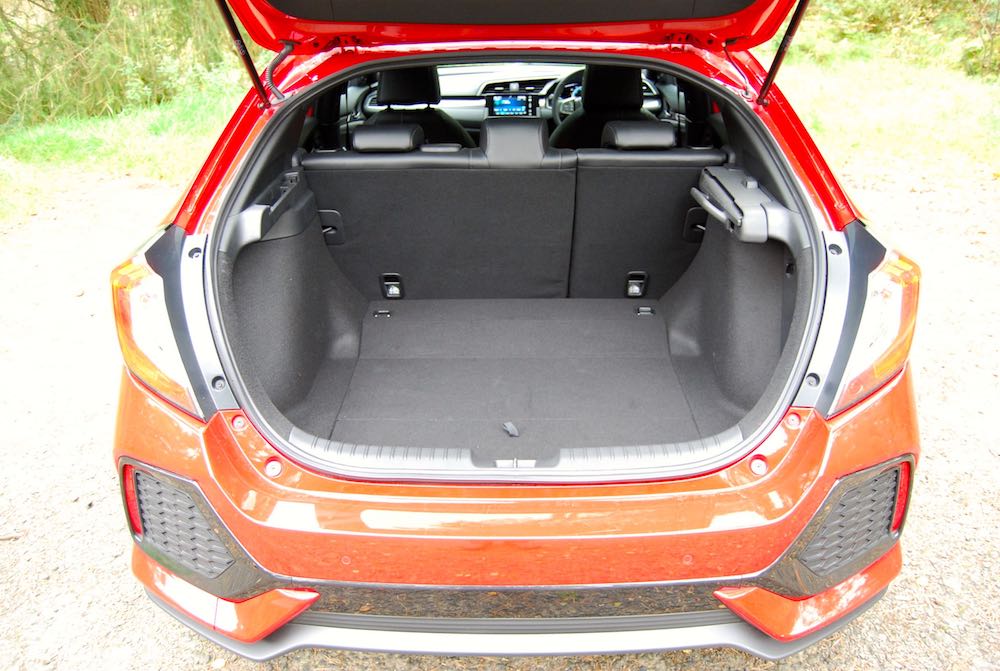 Should I buy a Honda Civic?
The new Civic is bigger, more refined and more comfortable than ever. As you'd expect from a Honda, it comes with loads of electrical trickery thrown in, and some of the new toys are actually genuinely helpful! The ride quality is good, if not the most stirring and it also comes with some incredible engines, as long as you don't want a diesel.
By Ben Harrington
Honda Civic 1.0 VTEC EX specifications:
Engine – 1.0l turbocharged 3-cyl petrol, Layout – Front engine, FWD, Transmission – 6-speed manual, Power – 127bhp, Acceleration – 0-62mph – 11.2s, Maximum Speed – 126mph limited, Maximum Torque – 200Nm, Economy – 55.4mpg combined, Emissions – 117g/km CO2, Price – £23,200 OTR
The Honda Civic is available now. For full details go to: www.honda.co.uk