Millbrook proving ground in Bedfordshire recently hosted the annual SMMT Test Day. It's like a big get-together for many of the world's car manufacturers and the UK motoring press. These are my highlights, and I'm not ashamed to say that, this year they're of a, shall we say, sporty nature.
Aston Martin DB11
If you've never driven an Aston, you won't have experienced the certain something that defines them. In all honesty, I've not driven that many Aston Martins, but even I can tell that the DB11's a winner.
It's a car that's so dual-personality, it's practically schizophrenic: on one hand it's the ultimate gentlemen's GT, on the other, that 4.0l, 90 degree V8 barks on startup and its 503bhp keeps on pulling and snarling on the move, constantly hunting for the horizon.
Think being turbocharged has removed some character? Wrong. Think being derived from Mercedes AMG has taken away some inherent Aston-ness? It hasn't.
Comfort/normal/sports settings are commonplace now, you don't have to buy a supercar to have them. The difference between these driving modes can sometimes be negligible to the point of being hard to spot. Not so in the DB11. The increase in focus and razor-sharpness in sports mode brings me right back to my initial point on dual personalities: this is a grand tourer for all occasions.
Aston Martin DB11 V8 Specifications:
Engine –

 4.0l V8 petrol,

Layout –

Front engine, RWD,

Transmission –

 8-speed automatic,

Power –

 503bhp, 

Acceleration –

0-62mph – 4.0s,

Maximum Speed –

187mph, Maximum Torque – 675Nm,

Economy –

 28.5mpg combined, Emissions –

230

g/km CO2,

Price –

£144,900 OTR

The Aston Martin DB11 V8 is available now. For full details go to; www.global.astonmartin.com
Audi R8 RWS
No, Audi haven't started dabbling in rear-wheel-steering for their supercar. On this occasion, RWS stands for Rear Wheel Series.
That's right, Audi have done the near unthinkable, they've scrapped their much-lauded 4WD Quattro system for a limited number of R8s.
This has had the welcome effect of cutting 50kg, mainly from the front end as you might expect.
It's still powered by the same 5.2l V10, producing 523bhp and some of the most wild and varied noises on the road.
If you were ever in any doubt how much difference the Quattro system made, drive the RWS. The rear end feels so much more alive, a bit squirmier – definitely, but the way the driving experience is now so much more involving is a revelation.
We'll be spending a lot more time with the R8 RWS soon, to see which is better to live with day to day. It may well be the Quattro, but we're so happy the RWS exists.
Audi R8 RWS Specifications:
Engine –

 5.2l V10 petrol, Layout – 

Mid

 engine, RWD, 

Transmission –

 7-speed automatic,

Power –

 523bhp, 

Acceleration –

0-62mph – 3.7s,

Maximum Speed –

199mph, Maximum Torque –

540

Nm,

Economy –

 22.8mpg combined, Emissions –

283

g/km CO2,

Price –

£112,250 OTR

The Audi R8 RWS is available now. For full details go to; www.audi.co.uk
BMW i8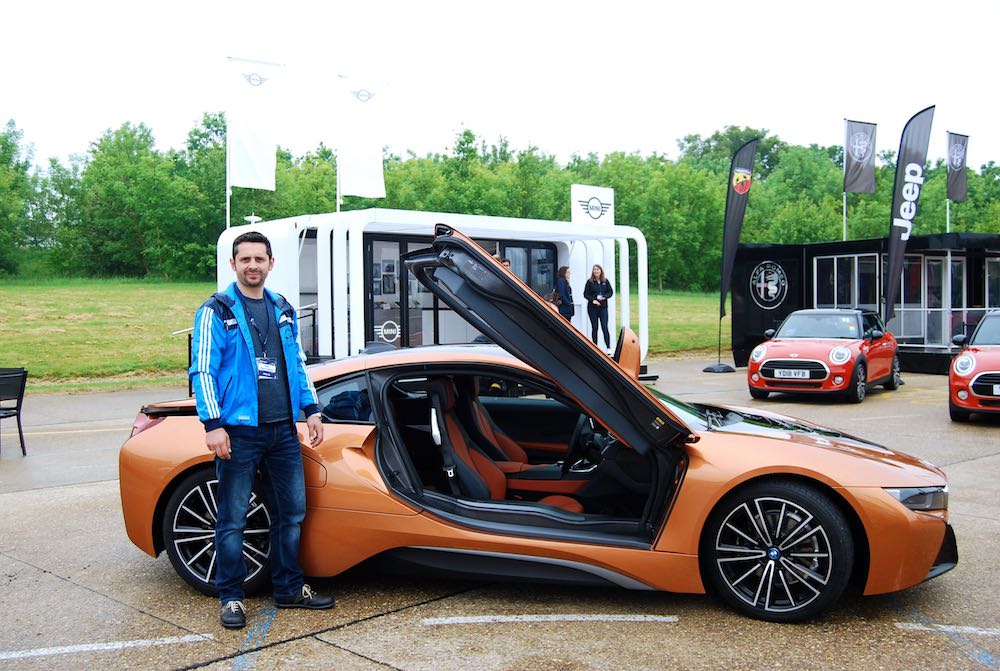 It's been out a few years now, but for some reason, the BMW i8 is a car I'd never driven.
I always thought it looked nice enough, but it certainly wasn't my favourite car on the road. It's a hybrid, it's got a 1.5l, 3-cylinder engine and, to be honest, I didn't see what all the fuss was about. Until now.
Just sitting in the i8 gives you some indication of its 'special-ness'. There nothing graceful about getting in, there never is with the best cars. You negotiate a wide, exposed carbon fibre sill that's part of the tub, then you have to reach up to close those scissor doors. All the best cars have scissor doors.
The i8's front wheels are powered by a 129bhp electric motor, the rear by the 1.5l petrol engine which produces 220bhp. It can travel a claimed 23 miles on electricity alone, so it's very clean. Officially.
It's what happens when both motors are working in unison and you point the i8 at a corner that's really special, though.
Ignore the enhanced engine sound fed into the cabin, it's a bit daft. What isn't daft is the way the i8 changes direction. I honestly can't remember driving something so nimble and agile this side of a McLaren. It feels every inch a supercar.
I'm still not taken on some aspects of the i8's looks, but I've got good news there, too. If you've not already, take a look at the recently released i8 Roadster – that's going to be one of the most stunning cars to grace our roads.
BMW i8 Specifications:
Engine –

 1.5l 3-cylinder petrol & electric motor, Layout – 

Mid

 engine, 4WD, 

Transmission –

 6-speed automatic,

Power –

 370bhp, 

Acceleration –

0-62mph – 4.4s,

Maximum Speed –

155mph, Maximum Torque –

570

Nm,

Economy –

 134.5mpg combined, Emissions – 49g/km CO2,

Price –

£112,735 OTR

The BMW i8 is available now. For full details go to; www.bmw.co.uk

By Ben Harrington