Mustang Mach 1
You've got to hand it to the people at Ford. As the world quietly spent the last few years imploding in all sorts of ways, ending with the price of just about everything including oil going through the roof, the good folk at Ford could have very understandably shuffled the Mustang GT under the carpet and focussed solely on the all-electric Mustang Mach-E instead.
But, they didn't. What they did instead was remove the Focus RS engined EcoBoost Mustang from the lineup, take the 5.0 litre Mustang GT and bring us some special editions like the California Special and this: the Mustang Mach 1.
The Mach 1 nameplate is highly evocative to many of us; it represents faster, more powerful Mustangs from the late 60's & early 70's. For those of you unfamiliar with the Mach 1 – Google it, and at the same time forget Tom Cruise's Mach 10+ exploits in Maverick; this is a car, and it's not make-believe.
Serious visual upgrades
A glance at the Mach 1 is enough see where it differs to a standard Mustang GT. That's mainly thanks to the circular cut-outs in the grille that hark back to the original. In the 60's they were for the fitment of additional fog-lights, I can't see many people going down that route now. The Mach 1 also gets a bespoke front bumper that widens the look, it also gets Mach 1 only 5-spoke wheels, although our test car had the optional Y spoke wheels which carry a £1k premium. A rear spoiler and some optional Mach 1 specific stripes and labels complete the look.
Far more serious performance upgrades
The Mach 1 carries a £10k premium over its GT fastback base (it's not available as a convertible), so you'll probably be reassured to know you're not just spending your hard-earned on some stripes and bodywork. This is probably the most track-focussed modern era Mustang Ford has made, ergo the most track-focussed Mustang ever.
Possibly the best news is it comes with the same, more powerful Coyote 5.0 V8 that was under the bonnet of the Bullitt special edition, producing 454bhp & 529Nm torque. This extra power cuts the 0-62 mph times of the manual & 10-speed auto down to 4.8s & 4.4s respectively- that's 0.1s & 0.2s faster than the GT.
That's not even half the story, though. The Mustang Mach 1 is designed with track days in mind, and when this particular track car tips the scales at a not inconsiderable 1,754kg the upgrade you might be most grateful for is its Brembo six-piston front brakes, in orange in this case. Other improvements over the standard GT include a new belly pan and rear diffuser to generate up to 25% more downforce, MagneRide adaptive suspension with stiffer bars and front springs that's unique to Mach 1 and recalibrated steering with new front and rear subframe, again – unique to Mach 1. Topping off the Mach 1's handling upgrades is a Torsen limited-slip differential.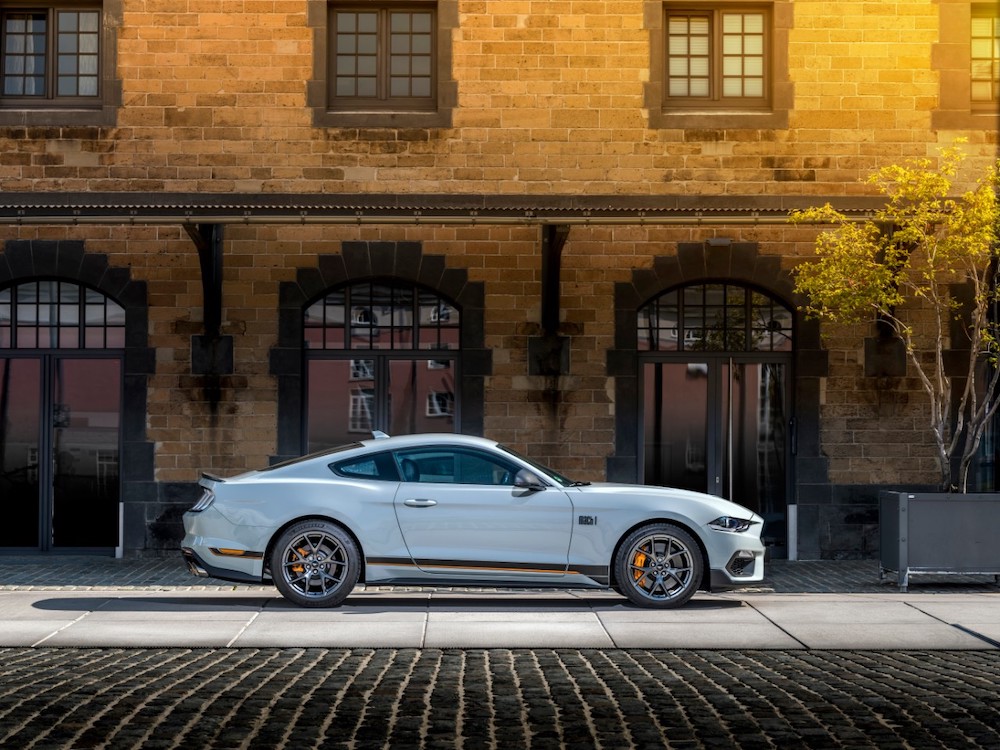 What. A. Sound.
Every time I start a Mustang and experience that bark only a big V8 can muster, I wonder how much longer that sound is for this world. There really aren't many better sounding cars and I will miss them when they do shuffle off this mortal coil, but the good news is the next-gen Mustang has already been confirmed with the same V8 so it'll be around for a fair while longer.
On the road it's actually quite hard to gauge the differences those trick upgrades make. Except, that is, for the Brembo calipers that inspire massive confidence when braking at high speeds. The suspension may have been stiffened for responsiveness but leave the Mach 1 in its softest setting – Normal (you didn't expect a 5.0 V8 Mustang to have an Eco setting, did you?), and it's by no means a spine crushing experience on Britain's pock-marked tarmac.
One aspect of the Mach 1 that stands out over a regular GT is its sharpened throttle response. An open air induction system, modified intake manifold and 87mm throttle bodies allow the V8 to breathe easily and if you select Sport+ mode the way the naturally aspirated engine shoots up and down the rev range is anything but lazy.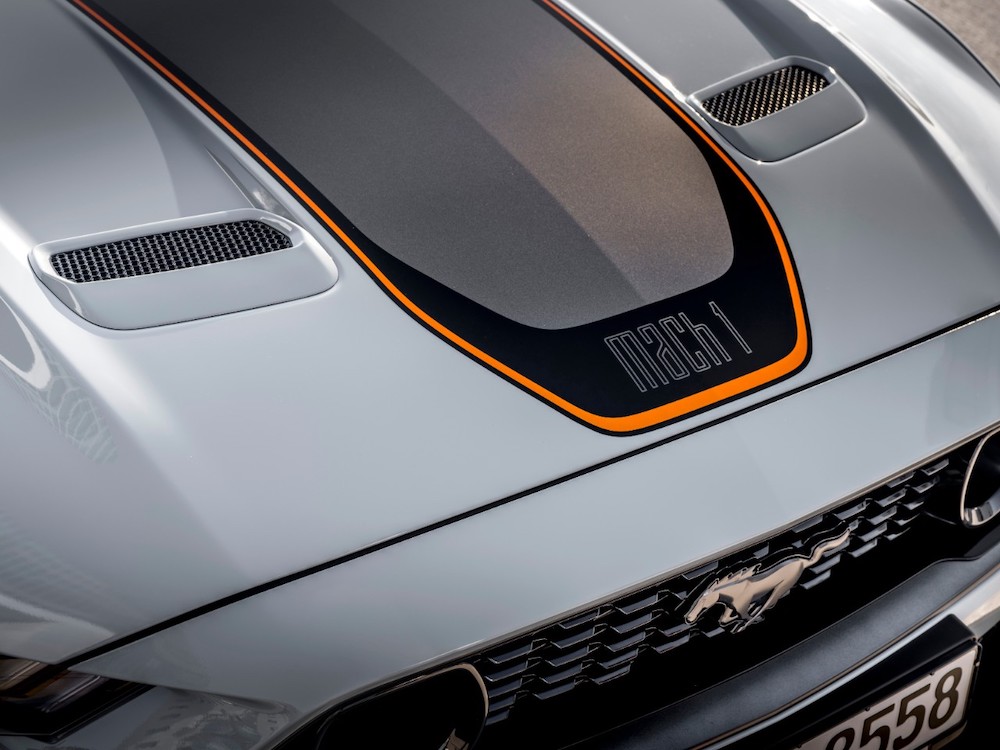 Auto or manual
If you want a maximum interactive driving feel, and you want to save a couple of grand, the Mach 1 can be specced with a 6-speed manual 'box, complete with cue-ball gear-knob last seen in the Bullitt. Pay a little extra and you can have the 10-speed SelectShift automatic transmission with paddle shifters, just like our test car. We found that it knows exactly what it's doing in high octane situations but gets confused when pootling around town, sometimes shifting jerkily too.
Should I buy a Mustang Mach 1?
The Mustang Mach 1 is far easier to live with than most track-ready specials, but that's probably due to the fact it's no minimalist lightweight either. If petrol stations aren't really your thing I'd look elsewhere as even driven considerately you'll be looking at 25mpg. If outright performance, a legendary nameplate and one of the most attention-grabbing looks and sounds money can buy are your thing, the Mustang Mach 1 has it all.
By Ben Harrington
Ford Mustang Mach 1 Automatic Specifications:
Engine – 5.0-l, V8 petrol, Transmission – 10-Speed automatic, Layout – Front engine, RWD, Power – 454bhp, Torque – 529Nm, Emissions – 270g/km CO2, Economy – 24.1mpg, Maximum Speed – 155mph, Acceleration – 4.4-s 0-62 mph, Price – £62,075 OTR, £64,475 as tested
The 2023 Ford Mustang Mach 1 is available now. For full details go to: www.ford.co.uk