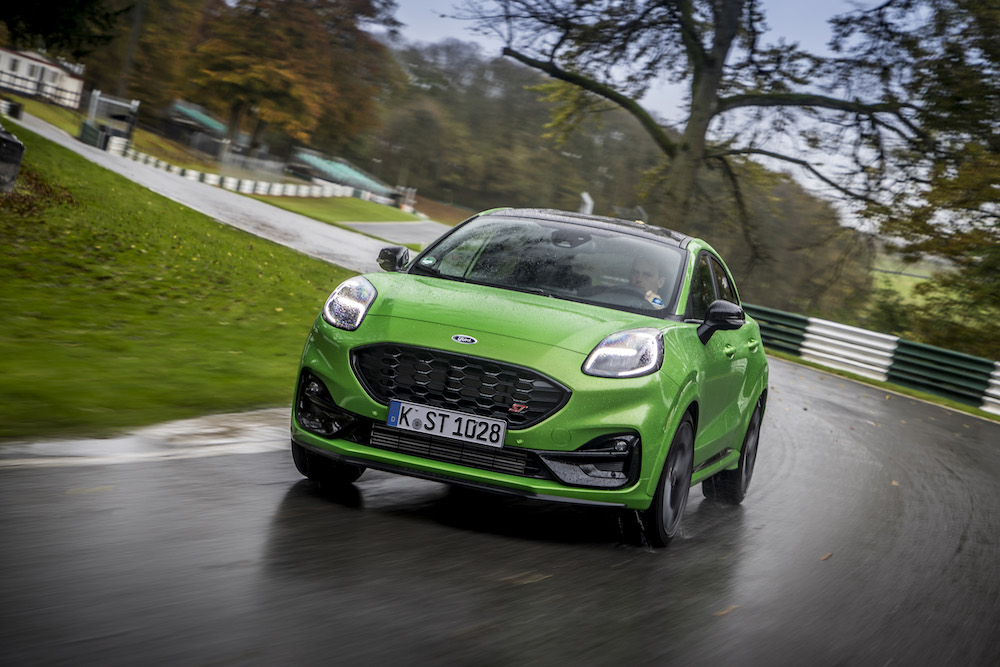 Puma ST
Do you really, really, really want one of those excellent Fiesta ST's you've heard so much about, but you could also do with more of a crossover body and a big bucket in the boot? Well – wait no longer, because the Puma ST is here and it could be just the ticket.
The Puma ST has had a privileged start to life owing to the fact the 'normal' Puma is really rather good. Handily, the Fiesta the Puma is based on is rather sublime and so the bloodline strengthens further – the Puma ST would be rightly pleased with its episode of 'Who do you think you are'.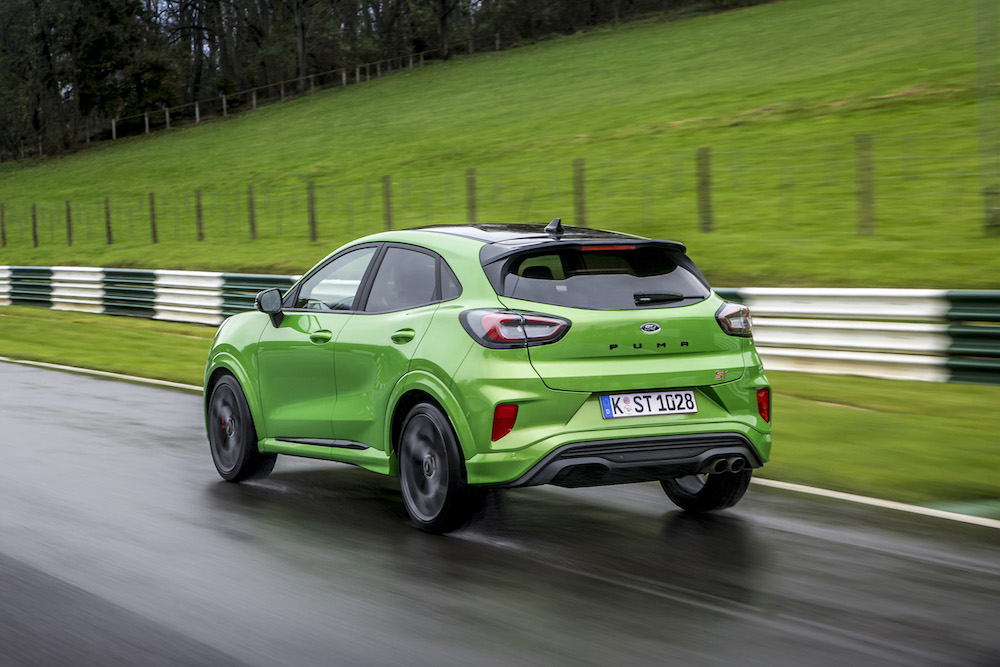 EcoBoost
So, you get the raised ride height and quirky looks of the Puma and the typically characterful hum of that 1.5 litre, 3-cylinder EcoBoost engine, but there's far more to the Puma ST than that. ST has always been a touch more conservative than the full-fat RS badge, but without an RS currently in the Ford lineup, there's a bit more freedom to explore with the Puma ST's looks.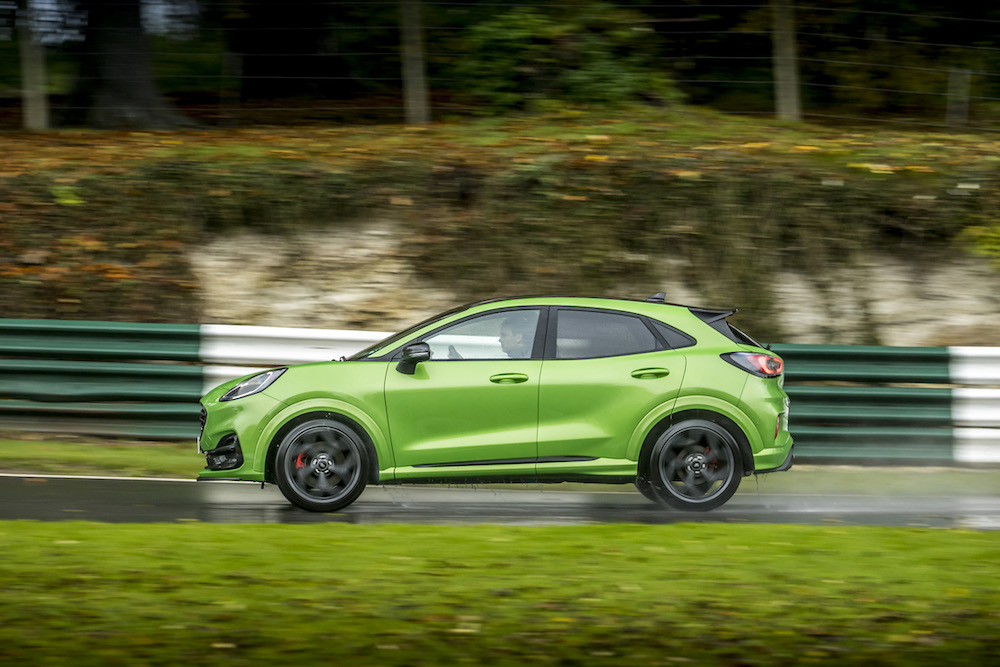 The new grille that not only looks mean but also aids engine cooling is the most eye-catching upgrade. The roof is gloss black, as are other exterior features like the door mirrors and they all complement the six exterior colours available including an ST-only colour; Mean Green that harks back to a certain Focus RS. There's aero upgrades and ST-only 19″ alloy wheels that fill the arches nicely, thanks partly to its performance tuned suspension.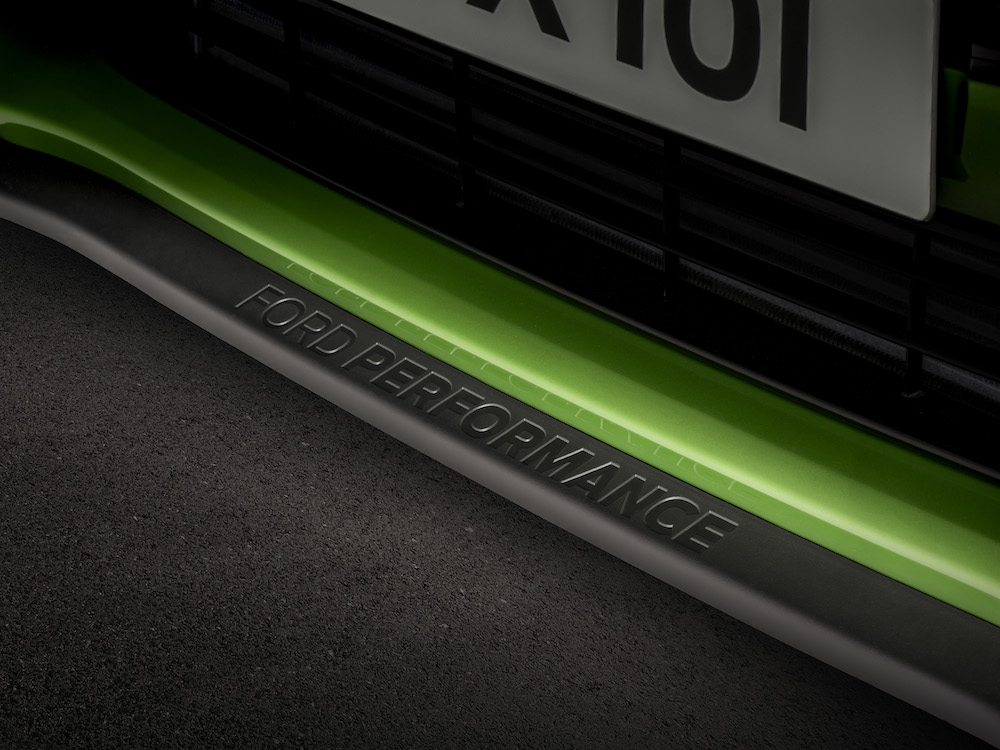 Is it a Fiesta ST under the bonnet?
That 1.5 litre, three cylinder engine that gives the Fiesta ST so much character hasn't just been lifted straight into the Puma ST. It still gives you a very healthy 197bhp but it's had its torque turned up a notch from 290Nm to 320Nm to cope with the Puma's extra 100kg or so. You get four drive modes: Normal, Eco, Sport & Track – how many Puma ST's will ever see a track remains to be seen, but a fast Ford should really have the option. What's perhaps more relevant in day to day usage is the three cylinder engine dropping to two cylinders (in 14 milliseconds, apparently) when possible, thereby using less fuel and achieving a combined mpg in the low forties. However, keep it in Sport or Track and develop a taste for that enhanced engine noise and you'll get mpg down into the twenties.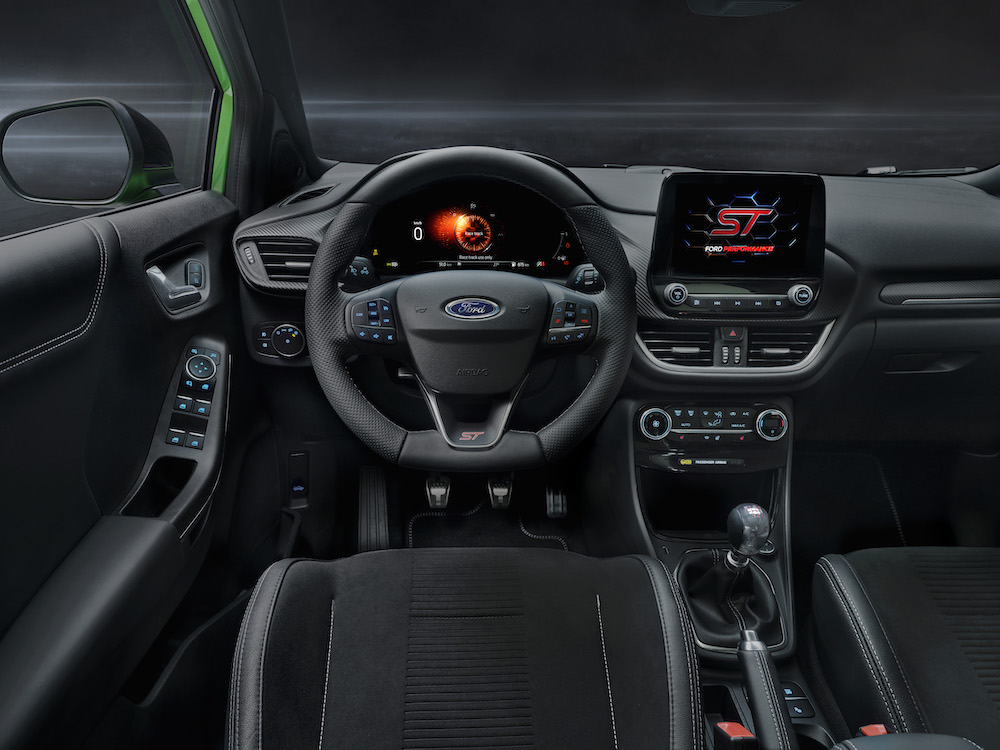 How fast is the Puma ST?
Despite its extra mass, the Puma ST manages 0-62mph in the same 6.7 seconds as the Fiesta ST and it's all channelled through the same six-speed manual transmission; no DSG etc here, thank you. Of course, what Ford has always excelled at is handling, and the Puma ST's torsion beam, front knuckle and steering rack have been heavily breathed on to make turn in and handling as sharp as you might expect. There's even bespoke Michelin Pilot Sport 4S tyres that have been developed exclusively to keep the Puma ST sticky. Go for the optional Performance Pack at £950 and you get a Quaife mechanical LSD and torque vectoring which ups the game even further; if party tricks are more your thing, the pack also adds launch control.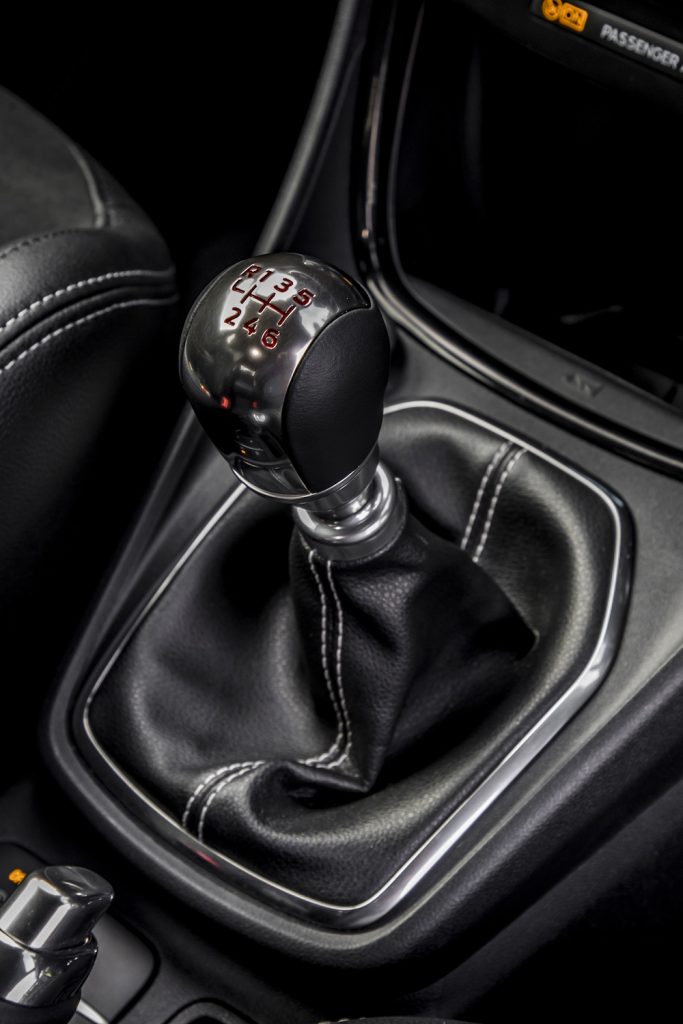 Fast Fords and Recaro seats go together like lager and donner kebabs, and the Puma ST maintains this fine partnership. Not only are the sports seats huggy enough to convince you you're in something that needs them, the driving position they provide inspires confidence. Ford's thrown in a generous amount of kit, too; those Recaros are heated, as is the front windscreen and the SYNC 3 infotainment which is a massive improvement on the previous gen will speak to both Apple and Android smartphones whilst charging them wirelessly. Even on the gloomiest British night there's no mistaking which Puma you're driving as some dazzlingly bright puddle lamps proudly cast 'ST' onto the ground for all to see.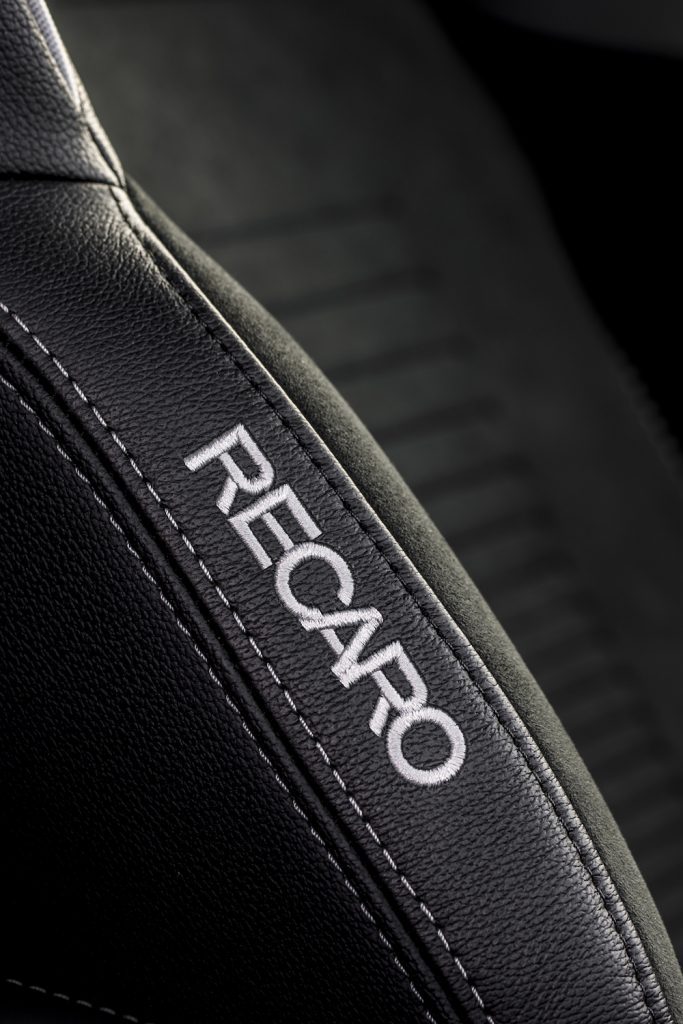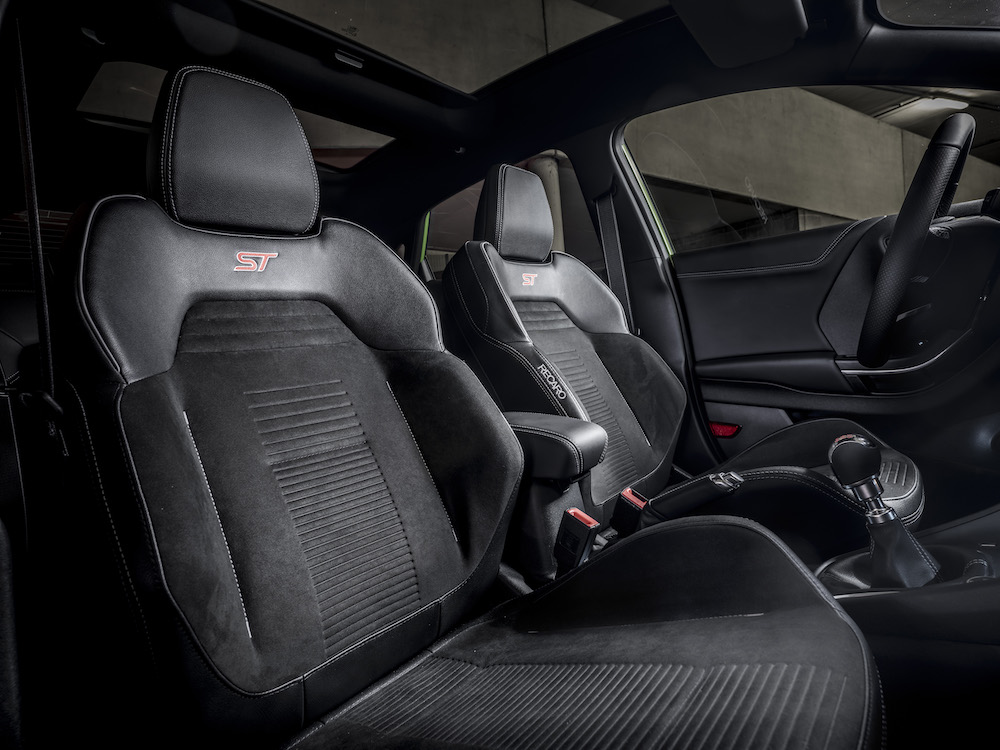 In terms of everyday usability, the Puma ST does pass the 6 footer behind 6 footer test, just, but it's not made for cross-continent family expeditions. We keep coming back to it but the Puma's Megabox under the boot floor with its drain plug is such a deliciously simple idea it kind of makes you wonder why it's not been done before.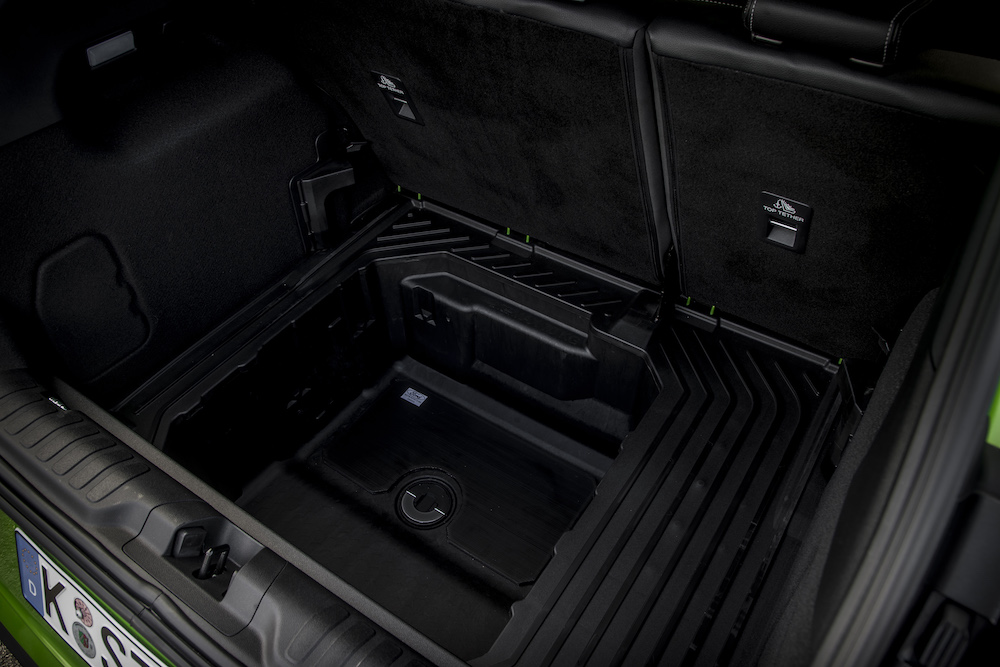 Should I buy a Puma ST?
The Puma ST is a compact SUV doing an impressive impression of a hot hatch. Is it as razor sharp as the Fiesta ST? – no, not quite. Ford has done a good job of minimising the compromise a higher centre of gravity brings, but it's not wiped out altogether. With more quick SUVs on the horizon, though, Ford has set the benchmark early.
By Ben Harrington
Ford Puma ST Specifications:
Engine – 1.5l 3-Cylinder petrol, Transmission – 6-speed manual, Layout – Front engine, FWD, Power – 197bhp, Torque – 320Nm, Emissions – 134g/km CO2, Economy – 40.9mpg combined, Maximum Speed – 137mph, Acceleration – 6.7-s 0-62 mph, Price – £27,895 OTR, £28,845 as tested
The Ford Puma ST is available now, priced from £27,895. For full details go to: www.ford.co.uk