New Rexton
To say South Korean cars have come on a bit in the last fifteen years would be something of an understatement. Once seen as the poor relation to their Japanese alternatives, the way Kia and sister company Hyundai have expanded globally means they're taken very seriously these days, and you'd be hard pressed to find a suburban street without a car from one of their ranges nestling on someone's driveway.
SsangYong is still a relatively small player, though, especially in the UK, despite the fact their extremely capable pickup – the Musso represents great value for money. This is the new version of SsangYong's largest model; the Rexton, and it's based on the Musso.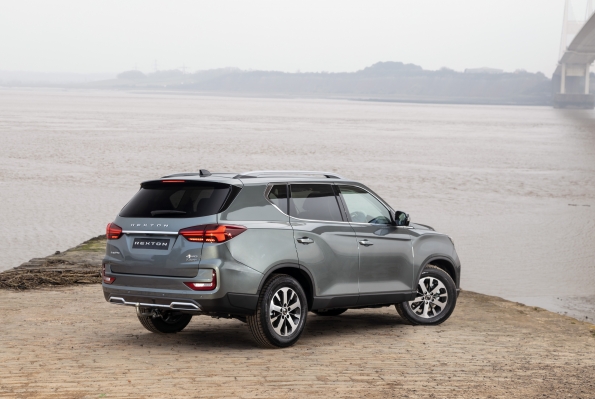 How much is it?
On paper the new Rexton's value for money credentials can't really be argued with. For starters, it's absolutely huge. Its dimensions are right up there with the likes of Land Rover's Discovery and Audi's Q7. Because of this the new Rexton comfortably seats seven and has a 3.5 tonne towing capability. Unlike the Disco and Q7, though, it starts at £37,995, with this Ultimate version priced at £40,655.
SsangYong's of yesteryear weren't exactly renowned for their aesthetics (Google 2004 SsangYong Rodius to appreciate this fully). This new Rexton's clearly had some more thought put into its appearance, though. Yes, it's a tad slab-sided but those SsangYong character wheel-arch haunches go some way to break things up. It's from the front that you'll see most improvement, with its new, striking grille that's more than a little reminiscent of another Korean SUV; the Hyundai Santa Fe. Quad LED headlights even add an air of aggression to the new Rexton's face – and it's this face that flashes up on the digital cockpit as you sit in the driver's seat; SsangYong is clearly quite proud of it.
Improved interior
Inside is, again, a major improvement on previous SsangYongs. Prod around and the plastics used are still quite scratchy but they definitely look better and the actual design with its 9 or 8" infotainment system is far more modern than before. It's the living space that really sets the new Rexton apart, though. Not only are all of the foremost five seats heated and ventilated, the extra two seats come as standard, leaving a fairly sizeable boot when they're in place and a massive 1806 litre boot with all seats down.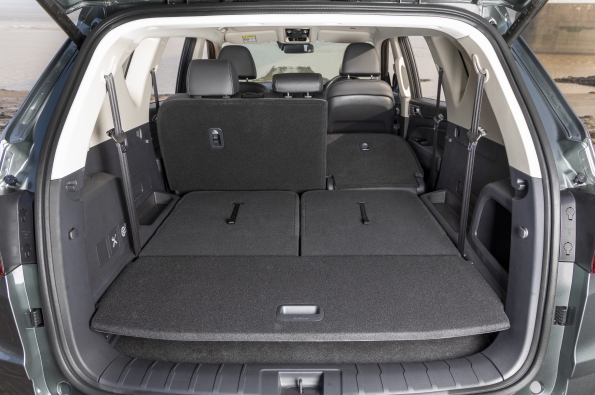 Seats 6 & 7 are as accommodating as you might expect but accessing them could be made easier if the 2nd row of seats slid forwards. With a driver and three passengers, the new Rexton never feels cramped thanks to its width – the front central armrest is straight out of one of The Governator's Humvees.
What engine choice?
Engine and transmission choice boils down to one; a 2.2 litre diesel mated to an 8-speed automatic transmission. It's the same engine found in the Musso and it was also in the previous gen Rexton. It's not the most unrefined diesel engine, by any means, but it's not exactly up there with the likes of BMW's oil burners either. A good deal of insulation makes things quite serene inside the cabin, away from the engine, too. There's three drive modes – that's nothing new these days, what's quite interesting, though, is that the modes are Eco, Power and Winter. The usual Normal mode has been omitted so you'll more than likely leave it in Eco mode for most of your driving as Power makes it hang onto gears for a little longer than necessary. Perhaps ironically, even in Eco mode we only managed 29.4 mpg with a good combination of driving environments – not quite the 32.9 claimed.
With 441Nm of torque, the new Rexton is bound to be a firm favourites amongst caravanists and other such groups who'll appreciate its 3.5 tonne towing capability and trailer sway control. That torque figure is impressive but it only manages to muster 202 bhp which isn't that much in something weighing well in excess of two tonnes. Performance isn't exactly what it's all about, then, yet a 0-60mph time of 10.7 seconds is fairly impressive, you just may not have much fun getting to 60mph. Should you come across a bend in the road, it'll grip well enough, especially in 4WD mode, but there's next to no feedback through the steering wheel and the body does tend to lean. The new Rexton's performance strengths lie more off-road and it comes with low-ratio 4WD, hill start and hill descent as standard fit.
Should I buy a new Rexton?
The SsangYong Rexton has won a certain well known magazine's Best Value 4×4 award for the last four years, and that's what it's all about. You can't compare it to the likes of the Discovery in terms of refinement, but if you need a large, capable 4×4 with a 7 year warranty, the new Rexton's got to be considered.
By Ben Harrington
2021 SsangYong Rexton Ultimate Specifications:
Engine – 2.2l 4-cylinder turbo diesel Transmission – 8 speed auto, Layout – Front engine, 4WD, Power – 202bhp, Torque – 441Nm, Emissions – 225g/km CO2, Economy – 32.9 mpg combined, Maximum Speed – 114 mph, Acceleration – 10.7s 0-62mph, Price – £40,665 OTR
The New SsangYong Rexton is available now, priced from £37,995. For full details go to: www.ssangyonggb.co.uk