2019 SsangYong Musso
It's fair to say that SsangYong as a brand haven't quite broken through the barriers regarding the perceived quality of Korean cars as Hyundai and Kia have. The Musso has for a long time been a highly respected pickup, though, and it's been leading the way in swaying people towards the marque.
This is the new Musso, so can it continue where the old one left off and raise the profile of SsangYong in Europe further still?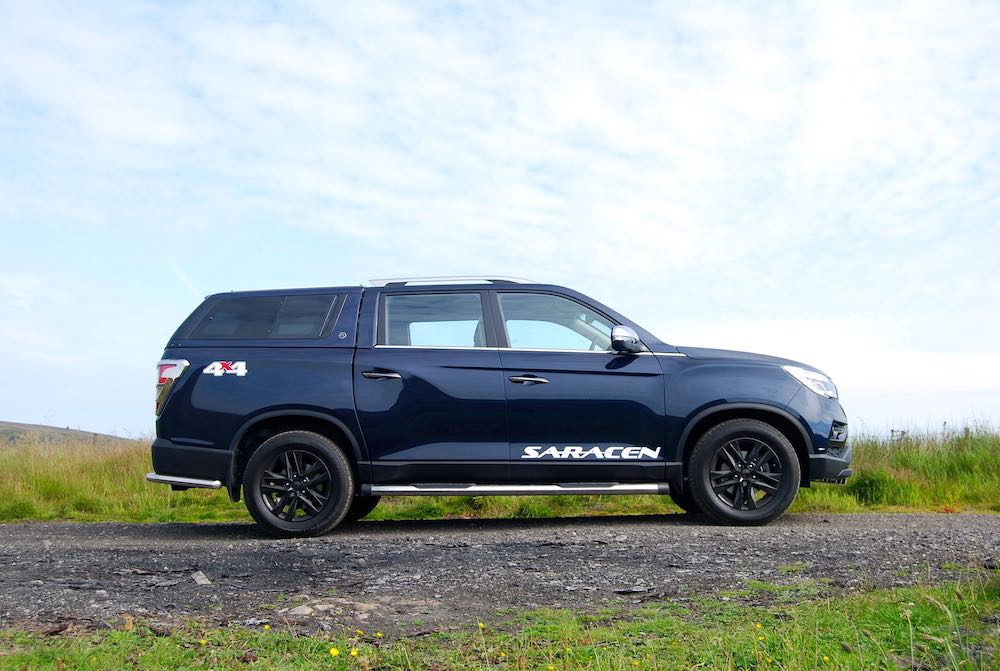 Sharpened Up
Looks-wise, you can tell it's a Musso – the bloodline's pretty evident. It's been smartened up and sharpened, though. There are obvious limitations with what you can do with a pickup, but SsangYong have added some symmetrical, feature wheel-arch haunches to make the Musso stand out. The front grille now has a chrome strip bisecting it and the whole front bumper sits further down the 'face', lowering the Musso's look entirely.
According to SsangYong's own website, the Musso is, 'Inspired by "The dignified motion of nature", one of the elements of SsangYong's design language, Nature-born 3 motion'. Hmmmm, we're not entirely sure about that, but pickups seem to fit into one of two design briefs; big & brash or more sleek and refined, and the Musso is definitely of the latter variety.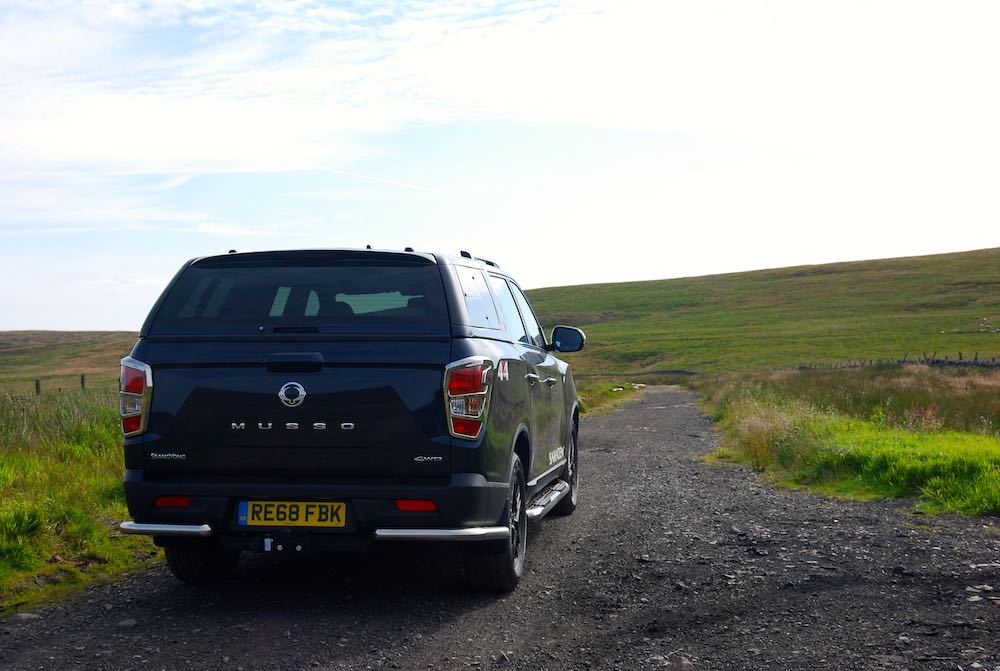 Impressive, SUV-ish interior
Sit inside the new Musso and you won't recognise it from the last model. Pickups aren't renowned for their plush interiors as a rule – they are intended to be used for more industrial tasks, after all. The Musso does a very good impression of an SUV, though – more in line with VW's Amarok and Mercedes-Benz's X-Class than traditional rivals like the L200 & Hilux.
Out test Musso is the Saracen spec model. It sits second highest in a four-spec range, namely EX, Rebel, Saracen & Rhino. I'm going to disregard the EX model for the purpose of this review as it really is aimed at the more commercial market. If you weigh up what equipment is included inside your Musso, it is genuinely impressive.
Generous Equipment
All Musso's get heated and cooled front seats, a heated leather steering wheel, rain sensing wipers, auto headlights & DAB radio with bluetooth connectivity and Apple CarPlay/Android Auto.
The Rebel gets an 8" infotainment system, Saracen & Rhino get a whopping 9.2 inches and all three have a reversing camera which is crystal clear. The operating system you use to find your way around the sat nav, media player etc would put many more 'premium' brands to shame.
The top two specs get real leather upholstery, even the rear seats are heated – what other pickups can boast those levels of standard equipment? Without blowing it out of all proportion, though – the feel of materials used and switchgear is acceptable without being overwhelmingly impressive and, for some reason, you can't have climate control in your Musso, full stop. It's manual air conditioning only.
SsangYong's Own Engine
Things have also had a shake-up under the bonnet, too. Where SsangYong previously used Mercedes-Benz engines under licence, the 2.2 litre turbo-diesel engine in the New Musso is all SsangYong's own work. It produces 178bhp & 400Nm torque and comes mated to either a 6-speed manual transmission or an Aisin 6-speed automatic.
It's currently the only engine option available in the Musso and, whilst being powerful enough, it's not the most refined and its not the cleanest either. The automatic we tested officially returns 32.8mpg (we achieved nearer 29), and it emits a substantial 226g/km CO2. The manual is marginally better at 35.8mpg & 211g/km CO2, but neither are going to get awards for their green qualities, nor are they going to be the cheapest to run. Not offering stop/start technology even as an option doesn't help and is a bit antiquated in a newly designed engine.
Class-Leading Load Capacities
On the plus side, the Musso is one of the few pickups available in the UK that can tow 3,500kg whilst simultaneously carrying over 1,000kg in its Euro-pallet sized flat-bed. It's not the largest pickup on sale in the UK but a stretched version with a 400mm longer load area is imminent.
What's already been improved for 2019 is ride quality. Without a load on board, pickups do suffer because they're designed to offer optimum comfort and stability with significant weights in the back. The Musso did tend to bounce around quite a lot, though, so SsangYong responded by fitting new springs and dampers to keep it in touch with the competition.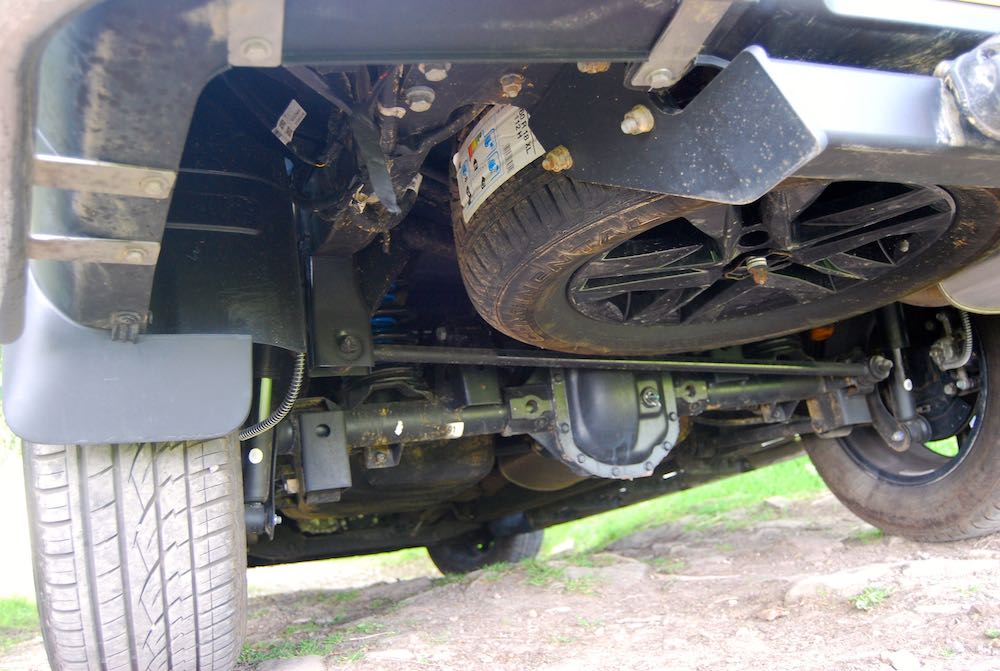 7-Year/150,000 Mile Warranty
One area where the Musso trumps many of its competitors is with its 7-year/150,000 mile warranty. It's reassuring in any class of vehicle, but a warranty as thorough as the Musso's is especially welcome in a pickup.
If actually taking your pickup off-road is part of your routine, the Musso's part-time 4WD system comes with selectable high and low-range modes and every Musso comes with hill-descent control. Ground clearance is 215mm between the axles and the front/rear overhangs are 890/1,105mm respectively.
Should I Buy a SsangYong Musso?
So, what cost, all of this? Well, this is where the Musso plays another of its trump cards. Again, I'm going to disregard the EX model, but the Rebel model with the manual gearbox comes in at £28,131 OTR. Go for this automatic Saracen version, with its many bells and whistles and it'll only set you back £32,631. That's a lot of pickup for the money.
By Ben Harrington
2019 SsangYong Musso Saracen Specifications:
Engine – 2.2l 4-Cylinder Turbo-diesel, Layout – Front engine, 4WD, Transmission – 6-speed automatic, Power – 178bhp, Acceleration – 0-62mph – Circa 12s, Maximum Speed – 115mph, Maximum Torque – 400Nm, Economy – 32.8mpg combined, Emissions – 226g/km CO2, Price – £32,631 OTR
The New SsangYong Musso is available now, priced from £20,995 + VAT. For full details go to: www.ssangyonggb.co.uk