2019 Mitsubishi ASX
The Mitsubishi ASX has been with us since 2010, which is well over a lifetime in cars terms. It's due to be comprehensively replaced in 2020, but until then, it's had its fourth facelift. So, just what can the automotive equivalent of Cher offer us on its swansong?
The ASX is apparently an Active (A) Sports (S) Crossover (erm…….X?) which actually sounds like the product of a manufacturer's brainstorming session. In all fairness, though, you can opt for 4WD in your ASX, so that's the Active box ticked at least.
On face value, it's kinda tricky to see what Mitsubishi are trying to achieve with the ASX, though. Drop the suspension a couple of inches and it's genuinely a small, 5 door hatchback, without the added 4×4-ness of the competition; Qashqai, Ateca etc. If anything, it's closest in looks to Toyota's Urban Cruiser.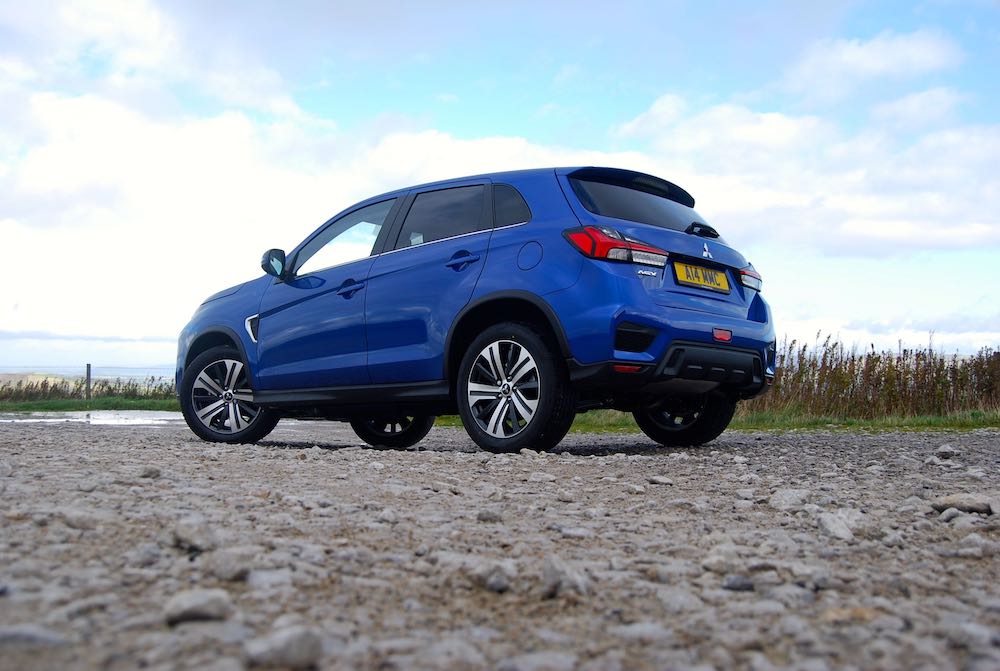 Totally New, Windscreen Forwards
This facelift has helped toughen things up. Everything windscreen forwards has been replaced and the front grille is higher, in-keeping with the rest of the Mitsubishi range. A brand, by the way, who now claim to be the SUV specialists. There's new LED lights, front and rear, including some KIA-esque 'ice-cube' quads on the front. For some reason, full beam on the ASX is now way too dull, though – strange in these days of ultra-bright LEDs.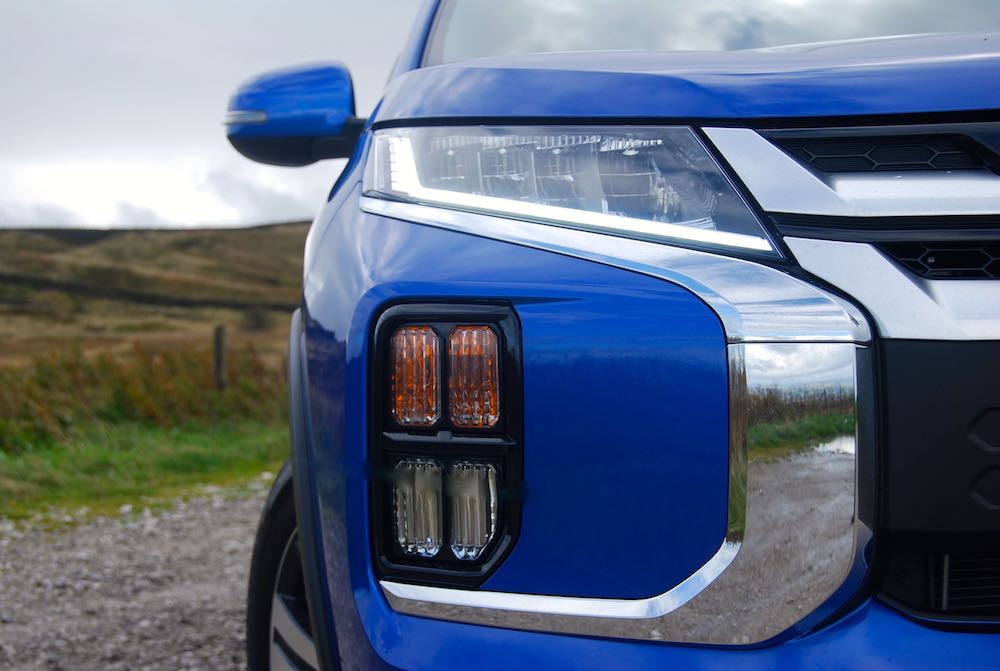 Commanding View
Inside the ASX, the first thing you'll notice is that that slightly raised suspension does give you a good view of the road ahead. The seats aren't exactly supportive, nor overly comfortable, but they are all height adjustable. That commanding view unfortunately isn't through 360 degrees, and that's due to a small rear window and some pretty sizeable C-pillars. To combat this, the door mirrors are oversize and all ASXs come with a rear-view camera as standard.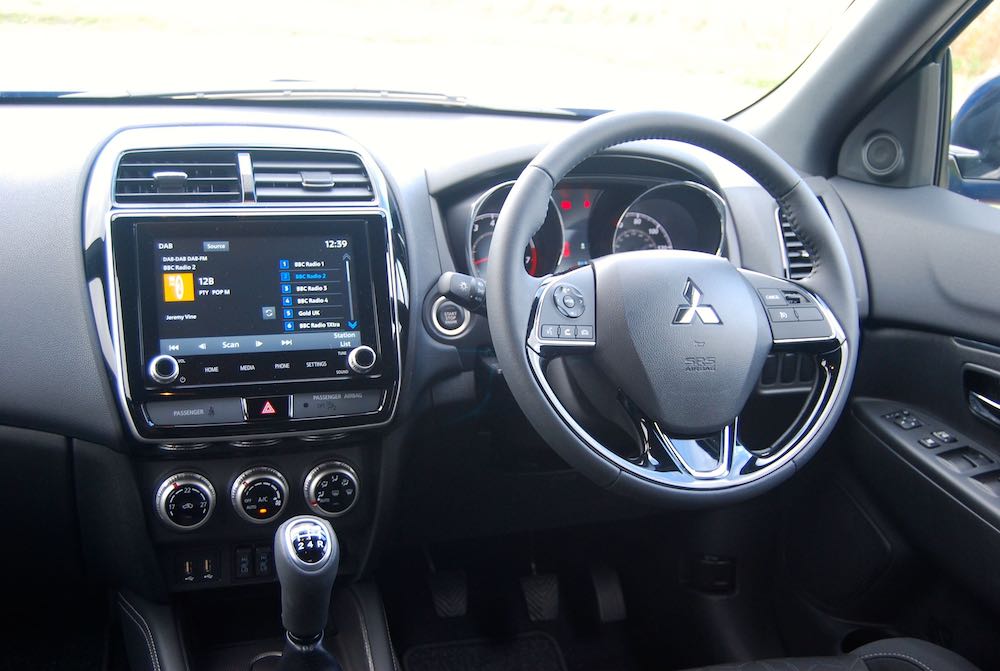 Decent Plastics
The quality of plastics used inside the ASX are decent and you'll find some far creakier ones at this price. There does seem to be swathes of dull, black plastic, though, with little imagination used. Add to this a gearstick that seems to have been lifted straight from a MK4 Escort and you'll find little to write home about. On the plus side, the switchgear is sensibly arranged and navigating your way around the new, 8.0 inch central screen is straightforward.
One Petrol Engine
Speccing your ASX has been made about as easy as it gets. There's one 2.0l petrol engine, no diesel, then it's a choice between a 5-speed manual and 2WD or a CVT transmission and 4WD. Our test car is the 2WD variant in the cheaper Dynamic spec (there's also Exceed spec available and that's the only option on the 4WD version).
The 148bhp engine is naturally aspirated and, despite having more power and more torque than the 1.6l it replaces, it isn't exactly spirited, putting up quite a noisy fight if you venture over 4000rpm. The manual transmission has a long throw from gear to gear, but the ratios are sensibly spaced. By all accounts, the CVT unit in the 4×4 is old fashioned and wheezy, but if you really need the extra grip, that's your lot.
Varying Ride Quality
The ride quality of the ASX isn't bad at all, considering its relatively small wheelbase. Road imperfections do reverberate through the cabin, though, and it's not a car made for regular motorway journeys. In terms of handling, our 2WD car at least had a tendency to lean somewhat and the front wheels will push towards understeer when provoked. Again, the 4WD version could fare better, but if you want driver satisfaction, you're probably not looking at an ASX anyway.
If you're a rear seat passenger, the ASX is a far roomier place to be than much of the competition. That square shape means head room isn't compromised and there's more leg and elbow room than you might warrant.
To allow this extra room in the back, some space has been taken from the boot which is now 406 litres with the rear seats up. Put them down and you have 1156 litres to fill with stuff – again, aided by that square-ish shape for larger items.
Should I Buy An ASX?
The Mitsubishi ASX definitely looks more appealing than ever, and it has more of a quality feel than some. Starting at £20,295, though, it's not cheap, and there's just too many more modern cars in this bracket to make it a realistic proposition. We say; wait for its replacement in 2020.
By Ben Harrington
2019 Mitsubishi ASX 2WD Dynamic Specifications:
Engine – 2.0l 4-Cylinder Petrol, Layout – Front engine, FWD, Transmission – 5-speed Manual, Power – 148hp, Acceleration – 0-62mph – 10.2s, Maximum Speed – 118mph, Maximum Torque – 195Nm, Economy – 40.4mpg combined, Emissions – 161g/km CO2, Price – £20,295
The 2019 Mitsubishi ASX is available now. For full details go to: www.mitsubishi-motors.co.uk