Now in its third generation and after a recent facelift, the Honda Jazz (Honda Fit in some countries), kind of broke the mould when it was first released back in 2001. What it was, and still is in fact, is a small car that fits neatly into the B-segment, yet thanks to its height and practicality, it's actually something of a little MPV.
Honda Jazz
All this has meant it's found its way into well over 5 million homes globally, yet, for some reason, the majority have been old people's homes………or should I say homes elderly people live in? You get the idea.
Magic Seats
And that's actually kind of odd, because with its extra space and 'magic' seats in the back, the Jazz is actually very handy if you've got a young family and all the accoutrements that comes with them. It might not be the cheapest – Hondas never are, but this latest Jazz is bigger than ever and has seen some major improvements across the board.
This facelift makes the Jazz less gawky than it was, a bit more relevant than before. Where the Jazz used to resemble that most Japanese of vehicles, the kei car (despite actually being way too big), it's now more streamlined, less slab-sided.
Improved Interior
Where the most noticeable improvements have been made is on the inside, though. The dashboard is a vast improvement on the previous model with some actual thought going into its design. The infotainment system is now touchscreen, which is great, although I do wish manufacturers would keep volume controls as rotary dials, rather than forcing me to persistently stab at a screen. There's still no Apple CarPlay or Android Auto either, the Honda Connect system's just about clever enough to get away with it.
I Do Love A Good Cupholder
It's the Jazz's long-standing USP that still sells this cabin, though – and that's how practical it is. Those magic rear seats we mentioned can be flipped totally forward with one hand whilst keeping the other hand free to hold a child in a car seat, and that's so reassuring as a parent. It's sometimes the little things in life, and the flip down cup holder on the far side of the steering wheel is an absolute pleasure, mainly because it's at the right height.
The Jazz's other USP also comes into play here – its height. Making the car taller naturally makes for bigger doors and apertures, and getting in and out of both the front and the back is as easy as it gets. Perhaps this is why the older generation find the Jazz so appealing.
We predict that 95% of Jazz sales are going to be powered by their 1.3l, 101 bhp VTEC unit. It drives either a 6-speed manual 'box or a CVT unit; if you can, go for the manual – it's cheaper and a pleasure to use next to the rather tedious CVT.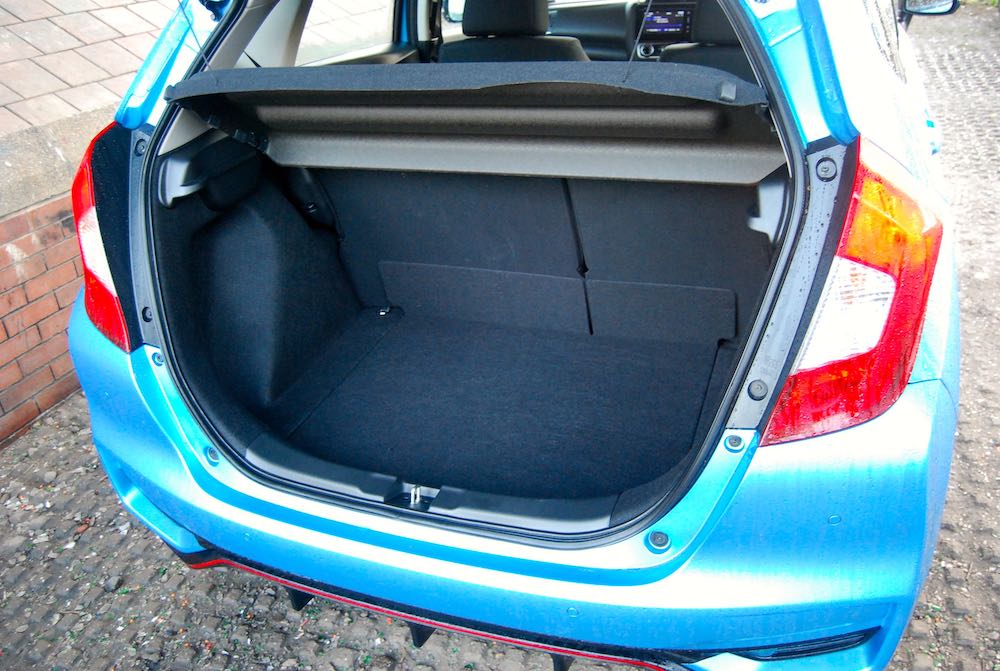 Anyone For Acid Jazz?
But what about the other 5%?, I hear you cry. Well, there's now a Jazz Sport (does that make it Acid Jazz?) for your delectation, and we've got one here.
It's not only been beefed up visually, with more than a hint of Civic Type R about it, it's got more power to play with, too. Under the bonnet is a 1.5l i-VTEC, again, with either the 6-speed manual or the CVT transmission. The truth is, Honda know engines, and this one is a bit of a peach. 129bhp & 0-62mph in 8.7 seconds might not be headline grabbing numbers these days, but in the not too distant past, this would have been a hot-hatch. Either way, the way the engine revs freely, even sounding remotely enthusiastic is new to the Jazz and somewhat unexpected.
Realistically, though, sales of the Jazz Sport are likely to be in the minority. Why? Because it costs from £17,400, and that's quite a lot of money for a Jazz.
Hot Hatch? Not Quite…….
Of course, there is another way of looking at it. Yes, it's £17,400, but that's nearly a couple of grand cheaper than, say, a Fiesta ST. Yes, it's less powerful and slower, but where the Ford sits in insurance group 28, this Jazz is only group 19. It's a brave move, but maybe Honda have actually made a decent stab at the youth market by introducing a sort of half-step into hot-hatch ownership; a tepid-hatch, if you like.
Should I buy a Honda Jazz?
Sport or not, the Jazz looks better than ever, has more up-to-date tech and, most importantly, is beautifully practical. Whether they'll ever comprehensively throw off their elderly image remains to be seen.
By Ben Harrington
Honda Jazz Sport Navi Manual Specifications
Engine – 1.5l i-VTEC 4–cylinder, Transmission – 6–speed manual, Layout – Front engine, FWD, Power – 129bhp, Torque – 155Nm, Emissions – 133g/km CO2, Economy – 47.9mpg combined, Maximum Speed – 118mph, Acceleration – 8.7s 0-62mph, Price – £17,765 OTR, £18,265 as tested
The Honda Jazz is available now. For full details go to: www.honda.co.uk