According to a well-respected statistics portal, dog ownership in Japan in 2018 was limited to just 11.5% of households. This is compared to 26% of UK households. Not only this, but of those 11.5%, the majority of dogs owned in Japan are breeds such as chihuahuas, dachshunds & toy poodles i.e. pooches that don't take up much room. Compare this again to the UK and you'll probably not be surprised to learn that the good old Labrador retriever, weighing in on average at 30kg is still the most popular breed.
Civic 4-Door
What's the point of all this? Well, not needing to lug a big dog around is the only reason I could think of to explain the continuing popularity of saloons, or sedans as they're known in certain countries, when the far more practical hatchback alternative is available. The Japanese still take their rubbish to the tip, or recycling centre as they're now more politically correctly known. There's even Ikea in Japan – I've checked, yet a large chunk of their population would prefer to struggle on with a 3-box saloon.
And here we have a prime example of this – the Civic 4-door, which is now available to purchase from your local UK Honda dealership. It's priced from £19,600, so you'll be paying a £500 premium over the hatch……….hmmmmm, this isn't looking good.
Looks Are An Improvement
Quite contrarily, though, the Civic 4-door actually is looking good. The basic design is more 4-door coupe than boxy saloon, and it's unquestionably better proportioned and generally prettier than the rather awkward 5-door. The lines flow more naturally towards the tapered rear end and the rear lights have been sculpted to fit whilst still being undeniably Civic.
The cabin architecture is exactly the same as the Civic hatch, so a mixture of decent quality plastics and switchgear. One major difference you'll notice from the drivers seat is the rearwards visibility. On the one hand there's some pretty sizeable C-pillars to deal with, but on the other hand, that silly split rear window is no more. It's not the most panoramic rear window in the world, and that trait of deleting the rear windscreen wiper in saloons has reared its inconvenient head, but it's unquestionably a more reassuring view.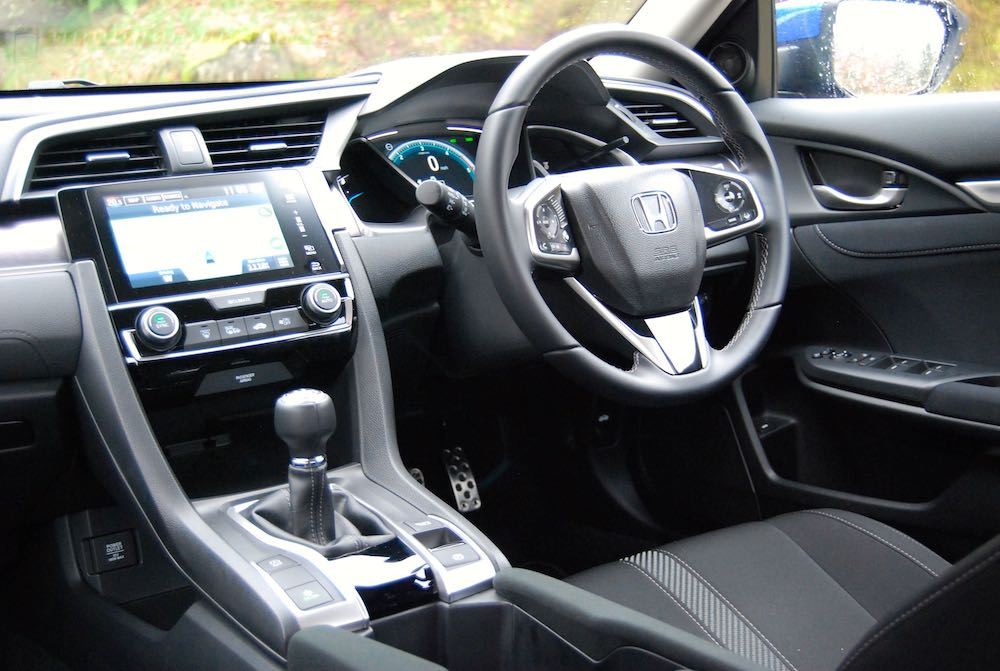 It's quieter, too. Without the noise booming around your boot having a clear run into the cabin via a flimsy parcel shelf, there's far less noise, especially at motorway speeds. That is, of course, unless you put the rear seats down…….
Do WHAT With The Rear Seats?
Yes, you heard me right, the Civic 4-door has rear seats that can be folded forwards for increased boot space. It's still not got the height of a hatchback's luggage area, obviously, and the wheel arches impinge a bit, but being able to slide longer items through into the cabin makes the saloon far less of a compromise. Makes you wonder why more saloons aren't made this way.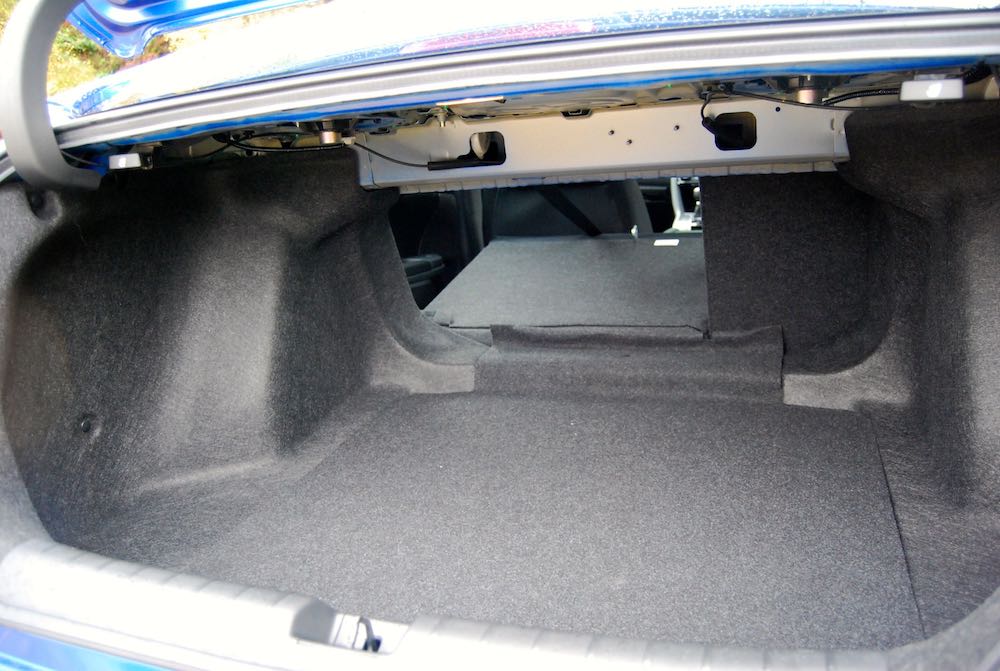 One Petrol, One Diesel, No Type R – Yet
From launch there's a choice of two engines; one 1.0l petrol, one 1.6l diesel. The petrol is available with either a 6-speed manual or a CVT 'box, the diesel with either a 6-speed manual or a 9-speed automatic. There's three specs; SE, SR & EX, and all trims are available with all engine/gearbox choices. Prices start from £19,395 for the SE manual petrol, going up to £27,120 for the EX automatic diesel.
Honda say they've re-engineered the suspension on the 4-door, giving a perfect blend of comfort and sports handling. I'd have to drive the saloon and hatch back-to-back to testify how this translates on the road, but the hatch was never a big, wallow thing to start with anyway.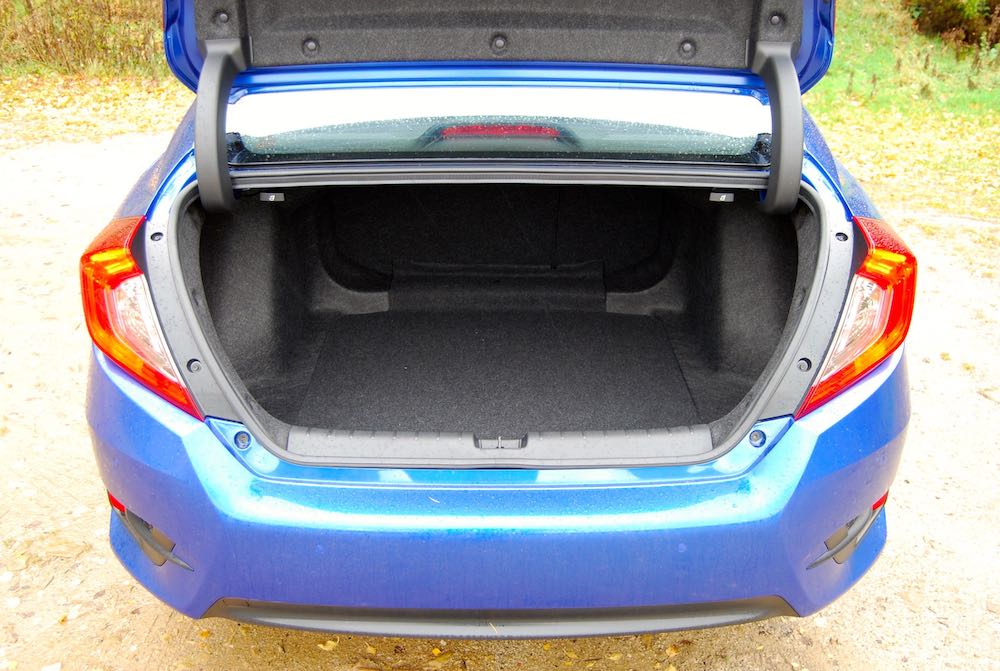 The more astute of you will have noticed that there's no Type R option in the range. Whether Honda will follow the likes of Hyundai with their i30 N and give us a super-saloon Civic, we'll have to wait and see.
Should I Buy A Civic 4-Door?
Whether the rear seats fold down or not, the 4-door Civic was never going to be quite as easy to live with day-to-day as the hatch. It makes a good stab at load-lugging, though, and it certainly ups the stakes in the looks department, if you're after a saloon , the 4-door Civic is a very good one.
By Ben Harrington
Honda Civic 4-Door 1.6 SR Specifications
Engine – 1.6l diesel, Transmission – 6–speed manual, Layout – Front engine, FWD, Power – 118bhp, Torque – 300Nm, Emissions – 91g/km CO2, Economy – 83.1mpg combined, Maximum Speed – 125 mph, Acceleration – 10.0s 0-62mph, Price – £22,590 OTR, £23,115 as tested
The Honda Civic 4-Door is available now. For full details go to: www.honda.co.uk