Arteon Shooting Brake eHybrid
Shooting Brake; an odd term when you think about it, with its links to hunting 'n'all, but one that has the uncanny ability to set car lover's pulses racing. Manufacturers have come up with all kinds of sexy, contemporary names for what's essentially an estate car – Sports Wagon, etc, but when the car your estate's based on has a more sporty bent, shooting brake's the one to go for if you want attention. Yes, you could argue that a shooting brake should only have 2 doors, but so should a coupe and the days of that being the rule have long gone.
Cheap Porsche?
So when Volkswagen decided to add a touch more practicality to their Arteon which was already more of a 4-door coupe than a run-of-the-mill-hatch anyway, shooting brake was the perfect fit. The Arteon Shooting Brake's silhouette has more than a passing resemblance to its distant relations from Porsche: the Turismo versions of the Panamera and Taycan. Especially the Taycan and even more especially around the rear with their similarly angled hatches and the flattened form their reduced glasshousing takes.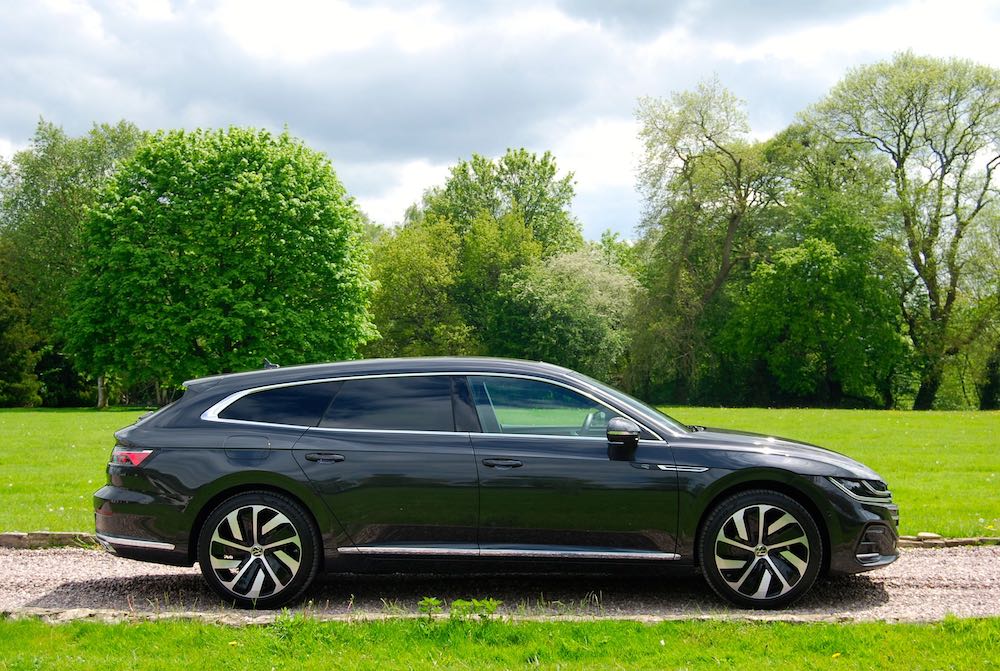 How much room inside?
Inside the Arteon Shooting Brake is still a genuinely roomy space for five adults, you even get a smidgen more headroom in the back than you get in the hatch. Put the rear seats down and luggage space has grown from 1,557 litres to a very useable 1,632 litres. And we say useable, because it's just that. It's the perfect shape and size for a single divan bed base; we know because we tried – and yes, the boot closed too.
The Arteon's dashboard etc has had a slight refresh for 2021, the new, 2D friendly logo staring at you from the unnecessarily flat-bottomed steering wheel being the most noticeable addition. Thankfully it's been spared the Golf 8's minimalist approach to switchgear etc, and you can still adjust the climate via some actual buttons and switches positioned below a landscape orientated touchscreen. Even the haptic buttons on the steering wheel require a bit of a prod, so you shouldn't accidentally lose Jeremy Vine every time you turn a sharp corner. Go for all but the base-spec and at night the cabin is bathed in a sea of mood lighting. You get 30 colours to choose from – VW's flavour of the month blue is the default, obvs.
Three trim levels
There's currently three trim levels; Elegance, R-Line and the one we all actually want – R. The cheapest Arteon Shooting Brake will cost you £35,395 OTR – this is the R-Line which starts at £36,570 and for that you get 19" alloys, tinted rear windows a panoramic sunroof and those thirty interior colours to play with to your heart's content. There's two petrol engines; a 1.5l TSI with 149bhp mated to a 6-speed manual & a 2.0l TSI with 188bhp that gets a 7-speed DSG. VW hasn't given up on diesel either – a 2.0l TDi with either 149bhp or 198bhp & either the 6-speed manual or 7-speed DSG is available, dependent on trim – go for the R-Line and you can even have a 4Motion version.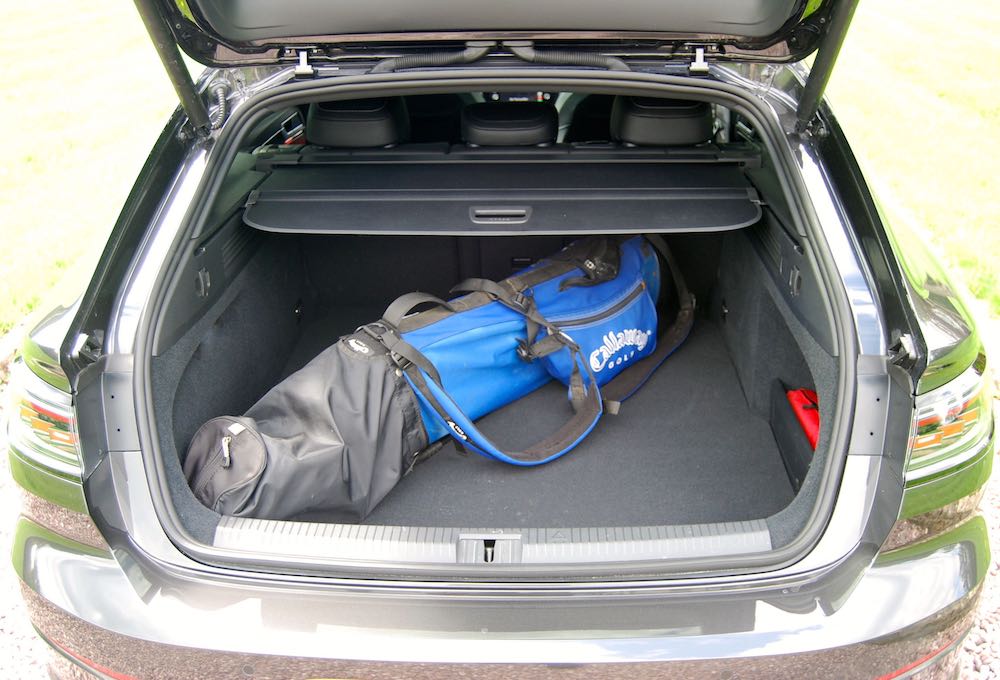 eHybrid; Not GTE
As you might expect, there's also a hybrid version, it's a plug-in and it's exactly what we're testing here. They've called it an eHybrid, not GTE like other hybrid VWs, despite the fact it's got a GTE button. Go figure. Under the bonnet is a 1.4 litre TSI engine mated to a 6-speed dual clutch automatic 'box, plus an electric motor, both of which drive the front wheels. Combined power is 215bhp and a very handy 400Nm torque which gets the Arteon Shooting Brake eHybrid from 0-62mph in 7.8 seconds.
Volkswagen claims a 39 miles electric-only range, we managed nearer 32 before the petrol engine kicked in. The good news is that when the petrol engine is running, it's far more refined than some hybrid's ICE units; it doesn't leave you longing quite as much for the good ol' days of ignorantly guilt-free fossil fuel burning. It also looks exactly the same as the non-hybrid variant – VW has decided against giving the hybrid version special aero-friendly wheels, and that's a good thing.
The downside of the Arteon Shooting Brake in eHybrid flavour is it's not quite as much of a keen drive as the non-hybrid version. The extra weight is noticeable, especially around bends and the 6-speed transmission loses some silky-smoothness compared to the 7-speed in other versions.
How much will it cost to run?
Of course, you don't just buy a hybrid to save the planet, it'll also save your wallet too, especially if you're a company car driver. The Arteon eHybrid officially only gets through a gallon of petrol every 209 miles, emitting 32g/km CO2 too. This adds up to a BIK rate of 11%, and let's be honest, that's a huge sway towards a plug-in. If you're a private buyer the attractive running costs are offset slightly by a fairly hefty price tag. The cheapest hybrid will set you back £41,330, this R-Line is £42,170 – only the 4Motion version is more expensive.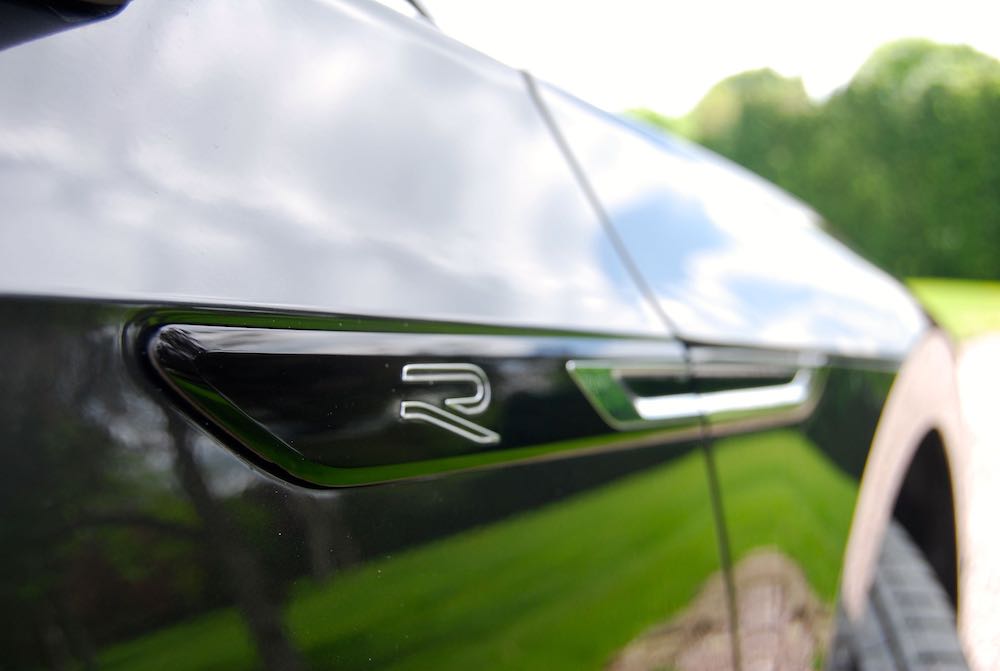 Should I buy an Arteon Shooting Brake eHybrid?
To put things into perspective, VW makes a Passat Estate hybrid called the GTE Advance, and it costs £42,130 – this Arteon eHybrid is £42,170. So, it may not be able to carry quite as much stuff as the Passat, but for a whole £40 you get more kit and something that blows it away in the looks department. Plus, you don't have to tell anyone you drive an estate – it's a Shooting Brake.
By Ben Harrington
Volkswagen Arteon Shooting Brake eHybrid R-Line Specifications:
Engine – 1.4l 4-Cylinder petrol & electric motor, Transmission – 6-speed DSG, Layout – Front engine, FWD, Power – 215bhp, Torque – 400Nm, Emissions – 32g/km CO2, Economy – 209mpg combined, Maximum Speed – 138mph, Acceleration – 7.8-s 0-62 mph, Price – £42,170 OTR
The Volkswagen Arteon Shooting Brake eHybrid is available now. For full details go to: www.volkswagen.co.uk