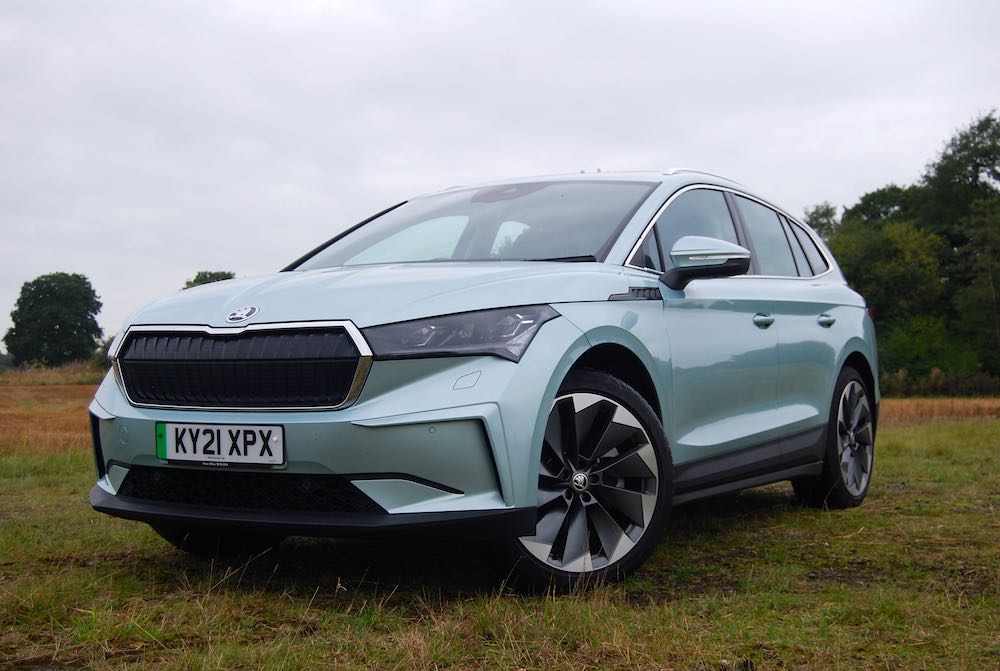 Skoda Enyaq iV
It seems barely a week goes by at the moment without a new electric car launched onto the market, making Tesla's position at the top of that particularly fashionable tree more and more precarious. It was always going to be interesting when the established brands had a go at it, none more so than everything under the VAG umbrella, and this is Skoda's ground-up electric car; the Enyaq iV. Why name it after an Irish songstress famed for haunting melodies? – because Enya is Gaelic for source of life, all electric Skodas start with 'E', oh, and they had to stick a 'Q' on the end to fit in with their SUV naming strategy.
The iV bit is also part of Skoda's electric nomenclature; i can apparently stand for innovative, inspiring, iconic or intelligent; all good, strong adjectives there. The V stands for vehicle – even we could have worked that one out.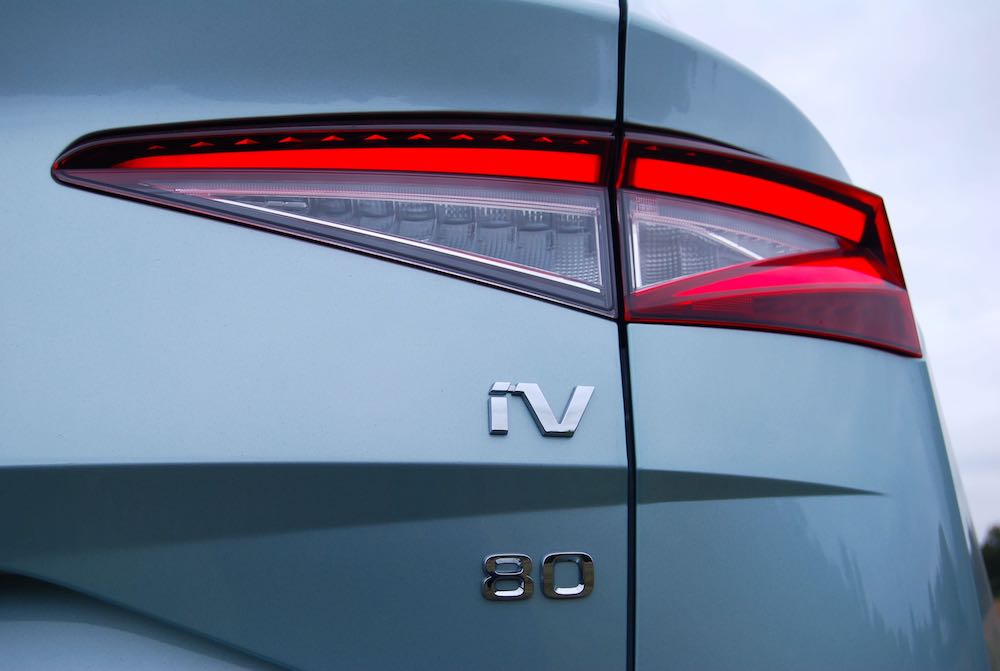 What powers the Enyaq iV?
Enough of the name, what's under the, erm, bonnet? It's based on the VW ID.4 so that means the same platform and the same powertrains. The base model is the iV 60 and that has a 62kWh battery – that'll cost from £32,010 with the current government grant. Then there's this; the iV 80 and that has an 82kWh battery. It comes in one of three flavours; the basic 80, the Sportline 80 and the 80x Sportline, priced at £39,365, £42,915, & £46,610 respectively. 80 spec Enyaqs come with 125kW charging capability, 60s come with 100kW as a £340 option; both make an 80% charge in under 40 minutes possible, assuming you can find a rapid charger of course.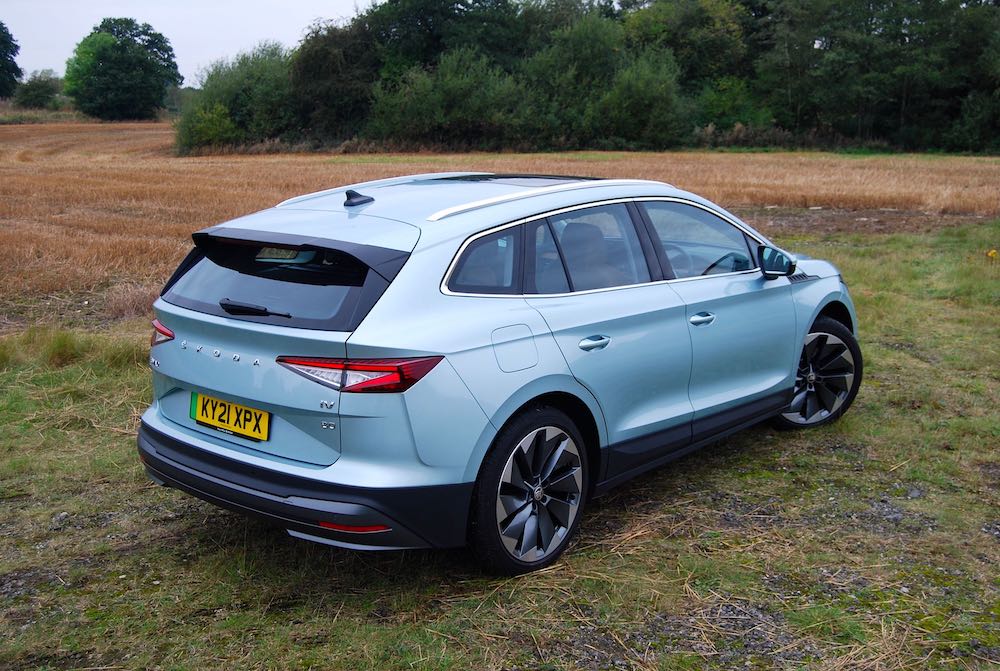 MPV? SUV? Estate?
Looks-wise, the Enyaq blurs the line between SUV, MPV and good old fashioned estate-car thanks to its ultra-slippery, raked back design. It's undoubtedly a Skoda; the grille and angular front & rear lights give it away, but in terms of silhouette alone we couldn't help but draw comparison to the original Ford S-Max. This is an electric car that doesn't scream the fact at everyone as it drives past. The fact it still has a grille, albeit blanked out and crystallised if you so wish is far more conventional than most battery powered motors. It sounds incredulous to say that the 19 inch wheels some Enyaqs come with as standard aren't big enough, but when you see one rolling on 20s or even the optional 21 inch rims, it so suits the design.
Range & Performance
All Enyaqs except the new 80x Sportline have a single electric motor powering the rear wheels and performance is very similar across the range with 0-62mph taking 8.7s in the iV 60 & 8.5s in the 82kWh 80 and 80 Sportline versions. The new range-topping 80x Sportline has a motor driving the front wheels too, hence the 'x'. Performance is more spritely with 0-62mph dropping to 6.9s but max speed is kept at 99mph – the same as lowlier Enyaqs and range drops to 303 miles. Go for a 60 spec and you can hope for 256 miles from a charge, single motor 80 Enyaqs manage 326 miles or 331 miles in the cheaper, slightly less sporty looking version.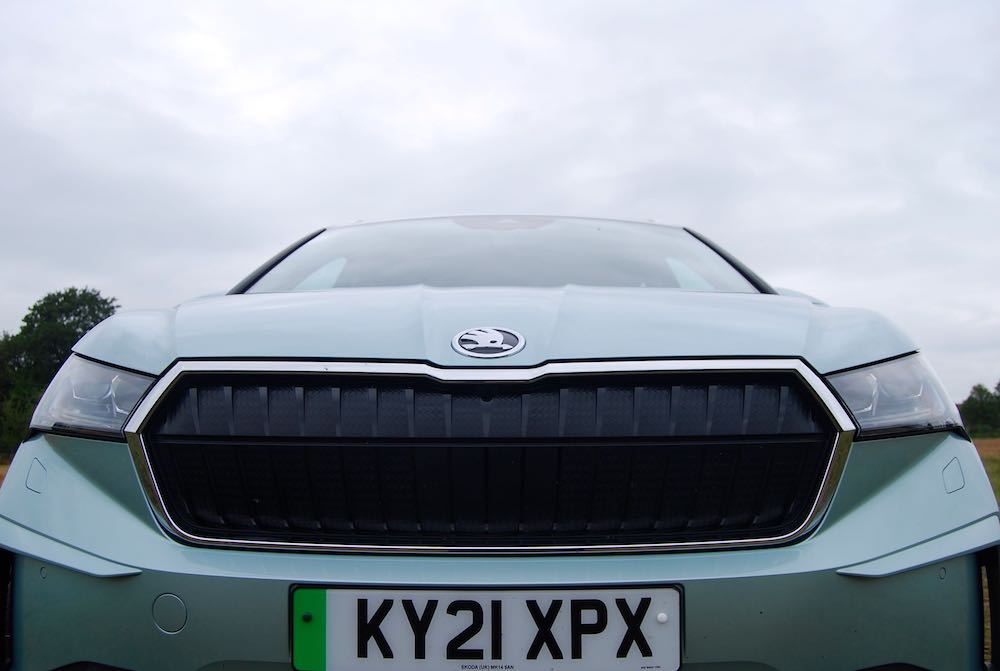 Inside the Enyaq is spartan, as you might imagine from a VAG product these days, but it's not taken minimalism to the point of annoyance, just for the sake of it. Yes, the centrally mounted 13-inch screen dominates the scene, but there's still a smattering of actual buttons and click wheels. In front of the driver is a mini display with basic but important info such as range and speed on show; it's vital but does look a bit low-rent compared to the main, high res screen.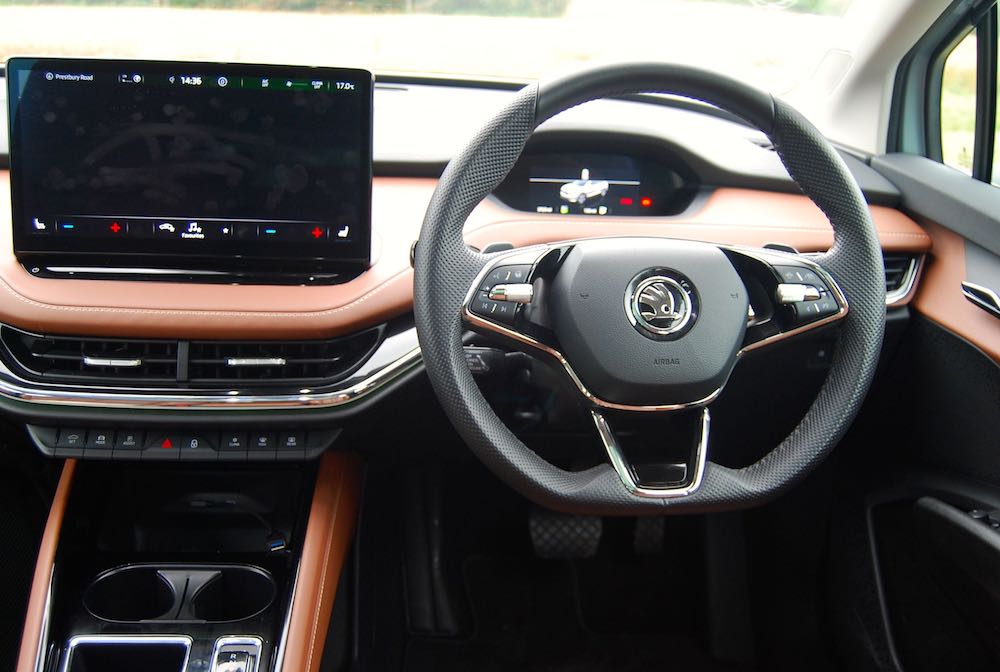 Loft, Suite, Lounge or Lodge?
When you spec your Enyaq, the outside bits come under the 'exterior' category – makes sense, yes? The interior, however, is labelled 'design' and you then pick from 'Loft', 'Suite', 'ecoSuite', 'Lounge' or 'Lodge'; all of which I'm pretty sure are bars I've overpaid for a drink in. Well, except ecoSuite. This approach to interior design is what we've come to expect from the likes of Volvo & Audi; fair play to Skoda for daring to mix it with the 'cooler' kids – we think it works.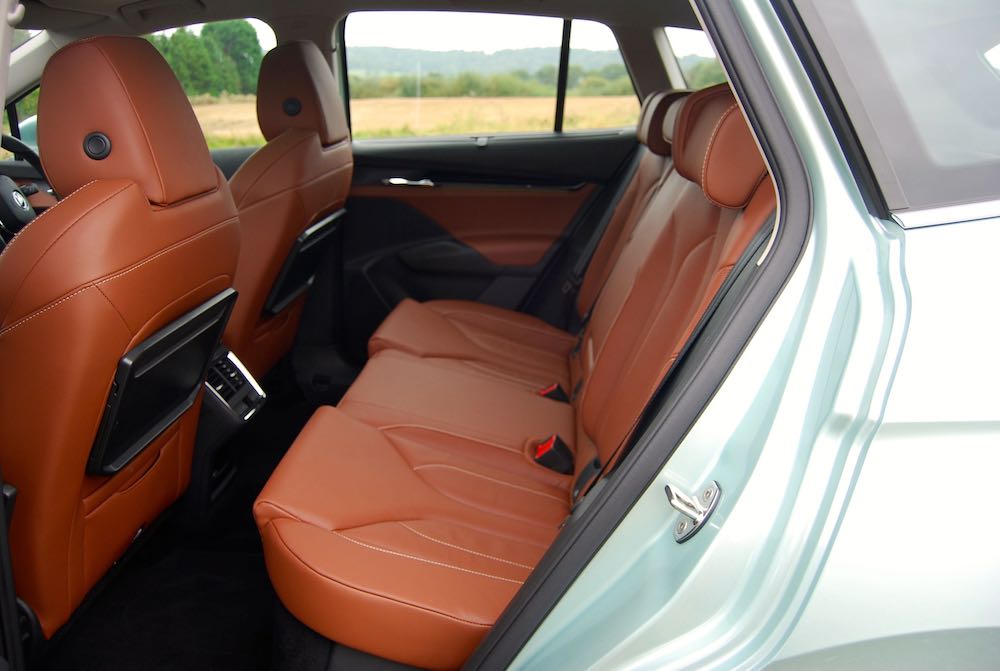 Whether you like the names or not, the Enyaq's cabin space is a triumph of flowing, simple design and practicality. The seats feature Skoda's angular design and you feel like you've got an abundance of room for knees, head and elbows whichever one you're sat in – they are a little on the firm side though. There's well disguised cubby holes to keep life's clutter from ruining the ambience and the whole interior just feels more generous than its basic dimensions really should.
Should I buy an Enyaq iV?
What we've not touched upon yet is what's possibly the Enyaq's most pleasing aspect, and that's range. We're not just talking its maximum claimed range of 331 miles at best, anyone can claim a their product will do something that's realistically beyond its capabilities. We drove the version with a claimed 331 miles range in conditions that required the heating and lights to be on a lot of the time and instead of the battery giving up and a certain anxiety creeping in as you realise you've got closer to 220 miles from a charge, it actually gave what it promised. The range even increased on downhill journeys etc, and it's this that will sway the sceptics into electric cars, but only good ones like the Enyaq.
By Ben Harrington
The Skoda Enyaq iV is available now, priced from £34,510. For full details go to: www.skoda.co.uk