Fiat 500 Hybrid
This is the new Fiat 500. Except it isn't, because the new Fiat 500 is electric, and this isn't, it's a mild hybrid. Let me explain. There will, for the meantime anyway, be two Fiat 500s running concurrently. The 'New' 500 is electric only – this 500 which is badged as 500 Hybrid comes in six specs and is exactly the same as the conventionally powered models it'll be available alongside, but it's got a bit of electrical assistance.
So, how clean is it?
And when I say a bit, I mean a bit. The 3-cylinder, 1.0-l petrol engine now draws some power from a 12v battery situated under the passenger seat. It charges up when you're not accelerating and then assists the engine when pulling away from standstill i.e. when the engine's at its least efficient. Fiat claim this makes the output more powerful by all of one horsepower to 70bhp. But perhaps what's more relevant is the decreased CO2 emissions; down to 118g/km WLTP and economy is now a claimed 53.3mpg.
Spot the difference
The Fiat 500, like the Mini and other retro-inspired cars is somewhat shackled by certain design cues that are essential in keeping them vaguely similar to the original. At a glance, all new Fiat 500s look the same, it's only when you put two models side-by-side that you spot the progression. The biggest difference between the electric 500 and this one is the headlights. The bonnet actually bisects the electric, with the headlight only sitting on the lower half and a semi-circle of DRL on the bonnet. This 500 hybrid is more 'traditional,' with the headlights forming a full circle.
Cute, yet annoying
Back to the 'regular' 500, though. Inside hasn't changed just because it's now a hybrid, well, except the infotainment screen now screams 'Hybrid' on startup. You sit on it, rather than in it and the rear seats are rather cramped, but it still has enough retro charm to appeal, with its body-coloured dashboard and cutesy touches. There's just too many niggling annoyances for the retro tweeness to cover up, though. The seat height adjustment lever is positioned right next to the handbrake and, guess what? – it looks exactly like a handbrake. The indicator stalk – something that shouldn't be hard to get right in 2020, and yet, Fiat still give us one that cancels should you approach a bend at certain angles and then flatly refuses to reinstate itself. It's the small things, y'know.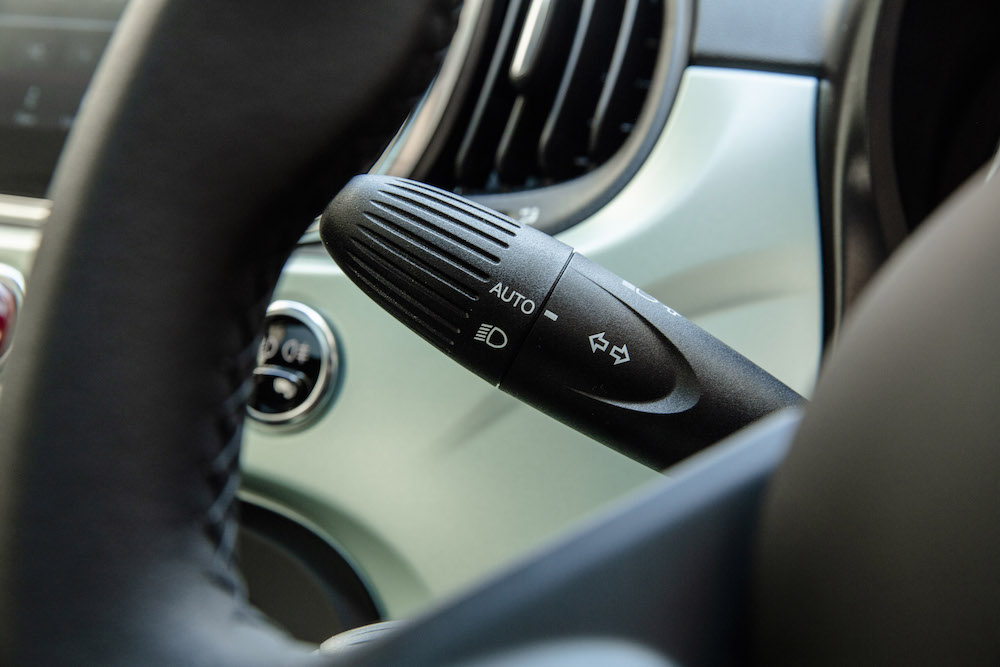 Still great around town
Driving the Fiat 500 around town has always been about as easy as it gets. That small footprint and great visibility lend themselves to negotiating narrow gaps and parking spaces as well as anything. If the already-light steering is too heavy for you, there's still a mode to make it comically over-assisted.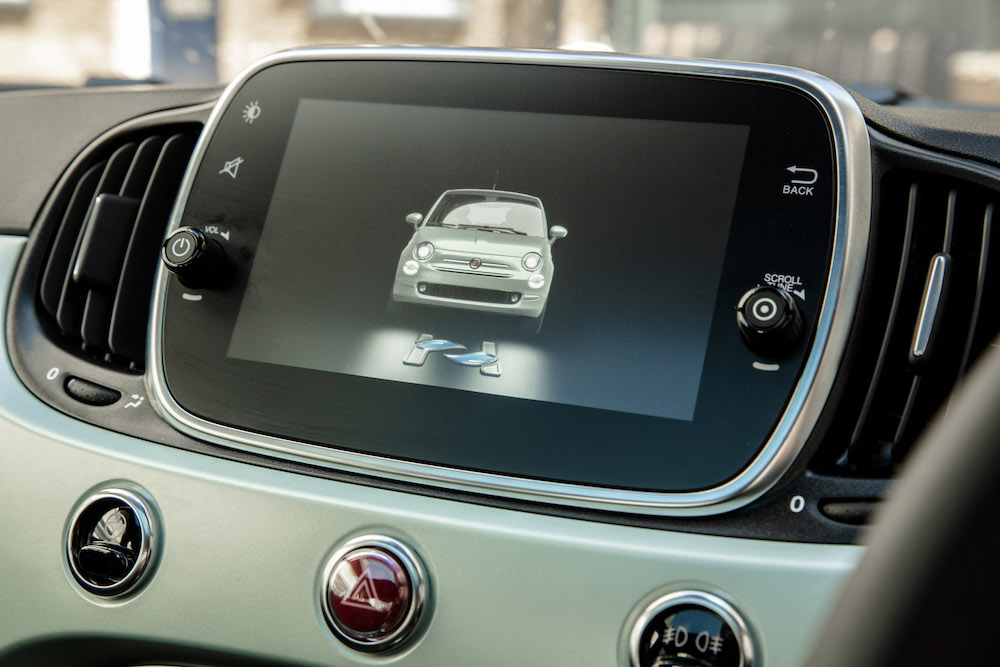 There's hybrids, and then there's hybrids
Now, when we say the Fiat 500 is a 'mild' hybrid, we're not kidding. If you're thinking of getting one for some guilt/emission free trips into town, think again. It can't move under battery power alone, it's only there to assist the petrol engine. There's no recharging it via a lead, either. The battery uses regenerative braking to replenish energy and you can feel it working as you coast to a stop. For added economy, the gear-selector in the centre of the speedometer encourages you to select neutral if you're doing less than 18 mph; it may save a bit of fuel but it doesn't feel natural at all.
Fun factor's missing
Unfortunately adding a hybrid element to the 500 hasn't done anything for driver satisfaction, either. The 1.0-l, 3-cylinder engine that's found its way into many little Fiats since its launch feels twitchy at low revs, almost like a spark plug's not firing properly. Three cylinder engines are characteristically lumpier than four-cylinders but it just feels like a reluctancy to get going in this case. 90Nm of torque doesn't sound much – it doesn't feel it either.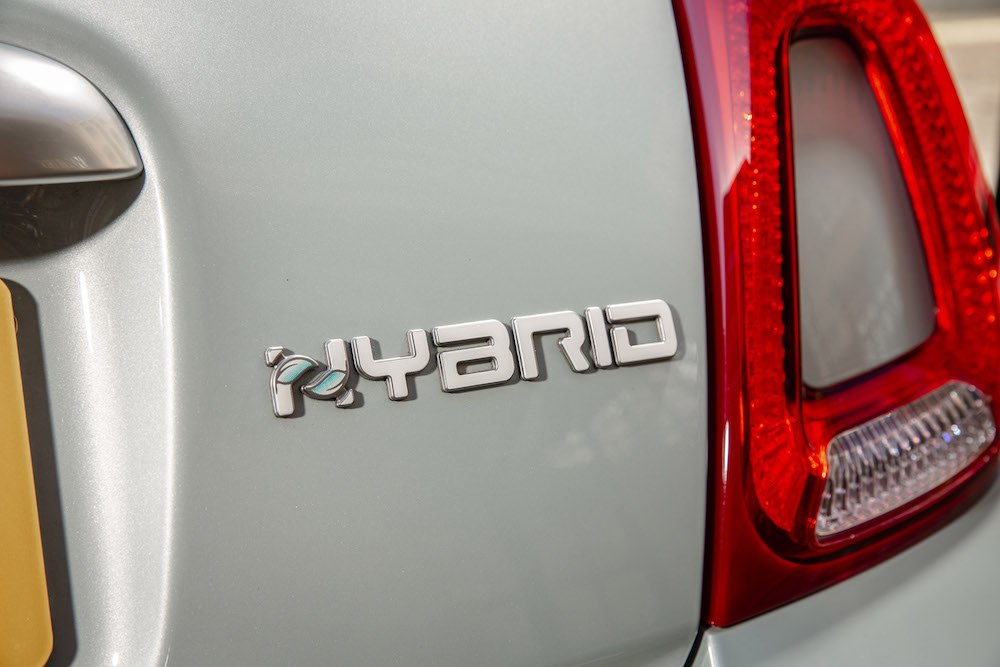 Should I buy a Fiat 500 Hybrid?
Ultimately, cars like the Fiat 500 are all going to be run on electricity alone – it just makes sense in small city cars. Until then there's still petrol engined versions, and even a few diesel ones. Many are hybrid already and the rest will no-doubt follow suit; I'm pretty sure the majority will be better than this one.
By Ben Harrington
Fiat 500 Hybrid Lounge Specifications:
Engine – 1.2l petrol + 12v battery, Transmission – 6-speed manual, Layout – Front engine, FWD, Power – 70bhp, Torque – 90Nm, Emissions – 118g/km CO2, Economy – 53.3mpg combined, Maximum Speed – 104mph, Acceleration – 13.8s 0-62mph, Price – £14,750 OTR, £15,300 as tested
The Fiat 500 Hybrid is available now, priced from £13,020. For full details go to: www.fiat.co.uk