Civic EX Sport Line
Owning a Honda Civic Type R is something many of us aspire to, but the costs associated with running one can mean aspiration's pretty much where it ends. This is the Civic EX Sport Line; Honda's mid-sized hatch, designed to give you some of the red-badged version's looks and handling traits, without leaving your wallet quite so battered and bruised.
No, it's not as visually dramatic as the Type R, but then – the Type R is about as extreme as a hatchback gets. This EX Sport Line has lower skirts all round and a diffuser at the back, plus it sits on shiny black 17" alloy wheels, all giving it a lower, more determined look. Add to this a boot spoiler and it's pretty far removed from the base model Civic.
Is This A Type R Lite?
Sit this version next to a Type R and you'll notice a wide array of differences: no tri-exhausts, fewer air scoops at the front, a smaller spoiler on the boot, to name but a few. A quick glance in your rear-view mirror, though, and it's not far off, especially in this optional Platinum White Pearl (£525) that seems to set Civics off just right.
So, it looks a bit more special than your average family hatch, but is there the go to go with the show? In Type R terms, definitely not; in terms of size, its 1.0l is half the engine, with 124hp, it's not even got half the power. But let's stop comparing it to the Type R, as that's faintly ridiculous, a fairer comparison would be to the likes of Ford's Focus in ST-Line spec or VW's Golf R-Line.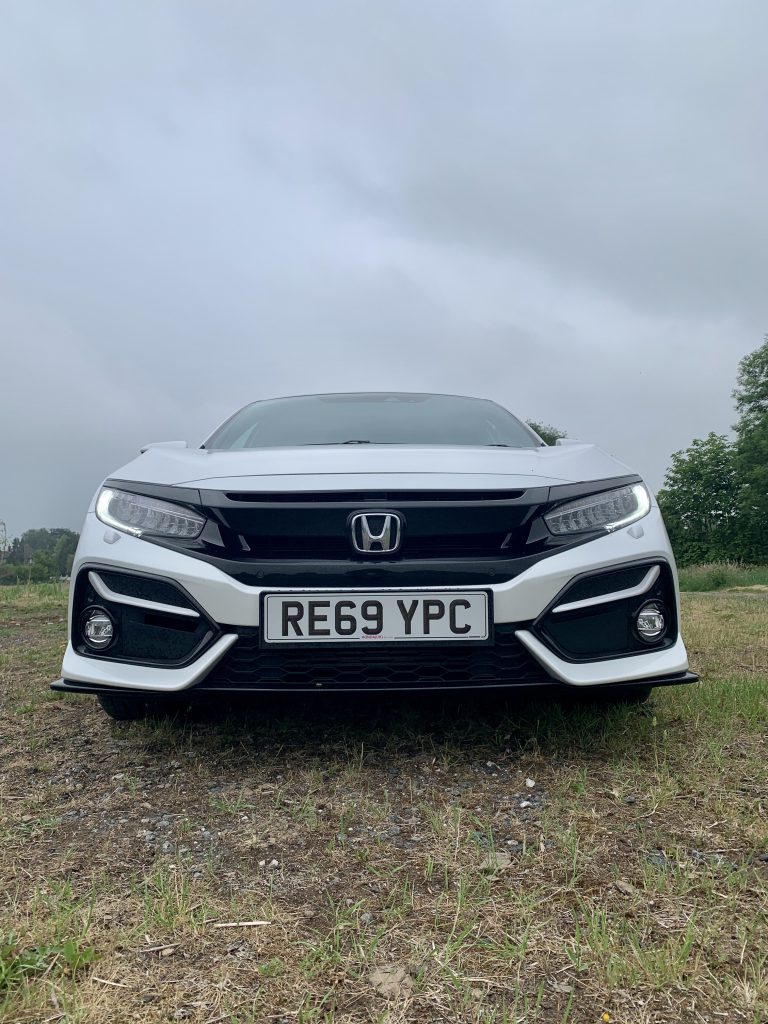 One Engine, No Diesel
The Focus offers a choice of engines where the Civic doesn't, and the smallest is their much lauded 1.0l, 3 cylinder EcoBoost. The Focus loses out slightly in terms of power but their on-paper economy are exactly the same at 58.9mpg. The Golf's most diminutive engine is their 1.5l, 4-cylinder and it can only manage just over 53mpg, so the Civic is going to give you a decent return for your gallon of fuel.
At 10.9 seconds, the EX Sport Line isn't going to win many 0-62mph Top Trumps hands, but if you want outright performance you're probably not looking at this grade of Civic anyway. This turbo-charged engine is still a lot of fun, though, it even makes a fairly entertaining noise.
Manual More Fun, CVT Cheaper To Run
You can have your EX Sport Line with either a 6-speed manual or 7-speed CVT transmission. We'd say go for the manual as it's a great 'box. The CVT is a huge improvement on the slushy attempts of the past, it's marginally quicker and it even falls into a lower tax bracket, but it does tend to drone after a while.
One pleasing aspect of all Civics, regardless of grade is their entertaining chassis. This EX Sport Line comes with adaptive dampers so you can throw it around with more confidence than you might expect and we'd say its handling & ride is up there with any of the competition.
Lots of Extras
It's not just a sporty ride and looks that makes up the EX Sport Line, though, it comes with quite a few additions inside too. There's red stitching liberally splashed around and both the front and rear seats are heated. Apple and Android users are catered for and you can charge your phone wirelessly. To protect your investment and members of the public, parking sensors and a rear view camera are also included.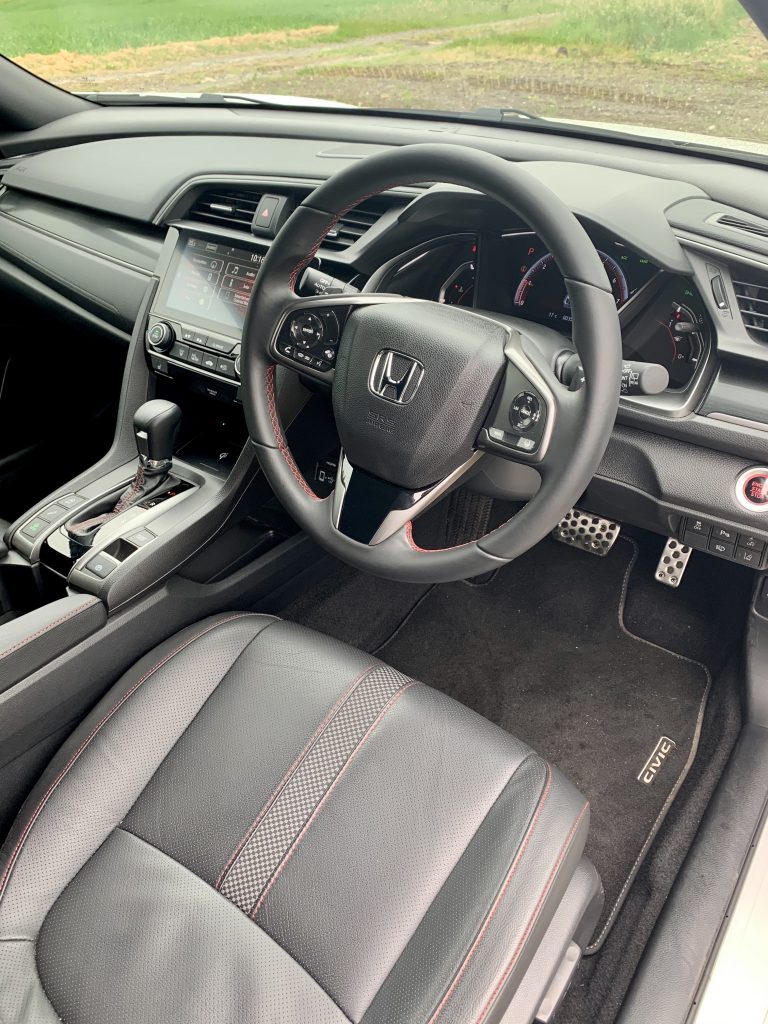 So, what will the Civic EX Sport Line cost? Well, it starts at £25,575 OTR, which is quite a big step up in price from the model it replaced. That Focus ST-Line we mentioned starts at £22,940, which is clearly quite a saving. It doesn't come with the same level of equipment, though; to make a fair comparison, you'd have to go for the Focus ST-Line X, and that weighs in at £25,190. The Golf R-Line? – £26,165, and that isn't anywhere near as generous in terms of equipment.
Should I Buy a Civic EX Sport Line?
The Civic is still one of those cars that you either love or hate, whether it's got some sporty add-ons or not. This EX Sport Line version does stand out and it's full of extras, it's just not as cheap as it once was.
By Ben Harrington
Honda Civic EX Sport Line CVT Specifications:
Engine – 1.0l 3-Cylinder, Transmission – 7-speed CVT, Layout – Front engine, FWD, Power – 124bhp, Torque – 180Nm, Emissions – 107g/km CO2, Economy – 60.1 mpg combined, Maximum Speed – 124 mph, Acceleration – 10.9s 0-62mph, Price – £27,300 OTR, £27,825 As Tested
The Honda Civic EX Sport Line is available now. For full details go to: www.honda.co.uk