DS 3 Crossback E-Tense
Once just the extra badge stuck on posh Citroens, DS as a brand has been through a major revamp and there's soon to be a trio of very different models when the fairy conventional saloon; the DS9 arrives. For now there's two SUV's – the DS7 Crossback and this – the DS 3 Crossback.
It comes in a variety of flavours, all of which have impressively grandiose names; there's no GL here. There's Prestige, Performance Line, Ultra Prestige, Performance Line + and the fantastically titled Ines De La Fressange, named after a French model and style icon. If that isn't the most spectacularly French name for a car specification, I don't know what is.
E-Tense?……..erm…..
There's no diesel option, and that might come as no surprise. All versions come with a petrol engine under the bonnet, or you can go for pure-electric, like the one we have here. The electric DS 3 Crossbacks are distinguished by their E-Tense emblem; possibly not the best choice of words when you're attempting to dispel range anxiety in your potential customer base.
Should you want your DS 3 Crossback to be E-Tense, regardless of spec it'll come with a 50kWh battery powering a single electric motor that drives the front wheels. Power is 134 bhp, 0-62mph comes around in 8.7 seconds and top speed is 93 mph. If all of these figures sounds strangely familiar, it's because we've seen them before in the Peugeot e-208 and it's also used in the electric Vauxhall Corsa; this electric technology won't have been cheap to develop, it makes sense to utilise it as much as possible.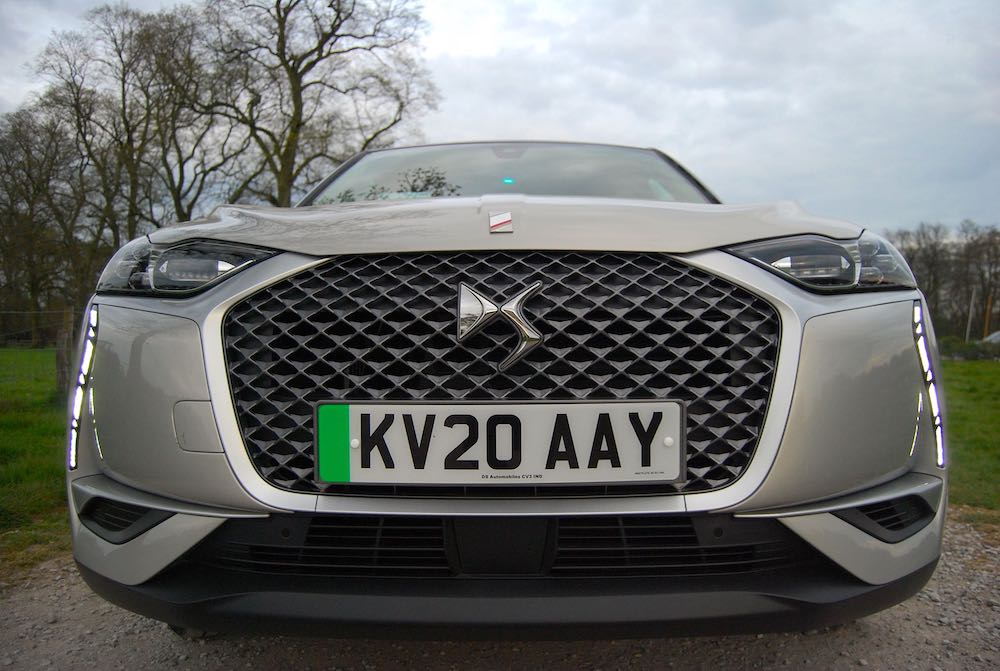 DS 3 Crossback E-Tense range
The DS website claims a possible 318 miles range for the DS 3 Crossback E-Tense, realistically it's more like 218 miles which loses out to the likes of Kia's electric models that offer nearer 280 miles. What's very user-friendly is that, should you be able to find one, the DS 3 Crossback will accept charge rates up to 100kW, so a flat battery becomes an 80% charged battery in under 30 minutes; this is real-world liveable, as long as the charging network continues to be improved.
The styling of electric models has been approached from a variety of angles. Some manufacturers make electric-only standalone cars, such as the Honda e, some alter existing models, usually around the grille area – see Kona electric, and then others play a game of spot the difference with their electric cars; see DS 3 E-Tense. Some subtle badges aside, there's practically nothing to visually set the electric DS 3 apart from the petrol powered version. The grille isn't blanked off, the wheels aren't borrowed from a shopping trolley and the door mirrors aren't cameras. Whichever DS 3 you go for, it'll come with aero-friendly, flush fitting door handles that sit flat to the body work when not needed.
Usual DS frills inside
Inside the DS 3 is what makes it stand out from the competition. DS has taken its usual approach to furnishings so there's the characteristic diamond shape applied to most aspects from air vents to toggle switches. Higher spec models have sumptuous padded leather at eye-level on the dashboard and it can even be specced in non child-friendly pebble grey. If the Golf's taken simplicity at this level to the max, the DS 3's surely handled the opulence.
Because the DS 3 was designed from the ground up to be powered by internal combustion and electricity, they've not had to find places to stuff the batteries etc and thereby compromise interior or boot space. That said, modern DS cars have been more focussed on front seat occupants than rear and this one's no different. The shark-fin design on the rear doors, for example; it's something of a DS trademark and it gives the DS 3 a distinctive look but it does impinge on the view from the rear seats and makes things a bit darker back there.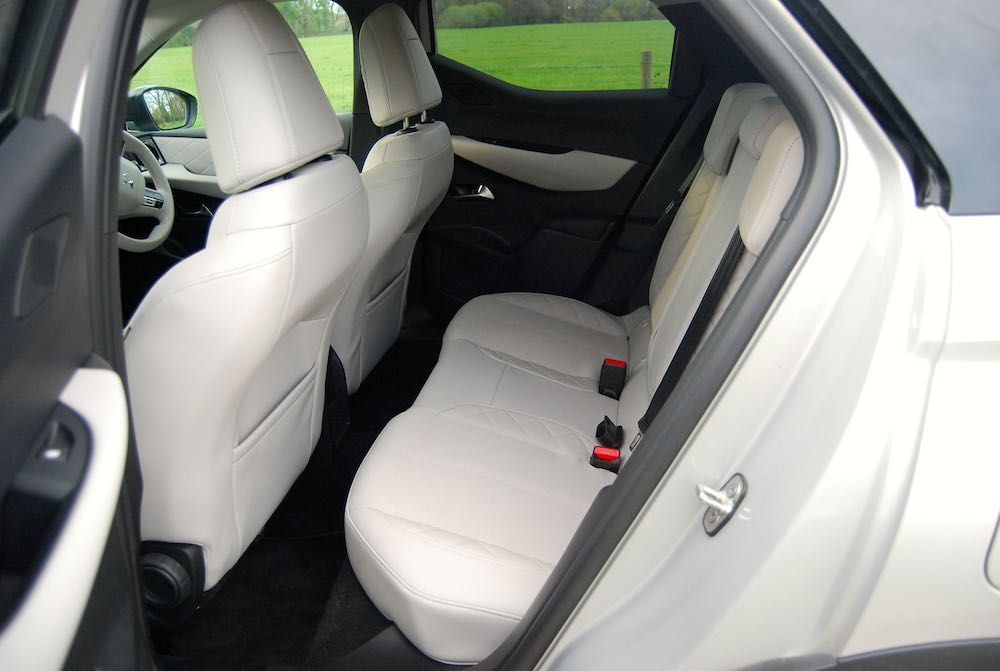 3 Drive Modes
There are three driving modes in the DS 3 E-Tense, and each one give you its own amount of power. Sport give the full-fat 134 bhp, Normal is 107 bhp and perhaps unsurprisingly there's and Eco mode which scales things down to 81 bhp. That might not sound like much an performance is stunted somewhat but it does wonders to stave off range anxiety. There's regenerative braking which also won't come as a surprise and you an ramp it up by selecting B instead of D on the gear selector. Just be aware, if the batteries are fully charged, regenerative braking no longer operates and you'll be more dependent on the actual brake pedal.
Extra Weight = Affected Ride
Anybody considering a DS 3 E-Tense because it's French and will therefore inevitably come with a soft, malleable ride might get a surprise. Yes, the DS 3 was designed from the get-go to accommodate electric power but the transition from petrol has brought a totally different suspension setup with it and, perhaps more pertinently, it's added 300kg to the DS 3 E-Tense too. All of this makes for a far less forgiving ride than you might expect and over higher speed dips and crests it can really get an ocean liner on tempestuous sea feel about it.
Should I Buy a DS 3 Crossback E-Tense?
The choice of electric cars seems to grow on a weekly basis and each manufacturer is thankfully adding their own touch to things. The DS 3 E-Tense brings standout styling and a plush interior, as we've come to expect from the brand, it just suffers slightly under the extra weight electricity brings.
By Ben Harrington
The DS 3 Crossback E-Tense is available now, priced from £31,900. For full details go to: www.dsautomobiles.co.uk