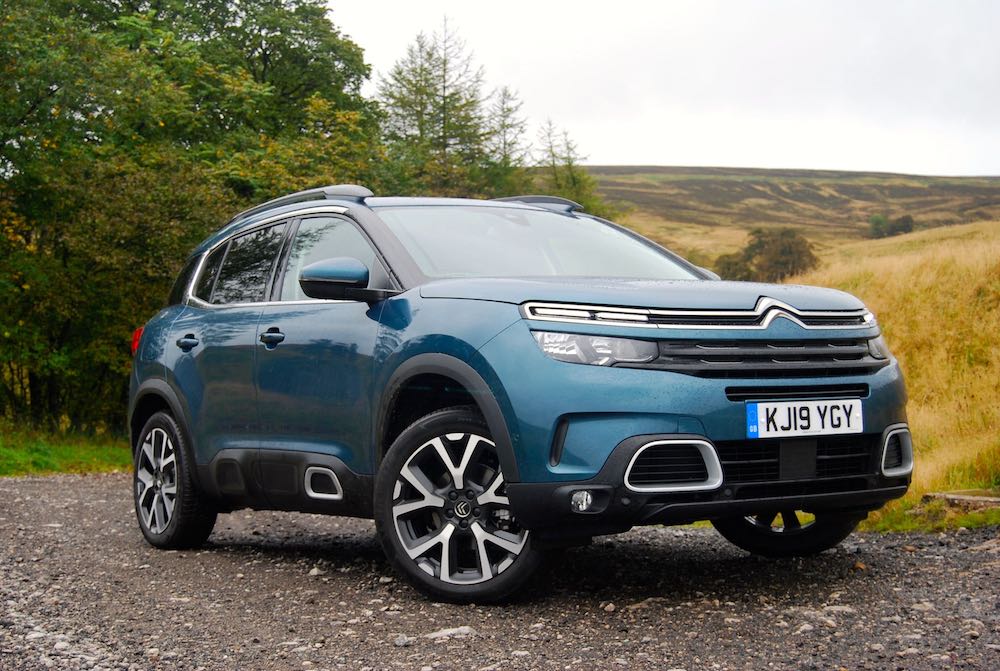 Citroen C5 Aircross
I remember a day when only the coolest kids were picked up by their parents in something resembling a 4×4, whilst the rest of looked on with thinly veiled envy from the back of the family hatchback/mid-sized saloon.
I'm showing my age now, but my schooldays came in a time before the invention of the crossover, quite a bit before in fact. These days it's a novelty to see something without decent ground clearance negotiating the kerbs outside the school gates, whether it's got any off-road prowess or not.
Can Citroen Still Be Different?
So, in a world full of crossovers, how do does a car manufacturer put their own stamp on things? Just to make it even harder, how were Citroen going to make their C5 Aircross stand out when its shares a platform with existing models; the Peugeot 3008 & Vauxhall's Grandland?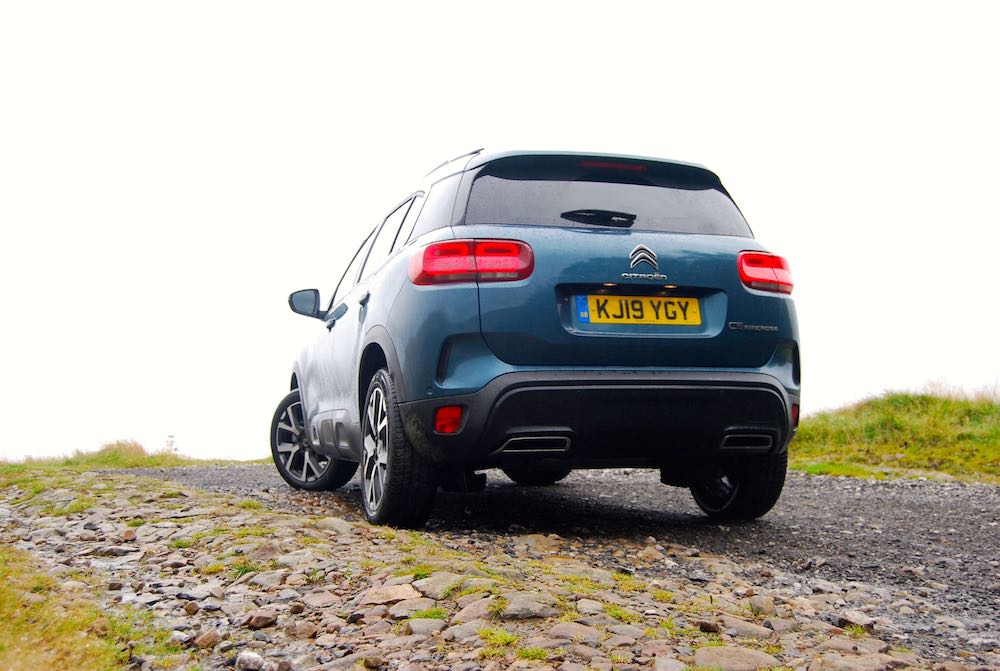 Looks-wise, the C5 Aircross is undeniably Citroen and, as usual this means it's a bit of a step away from the ordinary. The dual-level headlights have been carried over from other models in the range, but it's the slashed running lights that really catch the eye, extending out from the central Citroen legend. Where conventional cars have bonnet bulges, the C5 Aircross has a bonnet indent on either side, just to be different.
The roof is floating and the doors have got some Cactus-ey style 'Airbumps' protecting the bottom of them. This actually adds a more streamlined, dynamic look, not quite as slab-sided as these relatively tall doors could be.
Every C5 Aircross gets roof rails to top off the active lifestyle type image; what self respecting crossover wouldn't need roof rails, after all?
Hint of Cactus
Inside the C5 Aircross there are some more little reminders of the wonderfully unique Cactus, with a luggage strap across the dashboard and some Airbump style indents in the door cards. What's most striking, though, are the seats. Far from following on the current trend of totally unnecessary sports seats, the C5 Aircross' seats look totally flat. Flat they may be, but they're some of the most relaxing I've ever parked myself in. Good to see Citroen continue their longstanding tradition of putting comfort first.
Citroen Suspension
It's not just the seats that are comfy, though. Citroen also have a reputation for trick suspension, usually involving air or liquid in some form, and that's also the case with the C5 Aircross. It's a progressive system that allows more liquid through during normal, relaxing driving and stiffens up when it gets to either end of its travel limits. It's supposed to combine comfort with reassuring handling and it does a good job of it.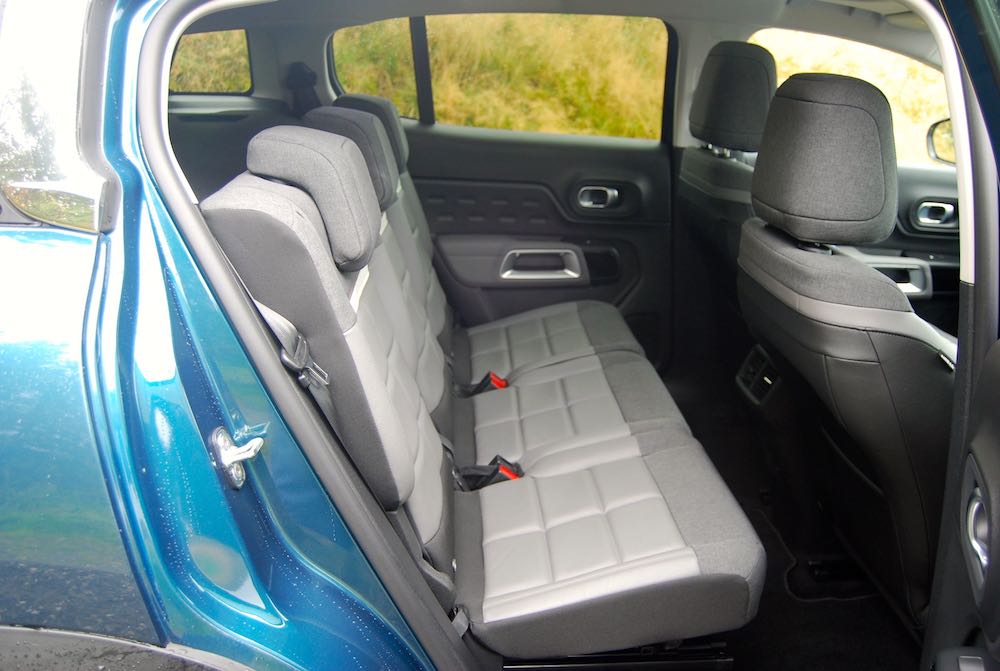 4WD? – Non!
It does all feel rather light and airy, though, and the steering doesn't give much warning of understeer. This is another area that keeps the C5 Aircross individual; there's no 4WD option, at all.
You can spec it with the usual range of PAS group engines, from a 2.0l diesel down to the 1.2l, 3-cylinder petrol we have here, mated to either an 8-speed auto or 6-speed manual, but all of them will have power supplied through the front wheels. You can pay for hill descent if you want, but that's about the only nod to venturing from the tarmac that the C5 Aircross offers.
If off-roading's definitely not your thing and, let's face it, that's the case with 99.9% of crossover owners, you'll not miss 4WD. The ride is comfortable and civilised, and that slippery shape makes for a quiet drive, even on motorways.
Cubby Holes Aplenty
It's not just clever suspension that Citroen have provided to make life more pleasant inside, though. All seats recline and there's still plenty of boot-space, leg-space and cubby holes for your 'stuff'. One word of warning; go for the panoramic roof and taller rear-seat passengers will find their headroom dented somewhat.
Everyone's kept nice and safe inside the C5 Aircross with all occupants' protection scoring highly in Euro NCAP, too, thanks to many safety features coming as standard. Blind-spot warning and Active safety braking are all included which is good at this level, plus many other driver aides are optional. Just don't let the many bings and bongs become an ironic distraction.
Should I Buy a C5 Aircross?
What's not so great are some of the material used inside the C5 Aircross. Where the 3008 it's based on boasts some very attractive switchgear and quality materials, the C5 Aircross seems to have traded them for nasty, scratchy plastics. I guess that's the price you pay for trick suspension, opulent seats and standard safety tech.
By Ben Harrington
2019 Citroen C5 Aircross Specifications:
Engine – 1.2l 3-Cylinder Petrol, Layout – Front engine, FWD, Transmission – 6-speed Manual, Power – 129hp, Acceleration – 0-62mph – 10.5s, Maximum Speed – 117mph, Maximum Torque – 230Nm, Economy – 44.2mpg combined, Emissions – 119g/km CO2, Price – £25,330 OTR, £25,875 as tested
The 2019 Citroen C5 Aircross is available now, priced from £24,250. For full details go to: www.citroen.co.uk