Ford Ranger
Once deemed a great mixture of family practicality and ready-for-anything business use, plus something of a tax break, demand for pickups has waned over recent years with many manufacturers pulling them from their catalogues.
That's not to say there's no call for them anymore, though, far from it; the Ranger is one of Ford's biggest sellers in the UK, possibly thanks in no small part to the withdrawal of the likes of Mitsubishi's L200 & Nissan's Navara. So, here it is; the all-new Ford Ranger, a compact model – smaller alternative to the ubiquitous F-150 in the home of the genre – the US. Here in the UK it's a nameplate that's been around since the late 90's, becoming increasingly popular in double-cab guise thanks to its extra seats.
And this is the latest version of the Ranger, shown here in mid-range Wildtrak guise. The new range of, erm, Rangers has brought with it a new version of the extreme off-roader Ranger Raptor, but more about that in the future.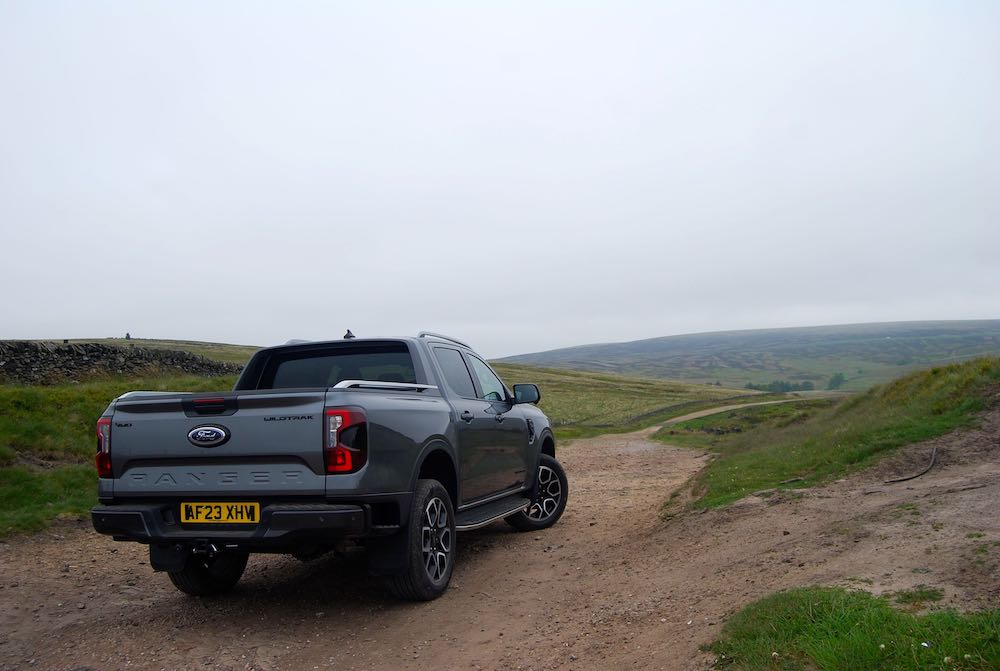 Diesel still the fuel of choice
Diesel has always been the natural choice of fuel for pickups; its low-down grunt just suits them better. Unless you go for the Raptor it's still diesel all the way in this new Ranger with a choice of 2.0l TD EcoBlue in 168bhp or 203bhp outputs or a 237bhp 3.0l TD EcoBlue. The lesser powered 2.0l comes with a 6-speed manual 'box and is available in the more utilitarian XL & XLT specs. The more powerful 2.0l is mated to Ford's excellent 10-speed auto and is in the more lifestyle Tremor, Wildtrak & Wildtrak X. The big 3.0l comes with the same 10-speed and is in Wildtrak & range-topping Platinum specs only.
We may not have an electric Ranger just yet, not even a hybrid to be honest but there's no denying the visual likeness to the recently released electric version of America's favourite vehicle; the F-150 Lightning. The chunky bar that dissects the front grille is eye-catching, as are the LED headlights wrapping themselves around each end. A pickup's design will always follow the same basic rules due to its workhorse nature but the front especially of the Ranger has been impressively modernised.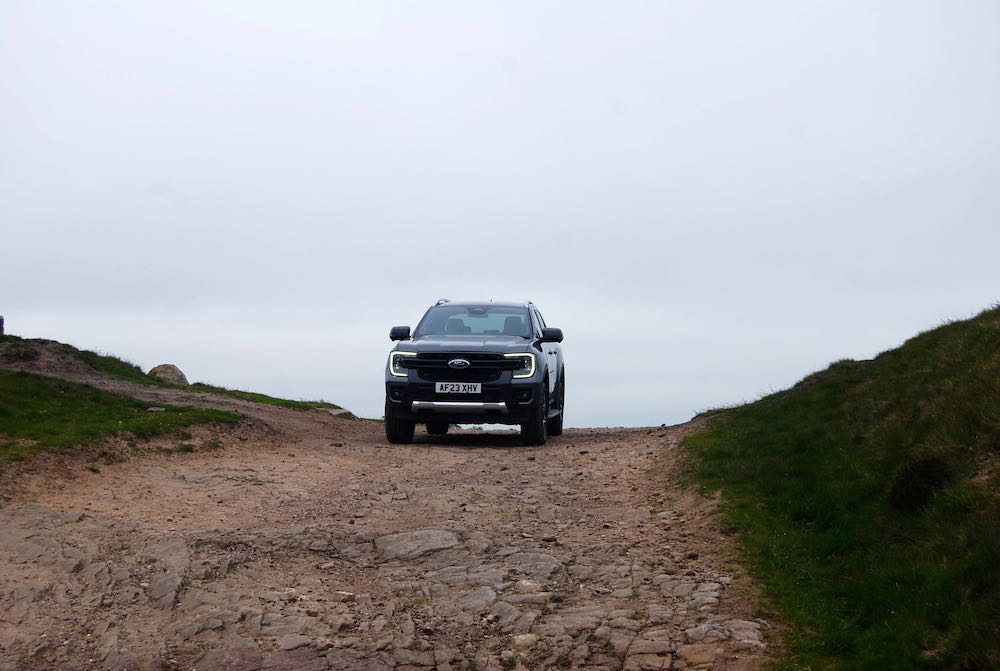 More car-like than ever inside
The Ranger has always been less industrial than most inside and this one follows on in the same vein. It's a tricky one, this, as each manufacturer has to find the right compromise between utility and comfort. Even the base-model XL Ranger gets the 10" multifunction display that dominates the dashboard, 12" in Wildtrak X spec and above. There's loads of cubby-holes that are even labelled, there's an additional cup-holder that pops out of the dash for the driver, my only dislike are the fiddly door handles that seems an innovation too far. This is about as car-like as a pickup gets in terms of layout, driving position and luxuries, although the plastics at higher levels probably wouldn't cut the mustard in the likes of a Puma.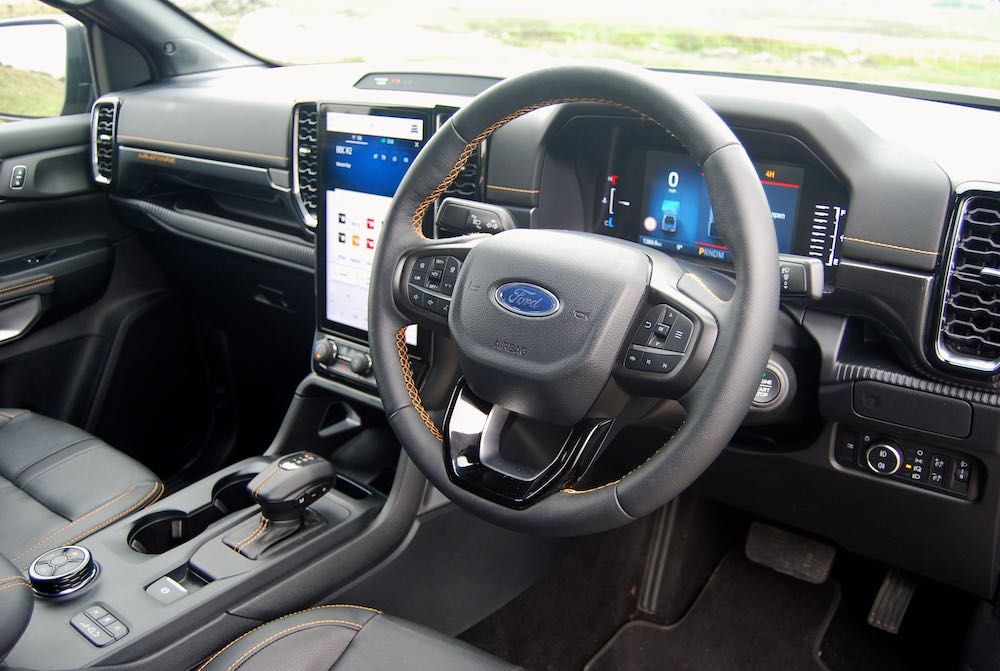 What about what it was made to do?
So, it's comfy but this is a pickup and its MO is to be carrying stuff around. Big stuff. Ford has clearly put some thought into this and the headline improvement is the load-bed's capability to carry a Euro Pallet. That's not all, though; the tailgate has an Easy Lift system that makes it lighter to lift and it even has cupholders built in. Look closely at the rear bumper as it curls around the rear wing – that's an inbuilt step and it makes you wonder why that's not been done before.
Less wind noise, more comfortable
The New Ranger's pickup credentials have been improved to keep up with and better the competition, then, but what about when it has to be a car? We've already mentioned how car-like it is inside; probably the best of the bunch since the demise of the Mercedes X-Class. It's quieter too, though, both in terms of engine and wind noise. Usually a thorn in pickup's sides thanks to their less than aerodynamic basic shape and oversized mirrors, this new Ranger is far more civilised at high speed and the new diesel engine cuts to booming to a minimum too. It's cleaner, too, with Ford claiming 32-35mpg.
The ladder chassis may have been carried over from the previous Ranger but it's been upgraded. As has the suspension and it shows on rough tarmac with far less shaking coming through the seat and steering wheel.
Off-road is, of course the Ranger's natural habitat, though, and it's as capable as ever when the tarmac runs out. The lower powered 2.0l diesel gets part-time 4WD, everything else gets dual-motor permanent all-wheel drive with various settings for different terrains and the ability to lock out diffs etc when things get seriously sticky.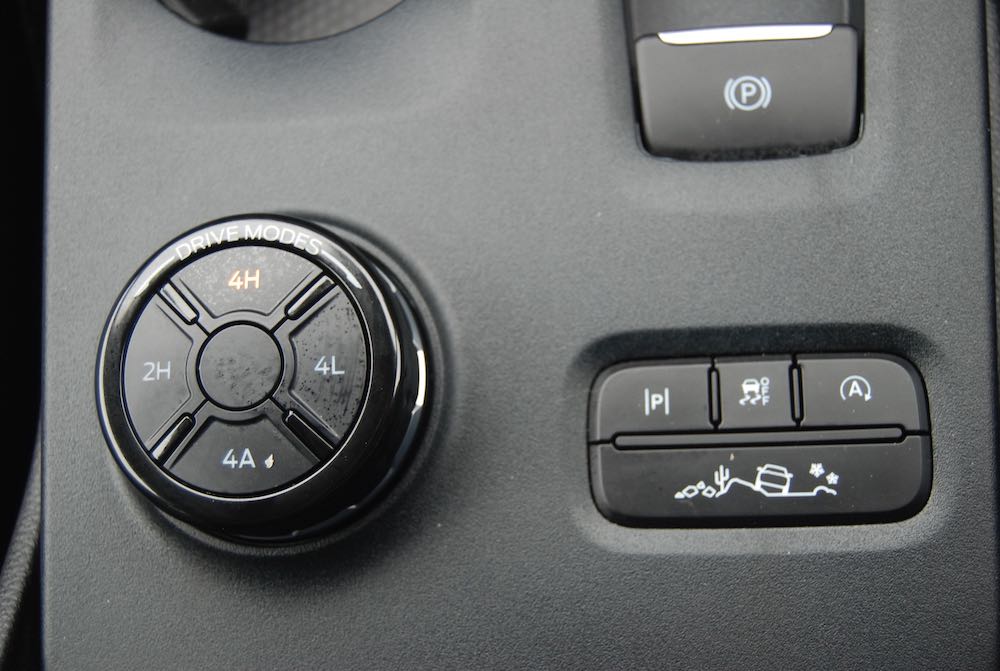 Should I buy a Ford Ranger?
Just because there's less models to choose from that doesn't mean there's no call for double-cab pickups anymore, far from it. With its improved visual and interior appeal, load-carrying capability, on-road manners and economy, the new Ford Ranger is hard to beat.
By Ben Harrington
2023 Ford Ranger Wildtrak Specifications:
Engine – 2.0-l diesel, Transmission – 10-speed auto, Layout – Front engine, 4WD, Power – 203bhp, Emissions – 230g/km CO2, Economy – 32.1mpg, Maximum Speed – N/Amph, Acceleration – N/A – 0-62 mph
The 2023 Ford Ranger Wildtrak is available now, priced from £39,350. For full details go to: www.ford.co.uk