Suzuki Swace
Swace: a name combining space and sports wagon, we assume. Autocorrect nightmares aside, it's another clever way of avoiding the word estate. Think you've seen it somewhere before? That'll be because the Swace is another product of Suzuki's joint venture with Toyota and this is essentially a Corolla Touring Sports in the thinnest of veils and they're being built alongside each other in the same factory in Derbyshire.
The Swace comes with one powertrain; it's a 'fully loaded self-charging hybrid' according to Suzuki. What this translates to is a 1.8 litre petrol engine providing 100bhp and a 70bhp electric motor driving the front wheels via a CVT 'box. Now, I know what you're thinking – that's a pretty handy 170bhp. Actually, no – it's not. Working in tandem they'll give you 122bhp. And working in tandem is how you'll usually find them. The electric only range is fairly minuscule but it works nicely with the petrol engine to pull away from standstill and then hand over the reins. Anyone who's driven a Prius will feel right at home.
Have I seen the Swace somewhere before?
Back to the Swace's looks. Yes, it's quite clearly a rebadged Toyota but that's not such a bad thing. The Swace's 'face' could even be described as purposeful looking with an air of aggression – very un-hybrid like. The rest of the Swace is more about clean lines and a hunkered down 'sports wagon' shape with at tapered tail, rather than the traditional boxy estate look.
That tapered rear end may hamper the Swace's ability to carry your old fridge to the tip slightly – squared off shapes are better for that, but it's by no means a stingy boot. At 596 litres with the rear seats in place and 1606 litres with them down, it'll carry more than both the Astra Sports Tourer and Subaru Levorg with passengers too, losing out a smidge to the Levorg with just the two front seats occupied.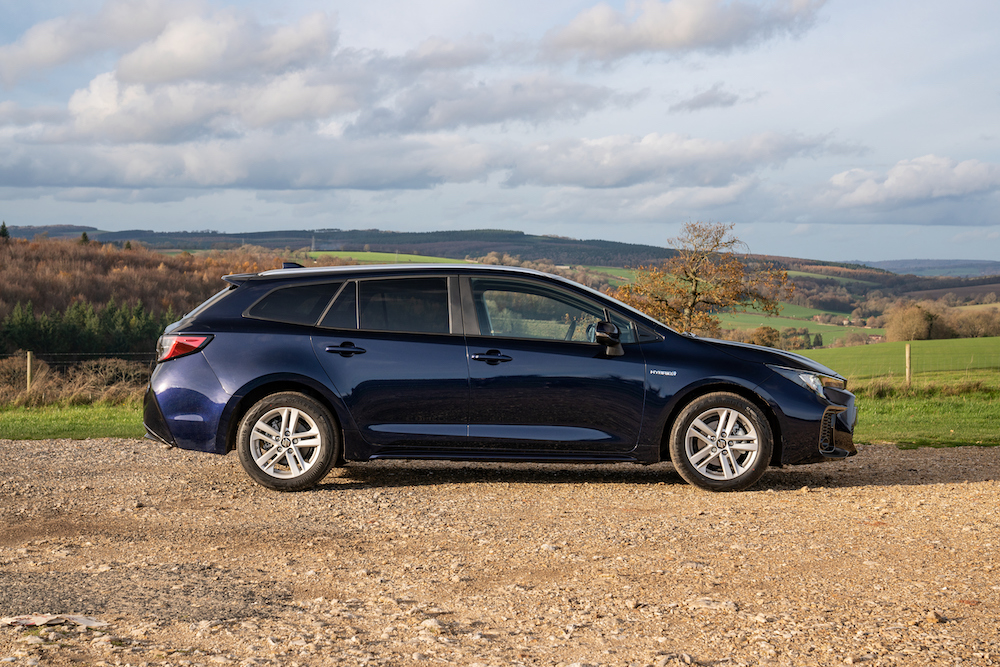 Being lower to the ground than you might expect, the Swace makes loading your big, bulky 'stuff' in the boot easier, too – you slide in rather than lift and slide at the same time. The boot's dual level, too and the removable floor has carpet on one side and none-slip rubber on the other – why don't more manufactures do that? That sloped rear end does impact slightly on rear-seat passengers, though; the door apertures aren't the biggest to negotiate. Thanks to the batteries being stored under the rear seats, you it a bit higher in the back than you might expect; good for kids peering out of windows, not so good for taller passengers.
Built for comfort
Once in the Swace, it's a comfortable place to be, even if it's not the most cutting-edge interior. The seats are supportive without trying to imitate a bucket-seat and there's plenty of leg, head and elbow room in the front and the back. The front seats and steering wheel are adjustable in every direction so every shape and size of driver should be able to find a driving position to suit. Where the Corolla Sports Tourer can be specced with either 16" or 17" wheels, it's 16" only for the Swace. They may not do much for the looks but that extra rubber in the sidewall makes for a far more sedate ride.
The Swace's hunkered down design and heavy batteries beneath the rear seats also gives it a low central of gravity to improve road holding. This and Macpherson struts up front makes the Swace nimble around corners. To say it's a car for appreciating the finer points of handling might be taking things a bit far, though – there's absolutely zero feedback from the over-assisted power steering.
CVT only
The Swace is at its happiest being driven economically, too. It's a CVT transmission only so that has its characteristic whine at high revs. Leave the driving mode in Normal or Eco and the Swace is all quite calm and a rather pleasant drive. Put it in Sport mode, however, and that 1.8 litre petrol engine sounds desperate at high revs – it's just not a car set up for being pushed.
The Swace comes in two specs; SZ-T & SZ5, priced at £27,499 & £29,299 respectively. Every Swace comes with dual zone climate, heated front seats and steering wheel, auto lights and wipers, rear camera and an 8" multimedia system. The infotainment system is far from the worst we've used but it only has sat nav functionality by utilising your smartphone's software. Upgrade to the SZ5 and you also get wireless charging, park assist and front and rear parking sensors – possibly more necessary than you may think as the Swace's D-pillar is so wide it could easily swallow something waiting to make a mess of your paintwork as you parallel park.
Should I buy a Suzuki Swace?
The Swace is an economical, smartly packaged estate that brings a bit more comfort than the Corolla it's based on. It's not the most dynamic drive but standard equipment is generous and it'll be properly put together, like a Suzuki/Toyota should be.
By Ben Harrington
2021 Suzuki Swace SZ-T Specifications:
Engine – 1.8l 4-cylinder & 53Kw electric motor, Transmission – CVT auto, Layout – Front engine, FWD, Power – 100bhp & 70bhp – 122bhp combined, Torque – 142Nm & 163Nm, Emissions – 99g/km CO2, Economy – 64.2mpg combined, Maximum Speed – 112 mph, Acceleration – 11.1s 0-62mph, Price – £27,499 OTR
The Suzuki Swace is available now. For full details go to: www.cars.suzuki.co.uk