Giulia Quadrifoglio
Worried about the demise of interesting, slightly politically incorrect cars, powered by petrol alone? Well, fear not. Not only does Alfa Romeo still offer the rather excellent Giulia Quadrifoglio, they've given it a mid-life re-fresh.
Visual changes for 2020 include some carbonfibre bits, most noticeably the front grille but also the mirrors and spoiler. There's also new, darker rear light clusters and you can now have your Quadrifoglio in a new shade of red and two new shades of green, the most eye-catching being Montreal Green.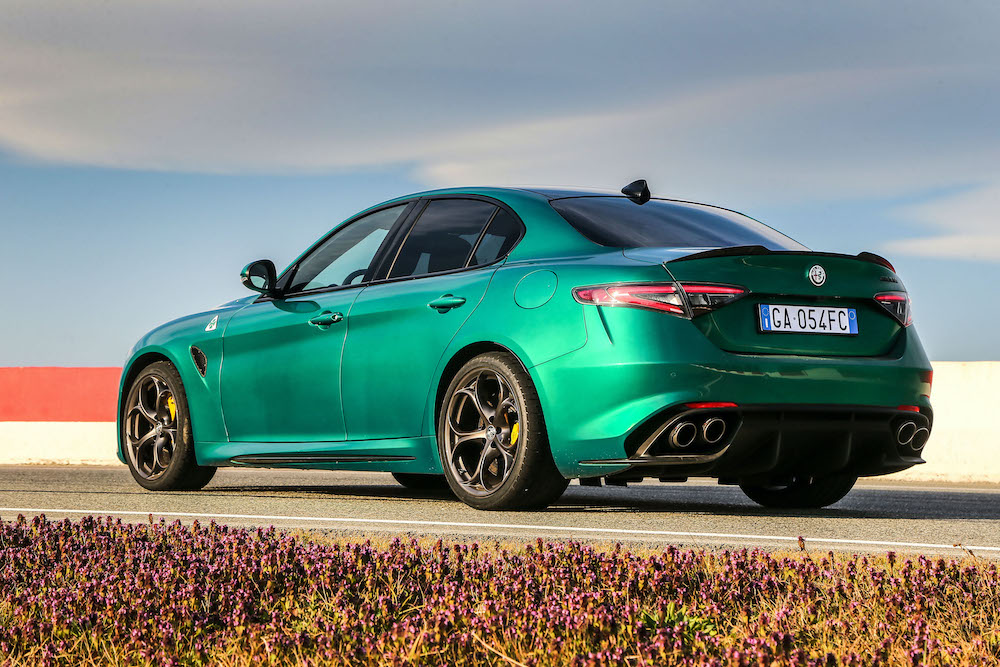 Has it still got a Ferrari engine?
The good news is, Alfa has left the best bits relatively untouched. Power comes from the same 2.9l V6 bi-turbo engine that was originally drawn up in a city called Modena, mated to an 8-speed automatic 'box, driving solely the rear wheels. That's 503hp & 600Nm torque between 2,500 & 5,000 rpm, and there's no 4WD to get you out of a tight spot. Until it warms through, the V6 is lumpy, like a proper performance engine should be. The Giulia Quadrifoglio is a car that needs a certain amount of respect.
If you've never driven one, and I highly recommend you do, it feels more raw than its peers from BMW's M department and Mercedes' AMG. It's unvarnished, and that's a good thing; as if it skipped a few meetings with the office-dwelling naysayers at Alfa Romeo whose job is to water this type of car down.
Despite being automatic, you feel like you want your seat a bit further forward than usual to stop things getting out of hand. Anyone who remembers the glory days of Gabriele Tarquini as he piloted his 155 in the 1990s – this is the spiritual successor and the perfect car for living out any BTCC fantasies you may have.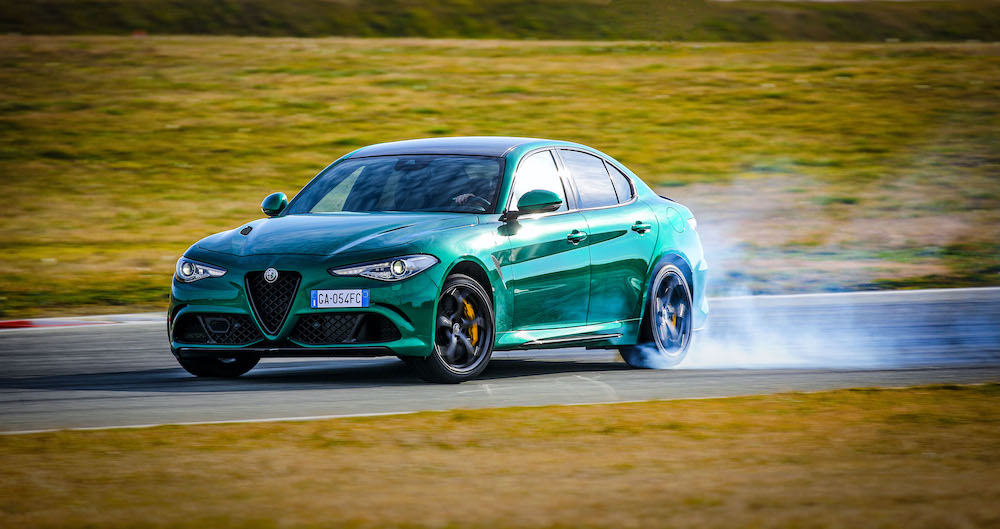 D.N.A……..
As with many Alfa Romeo products, the Giulia Quadrifoglio's behaviour is altered by switching between three settings; D,N & A. This stands for Dynamic, Natural & Advanced efficiency; if you've ever transferred between a car's driving modes and not really noticed the difference, you won't have that problem in this one. Dynamic sharpens everything up for when you want to press on, natural is for everyday, more laid back driving, and advanced efficiency deactivates engine cylinders to use less fuel. They totally transform how the Giulia Quadrifoglio feels and reacts.
…….R
Something the Quadrifoglio has on offer that lesser Giulias don't, though, is a fourth mode; Race. As the name suggests, this takes things to the extreme. Gearshifts are dispatched in just 150 milliseconds, steering, suspension and brakes are at their sharpest and the dashboard flashes with the handy warning that the stability control's now off. The noise from the turbocharged V6 that's usually subdued is now more befitting an engine from Modena. Not loud enough? – you can now have your Giulia Quadrifoglio supplied with a titanium & carbonfibre Akrapovic exhaust from the factory.
Just be aware, Alfa Romeo weren't messing around when they decided to add a race mode. Torque vectoring may come into play to aid stability, but no ESC on a damp road plus a bit of over-exuberance with the accelerator, and you could easily find your Giulia Quadrifoglio the wrong way round in a hedge.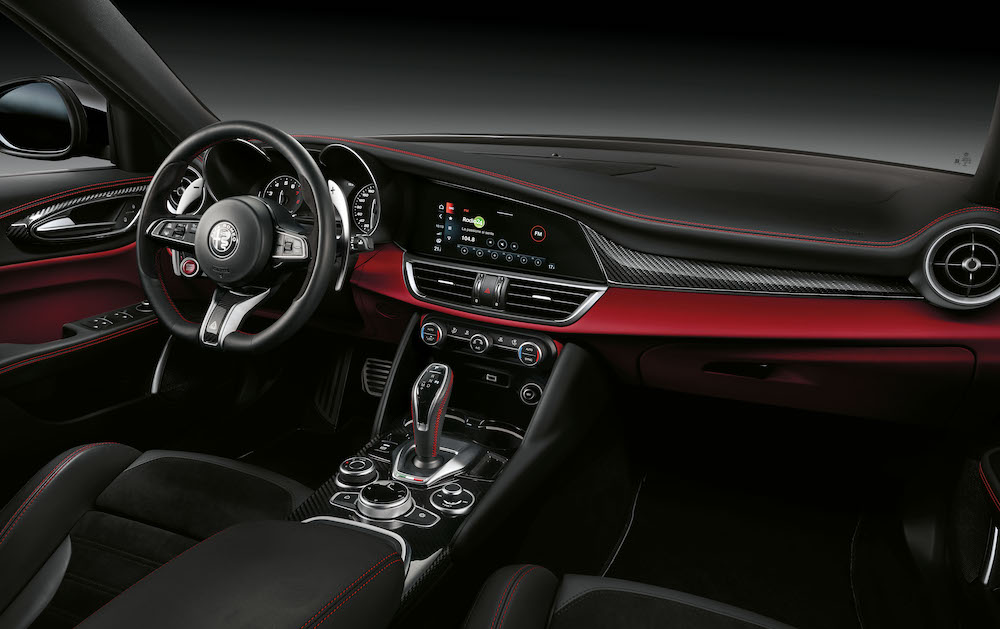 Get the balance of enthusiasm and ability right, though, and the Giulia Quadrifoglio is one of the purest, most satisfying driving experiences this side of a Porsche 911. Yes, a manual gearbox would be nice, and if you can get hold of a left-hand-drive version you can have one. This 8-speed ZF auto is widely used by many manufacturers, and with good reason – it suits the Giulia Quadrifoglio so well, changes being dispatched via satisfyingly large, aluminium paddles.
Add lightness
Having the rear wheels handling power, the front ones directing gives the Giulia Quadrifoglio a sharpness that modern saloons usually lack. A 4WD system would inspire more confidence to press on in the wet, but it would also add weight, and that would be counter-productive. Look around the Giulia Quadrifoglio and there's liberal amounts of carbonfibre; not lookalike stuff – this is the real thing. Even the propshaft is carbonfibre, and it's effort like that that keeps this super-saloon at just 1524kg, 36kg lighter than an M3, in case you were wondering.
What this all adds up to is a 0-62 mph time of 3.9s & 191 mph top speed. That's right – 9 mph short of 200, in a family, 4-door saloon. Just take a moment to process that.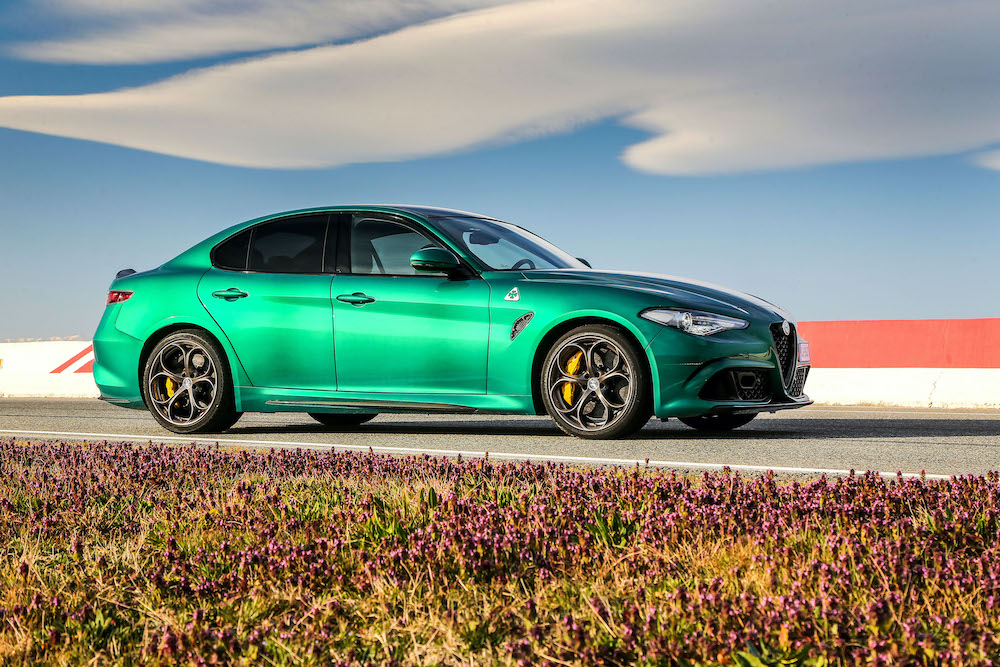 New infotainment and apps
On the inside, the Giulia Quadrifoglio has seen a major infotainment improvement for 2020, and not before time. Gone is the outdated click-wheel only system, in its place is an 8.8" touchscreen system and app-based tech to control door locks and headlights, remind you of how much fuel you've got left (or not), and even share the joyous news in the event your pride and joy's been nicked.
Other changes inside include a new centre console, improved storage and the option if perforated leather and red or green seatbelts, should you so desire.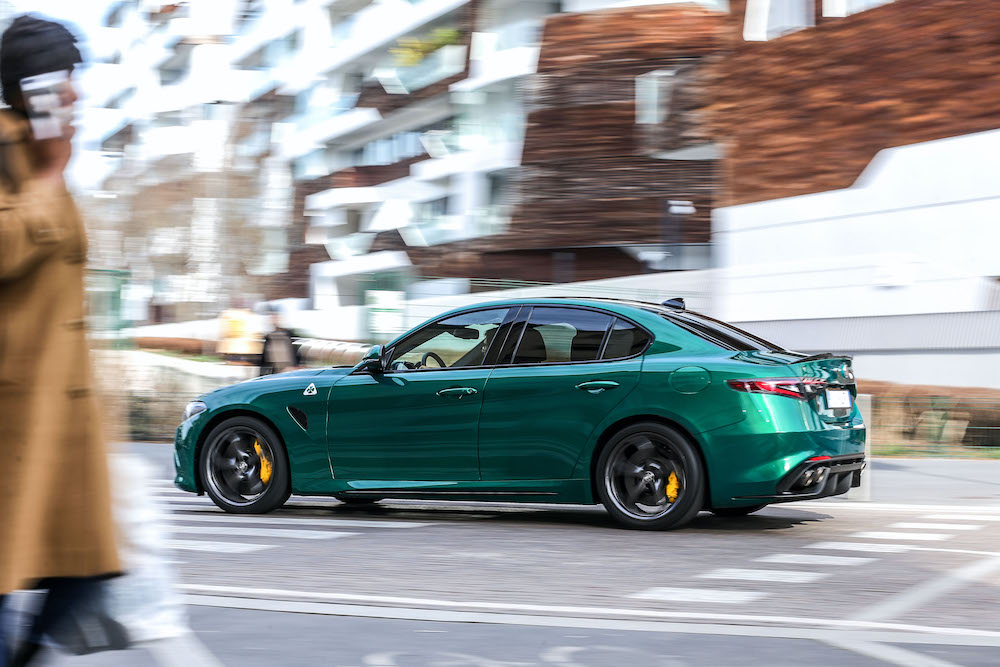 Should I buy a Giulia Quadrifoglio?
I'm not saying hybrid-ising inevitably worsens a car, just look at how Ferrari have gone about it recently. The fact is, though, cars like the Giulia Quadrifoglio aren't long for this world, so enjoy it whilst you can.
By Ben Harrington
2020 Alfa Romeo Giulia Quadrifoglio specifications:
Engine – 2.9l V6 petrol, Layout – Front engine, RWD, Transmission – 8-speed automatic, Power – 503bhp, Acceleration – 0-62mph – 3.9s, Maximum Speed – 191mph, Maximum Torque – 600Nm, Economy – 27.2 mpg combined, Emissions – 236g/km CO2, Price – £67,195 OTR
The 2020 Alfa Romeo Giulia Quadrifoglio is available now, for full details go to: www.alfaromeo.co.uk