Smart ForFour
Until the recently revealed Brabussed version arrives, this 90bhp Smart ForFour is the quickest way to get Smart (sorry). Not only is it the most powerful Smart ForFour, but it's the one most likely to please around the twisty bits, too, thanks to 10mm lowered suspension: standard fitment on Proxy trim level models such as this one and above.
And d'ya know what? – it's really rather fun! Well, it's undoubtedly infinitely more fun than 0.9l has any right to be; turbocharged or not. That's right, it's got a minuscule, 3-cylinder complete with its very own little blower sitting over the rear wheels, providing power to said wheels. Just like a Porsche 911. Or a 'proper' Volkswagen Beetle.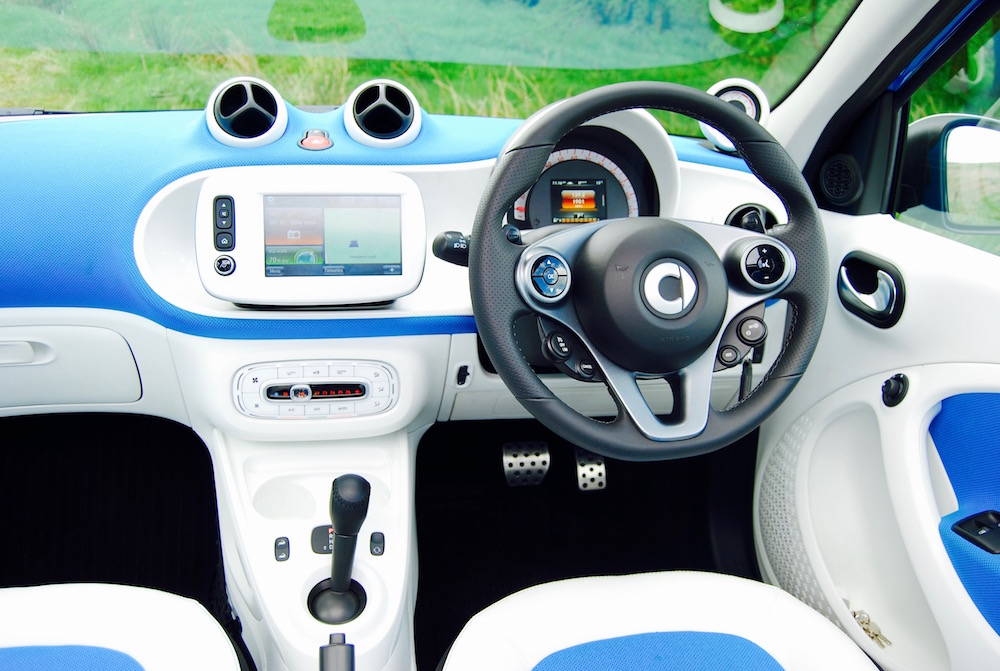 Great new gearbox
Wring every last bit of oomph possible out of the little triple and it responds promptly with no discernible lag, filling the air with that distinctive thrum which accompanies three-pot engines. Thanks to Smart doing us all a favour and binning the god-awful automated manual 'box from previous gen cars and replacing it with either a manual or, in this case, a rather good 6 speed DCT, changing gears is no longer a massive fly in the Smart ForFour's ointment.
With very little between road wheels and steering wheel to get in the way, the Smart ForFour changes direction quickly and accurately, just don't expect much in the way of feedback. Or anything, in fact. Again though, the fun factor fights well above the car's weight as its taut suspension, tiny overhangs and minimal mass make throwing the ForFour around rather addictive. It all gets reeled in in a big way as the killjoy ESC kicks in, though, and turning it off isn't an option.
Tiny turning circle
Another advantage of having no pesky engine between the front wheels is the way it reduces your turning circle. Thanks to the wheels being able to encroach into the body without fear of hitting the engine, the Smart Forfour does a great impression of a Black Cab when it comes down to turning around.
If you opt for the auto (twinamic) 'box, Smart claim that nothing is lost in terms of economy over the lesser powered 71bhp ForFour, with both returning a combined 67.3mpg. Change gears yourself and economy drops to 65.7mpg, but whichever engine/transmission combination you opt for, they all emit under the magical 100g/km CO2.
Stop/start technology is one way the Smart ForFour keeps itself clean, but it can take a smidgen longer than you'd expect for the 'start' part to kick in; you'd better become well acquainted with your handbrake because the car will roll backwards on slight inclines that aren't deemed worthy of help from hill start as you wait for the engine to kick in.
Do 4 adults really fit in?
Smart's recent adverts for the ForFour have highlighted the fact that adults fit into the rear seats. Well – they'd better be small ones; there's plenty of width on offer thanks to the lack of a fifth seat, but anyone near 6ft will have to crouch. The boot obviously isn't palatial, either, but thanks to some deliciously clever folding mechanisms it's oh-so simple to fit a 'big' shop in.
The most likely rear-seat passengers will be children in the Smart ForFour, and anyone who's ever attempted to get a baby-seat into a car will be very grateful for its rear doors that open at 85° to the car, therefore giving maximum room for access. It may not sound like much but speaking from experience, it is!
The Proxy and Night Sky Proxy ForFour such as this one come with a rather futuristic looking blue and brilliant white interior, and there's no option to change it, giving a great insight into how the inside of a tube of toothpaste must look. It's ok, as long as you're never far away from your sunglasses, because when that sun comes out, it's bright. Really bright.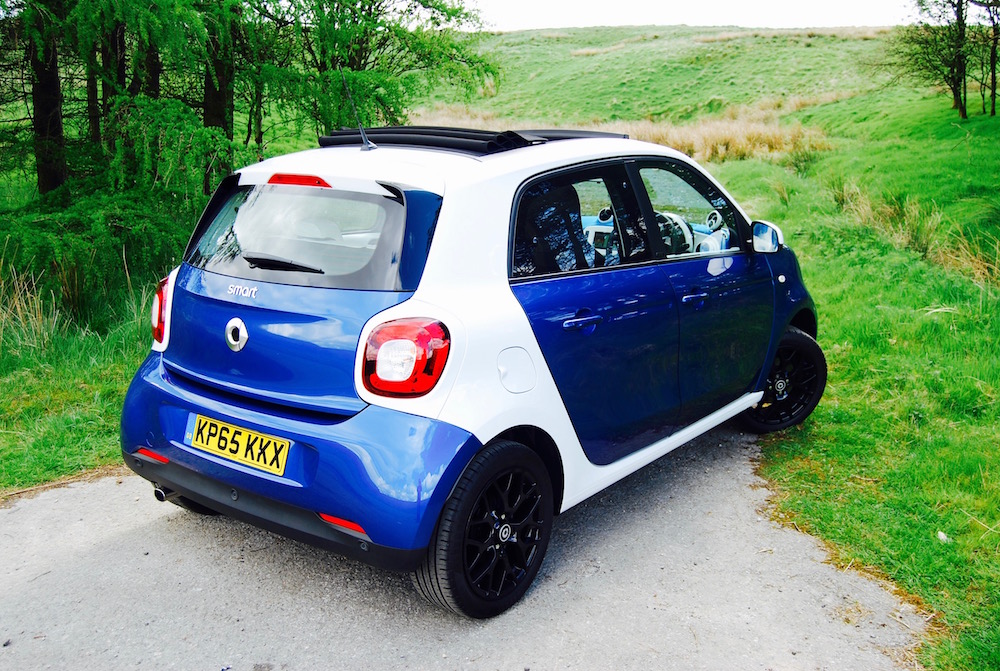 The secret life of toothpaste
If the minty-fresh interior isn't for you, there's obviously other trims of Smart ForFour available: Passion and Prime which are cheaper, and Editions White and Black which are more expensive, all of which come with a choice of interior colour. The only drawback might be if you really want the Sports package which includes amongst other things the leather sports steering wheel, shiny tailpipe and most importantly – the lowered suspension, you either have to put up with the Proxy's interior or go for the more expensive Editions. It's simply not an option on Passion or Prime.
Overall, the Smart ForFour is a clever, funky package that's now great to drive and comes with various insurance and finance offers to sweeten the deal. It's also highly customisable; just make sure you get it right!
By Ben Harrington
Specifications; Smart ForFour Night Sky Proxy 0.9l, Transmission – 6 speed auto, Layout – Rear engine, RWD, Power – 90bhp, Torque – 135NM, Emissions – 98g/km CO2, Economy – 67.3mpg combined, Maximum Speed – 102mph, Acceleration – 11.9s 0-62mph, Price – £13,535 OTR, £15,655 as tested
The Smart ForFour is available now. For full details go to: www.uk.smart.com