The Smart City-Coupe, or Smart Car as it's commonly known, was something of a revolution when it was released back in 1998. Offering a car made specifically for busy city-dwelling types, it could famously be parked in a typical parking space, nose-first. It's gone through a bit of a refresh since then and even changed its name to the Smart Fortwo, it's also been a roadster and grown an extra pair of seats and doors to become the slightly more conventional Smart Forfour.
How Smart are they, though?
Now there's a new pair of Smarts on offer, but just how Smart are they? They're both still instantly recognisable, especially the Fortwo, despite growing a new pair of over-sized headlights. The extra-strong Tridion safety cell that keeps the cabin from deforming in the event of a crash is still mirrored on the outside with contrasting coloured panels.
The Forfour is 80% Renault Twingo and will even be built alongside its Gallic cousin in the same factory, whilst the Fortwo will continue to be built in Hambach, Germany. There's a 1.0l, three-cylinder engine on offer that creates 71bhp, or an even smaller 898cc unit that comes complete with a turbo-charger, and that manages a more motorway-friendly 90bhp. Just £495 divides the two models, at £11,125 and £11,620 respectively which might seem odd, considering how much extra the larger car comes with, but I suppose that if you're in the market for a Fortwo, the extra size of the Forfour would be of no advantage anyway. regardless of cost.
One aspect of the previous generation cars that wasn't so smart was their painfully slow, fun-sapping gearbox – and the whole range was fitted with it. Not-so-any-more. There's now a manual 'box on offer – again, Renault sourced, and a dual-clutch automatic gearbox will come along very shortly that's in no way related to the awful 'box previous Smart generations were cursed with. Good.
We've driven both of Smart's new models in 71bhp guise, equipped with the mid-range 'prime' trim that gives you climate control, heated seats and lane-keeping assist, as well as some pretty natty 15" wheels.
The Fortwo is, like its predecessor, a lot larger inside than you'd give it credit for, and two adults can sit quite comfortably without any need for elbows to collide in the fight for living space. There's the usual tablet inspired displays and pods sprouting from the dash, as you'd expect from any self-respecting 'urban' car, and in the case of our test cars, enough bright-white plastic to make an Apple Store blush.
It's much the same story inside the new Smart Forfour, you obviously just get an extra row of seats. I've definitely sat in rear seats with less head and leg room, but if you should opt for any spec above the base model 'passion', your Forfour will come with a sunroof that makes life in the rear uncomfortable for anyone near 6ft.
Tiny turning circle
Around town is the still the natural habitat of the Smart especially the Fortwo. Being rear-engined means nothing to impede the front wheels and manoeuvres are a doddle thanks to a 6.95m (22.8ft) turning circle – that's 2ft tighter than the King of the U-turn – the London black-cab.
The 71bhp engine is fairly noisy in both-size Smarts when you take them above 40mph, it's obviously just more noticeable in the Fortwo as you're sat closer to it. Although we didn't get chance to experience the 90bhp variants, if you're going to take your Smart on the motorway fairly regularly, I'd possibly recommend giving it a go, as the non-turbo engine feels laboured and out of its comfort-zone at higher speeds.
One impressive fact about the more economically engined Smart Fortwo is that it can complete a round trip of Newcastle to London and back on roughly £30 worth of petrol. That's theoretically speaking of course, and whether the quite considerable engine noise, tyre roar and wind buffeting from the ear-level door handles would also have driven you all the way to distraction is another matter; the Forfour is far more cut-out for that kind of trip.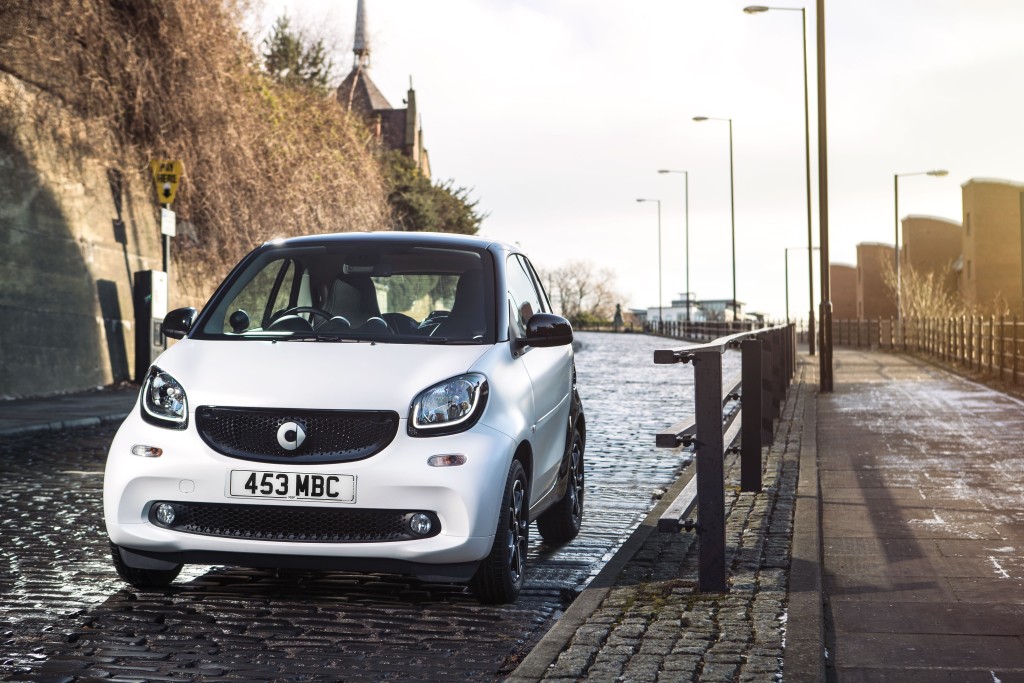 The ride quality of both new Smarts is a vast improvement over previous models; certain suspension components have been based on the new C-Class', making it more refined and less likely to crash and bang over uneven surfaces. A lack of length in the wheel-base department means that the Fortwo is always going to come a bit unstuck on motorways or on spirited B-roads but the whole affair's a lot more sedate in the Forfour.
The Smart Forfour is destined to be up against some pretty-stiff competition, as it's essentially just a slightly eclectic five-door hatch. The Smart Fortwo is pretty much in its own segment, though, and has been successful to date – despite some glaring imperfections. This new Smart Fortwo seems to have ironed out those imperfections, and is a far more grown-up city-car than its ever been.
By Ben Harrington
Specifications;

 Smart Fortwo Prime 1.0l,

Transmission –

 5 speed manual,

Layout –

 Rear engine, RWD,

Power –

 71bhp,

Torque –

 91NM,

Emissions –

 93g/km CO2,

Economy –

 68.9mpg combined,

Maximum Speed –

 94 mph,

Acceleration –

 14.4s 0-62mph,

Price –

£11,820 OTR
Specifications;

Smart Forfour Prime 1.0l,

Transmission –

5 speed manual,

Layout –

Rear engine, RWD,

Power –

71bhp,

Torque –

91NM,

Emissions –

97g/km CO2,

Economy –

67.3mpg combined,

Maximum Speed –

94 mph,

Acceleration –

15.9s 0-62mph,

Price –

£12,315 OTR
For full details, go to; www.smart.com