When Sir Alex Ferguson announced his retirement from management earlier this year, Manchester United were left with the unenviable task of replacing one of the most successful managers since the notion of hoofing an inflated pigskin was deemed to be an idea worth taking seriously. They took a grand total of four days to name his successor.
Only time will tell whether Mr Moyes will be up to the job, but still, four days is pretty impressive.
The legendary 205 Gti……
Believe it or not, Peugeot's mighty 205 GTi was killed off almost two decades ago and so far, regardless of how hard they try, a replacement worthy of being uttered in the same breath has been conspicuous by its absence. I'm well aware of the various 306s and 106s that have got near, either in XSi or Rallye guise but nothing has dragged Peugeot back into the limelight in the same way that the superb 205 GTi did all those years ago. Trust me – I owned one. (1.9, in case you were wondering)
…..and the successor – the 208 GTi
What we have here then is the latest attempt from Peugeot to reclaim its place on the hot-hatch throne – the 208 GTi. Can it possibly be the car to live up to its lofty bloodline?
Initial impressions are good – on paper.The 208 GTi trumps the much-lauded Fiesta ST in the race to 62 mph, and although it may lose out by a smidgen in that department to the Renaultsport Clio, it's more economical, undoubtedly prettier and has a 'proper' 6 speed gearbox – not the much maligned 'flappy paddle' effort as found in its Gallic cousin.
So, that's the competition sorted out – on paper anyway, let's get back to taking the 208 GTi on its own merits though.
From the moment the first press shots of the standard 208 were released, I found the whole thing, well, a bit 'busy' if you know what I mean? That's not to say that it's ugly by any means – the jutting jaw and toothy grin may not be to everyone's taste but it's a welcome relief from the recent 'wide mouth frogs' that Peugeot seemed to have developed a fixation with. The 208's proportions are near-perfect and it's got some very pleasing features. I simply felt that the 208's designers should maybe have known when to stop and adopted the 'less is more' theory a little more readily when applying some visual aspects to the car.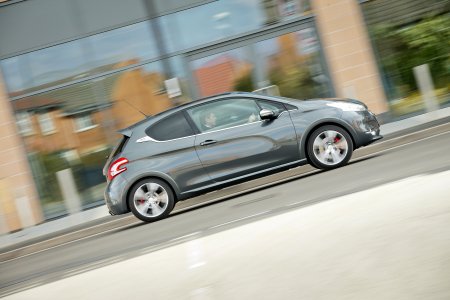 Of course, a GTi is supposed to be an assault on the senses, and that's why the 208 GTi gets away with it. The only downside to all this is the slight lack of contrast between the GTi and its lesser brethren. I found myself studying passing 208s, checking whether they were also GTis and this just won't do. If you've worked hard and want your supermini to be the most superest (!?!), it's got to stand out, not only in a crowd but in a family photo too.
It's a completely different story in the GTi's cabin, with many highlights and features that constantly remind its inhabitants just what statement this car is intent on making. Ignoring the 208's multitude of red flashes that adorn just about every surface at some point (in homage to the 205), there are other, possibly more significant features that transform this car's living space from everyday hatch into B road king. Not least of which is surely the slightly unusual driving position.
The 208 GTi's grippy sports seats are mounted 8mm lower than the standard car to give a more 'sit in' rather than 'sit on' sensation. Once in the driver's seat though, things can initially feel  rather alien due the combination of a semi-race- car, small diameter steering wheel and the fact that one's view of the dash dials is achieved by looking over it, rather than through it. There has been much already written that this position is distracting and the steering wheel can end up in the driver's lap – I'd say that this is purely due to driver error, as after two minutes' instruction from a trained Peugeot representative on how to match seating and steering wheel position, the whole effect was conducive to a spirited, almost rally-driver effect, whilst all dials were clearly in view.
On the road, the GTi feels instantly alive, as it should with 200bhp on tap from it's 1.6 litre engine. This unit may be the same one as found in MINI's Cooper S but it's important to remember that it is a Peugeot product, not a BMW one so fettling it to the 208's needs shouldn't be a problem. 0-62 mph is taken care of in less than seven seconds, with the driver feeling an integral part of achieving this speed as they grip the wheel, correcting the inevitable torque-steer from the front-driven wheels. The GTi – only exhaust outlets may look the part but one of my major criticisms of the 208 is the lack of drama and noise. I've recently driven Peugeot's excellent RCZ, equipped with exactly the same engine and the aural sensation was worlds apart. Definitely an area to improve upon to achieve true GTi greatness.
The most often admired quality of the 205 GTi was the way it negotiated corners in a go-kart like fashion. It's modern-day equivalent has extra weight and power which usually hinder satisfying handling but it's certainly no slouch on the twisty stuff. There are obviously a whole host of electronic aides to assist in hedge-avoidance but the trick for manufacturers is to keep them operating in the background without being intrusive and I'd say the 208 does an admirable job of achieving this. By utilising variable-electric power steering, the feather-light feel around town recedes at higher speeds and weights-up nicely, although I did find myself yearning for a touch more feedback around the tighter corners.
Any front-driven car is asking a lot of its multi-tasking front wheels, even more so when power is increased as they attempt to direct whilst also providing drive. Introduce an uneven surface for the suspension to deal with and this is where the 208 GTi can come slightly unstuck. I found that the, once train-like handling characteristics developed an unnerving, skittish feel over  typically unkempt British Tarmac, which could undoubtedly lessen confidence as our roads aren't likely to be completely fixed anytime soon, if ever.
In reality, it's nigh-on impossible for anyone to recreate the hot-hatches of the '80s and '90s due to the added complications of safety and emission constraints. It's therefore a fairly fruitless task to constantly compare Peugeot's GTi products to the 205. Peugeot are obviously proud of their heritage though, and are keen to utilise it in their marketing of the 208 so I'll go along with it. No, it just doesn't feel alive as the original, no car ever will. However, the 208 GTi is undoubtedly faster, more comfortable, built to a higher standard and, perhaps most importantly, safer than the 205 so I think we should lay that old ghost to rest and look forward.
By Ben Harrington
Specifications; Peugeot 208 GTi 1.6 THP 200, Transmission – 6 spd manual, Layout – Front engine, FWD, Power – 200bhp,

Torque – 

275Nm,

Emissions – 

139g/km CO2, 

Economy – 

48 mpg combined, Maximum Speed – 143mph, 

Acceleration

– 6.8s 0-62mph,

Price –

£18,895 OTR, £20,070 as tested.
Related articles