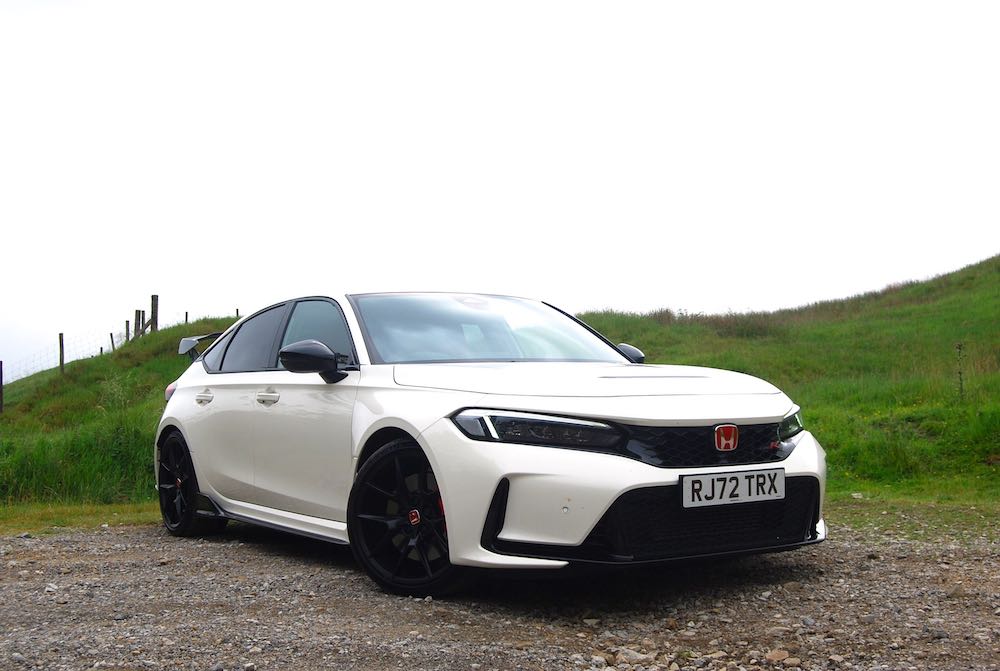 Civic Type R
Take a long, hard look at this, the latest in a long line of Civic Type Rs – it may well be a dying breed. As the Fiesta is killed off, ergo so's the fantastic ST, VW announced recently that the Golf GTi will no longer be available with a manual gearbox and manufacturers look to an electric future, cars like this Civic Type R are quickly becoming a thing of the past.
Enough of the doom and gloom, though, because for now the Civic Type R is amongst us, and that should be celebrated. On the face of it it's far more conservative than the previous version. Yes, it's got a rather large rear wing, an air scoop in the bonnet and 19 inch alloys, but the last few Civic Type Rs have taken spoilers, scoops and slashes to the absolute extreme, and they sat on 20's.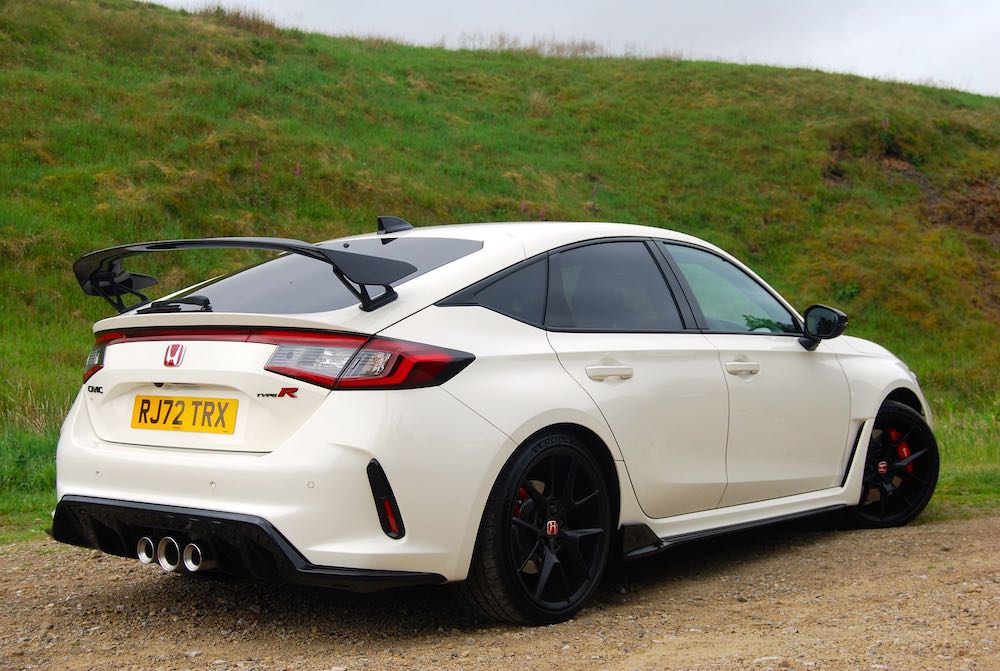 Less busy, more beef
If anything this latest Civic Type R looks more muscular than the last one. The arches swell over the wheels, in contrast to the plastic add-ons that graced its predecessor. The triumvirate exhausts have become something of a Type R trademark so they still protrude from the rear splitter, except now two smaller diameter tailpipes flank a larger one (oOo); it was previously two large on either side of a small (OoO).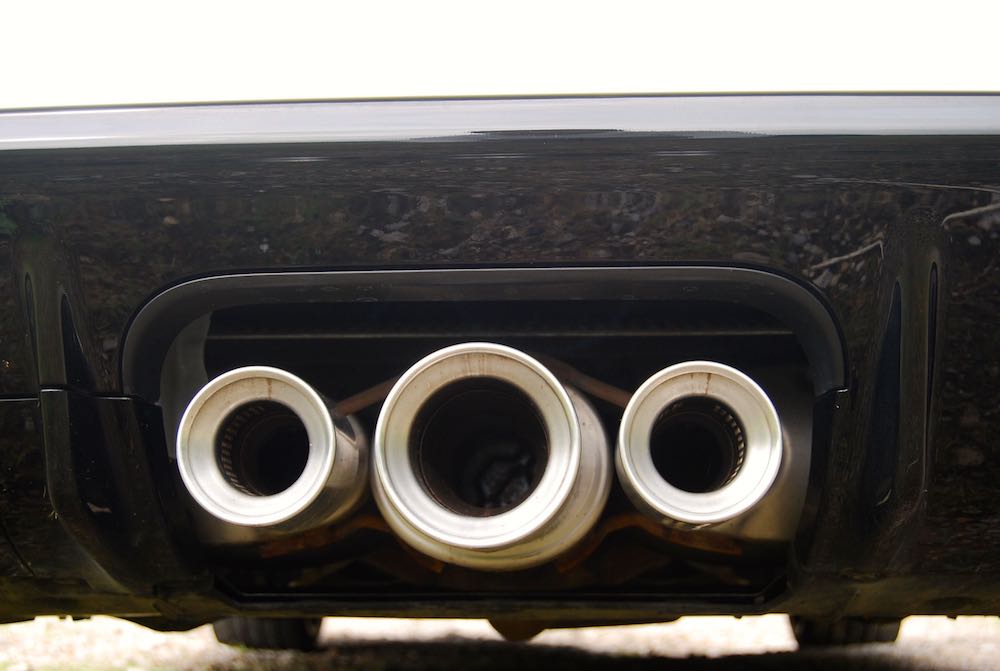 Still FWD
Honda have stuck with FWD for the Type R – they designed it to be the 'fastest front-wheel-drive car in the world' according to the Honda website. Backing up this claim is a 2.0l turbocharged 4-cylinder engine, as with previous Civic Type Rs. Except now its pushing out 325bhp; 20 or so more than before and that pushes the 0-62mph time down to 5.4 seconds and the max speed up to 171mph.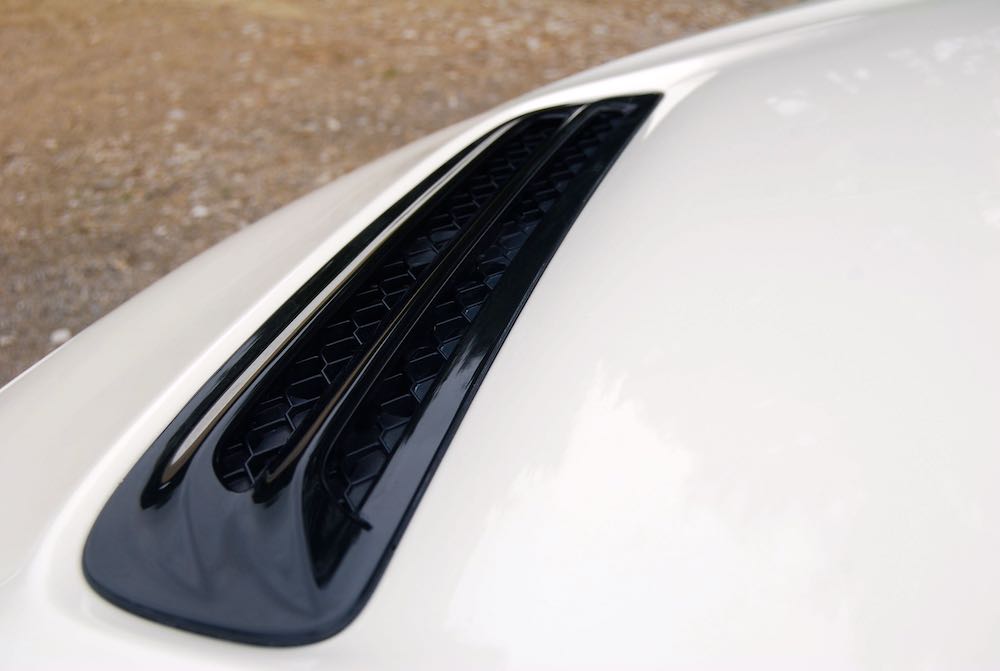 Outstanding gearbox
But it's not all about the engine in the Civic Type R, far from it. One of, if not the most impressive part of the car is the gearbox. Honda have stuck admirably to their 6-speed manual gearbox where others have almost entirely switched over to double-clutch self-changers, and thank goodness they have. The feel and precision as it changes through the ratios is reminiscent of something far more exotic than a Honda, far more expensive too. Its days may be numbered, whether Honda would admit that yet or not, but for now this gearbox is a thing to be treasured and held up as a yardstick for others.
Improved interior, still not subtle
Inside the Type R is another unashamed shout-out to the glorious hot-hatches from the past few decades. Understated it is not; there's enough red fabric in here to kit out a division of the Grenadier Guards. The sports seats are new affairs; they sit lower than previous Type R's did for a more engaging driving experience and they blend support and useable comfort perfectly. And they're trimmed in red suede, obviously.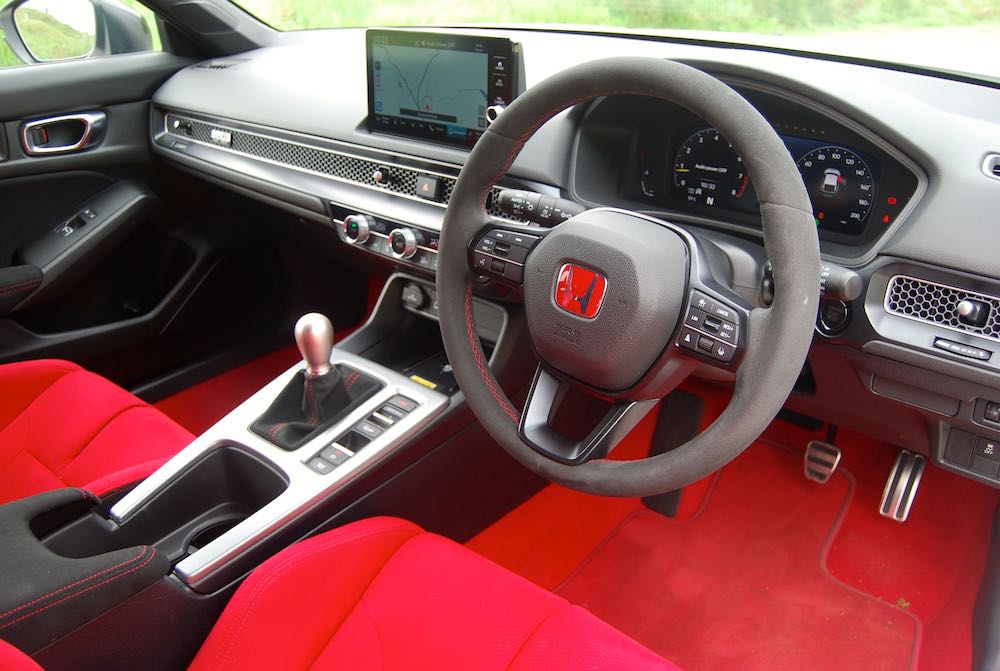 No 5th seat either
The rest of the interior is far less fussy than the last Type R, purely because the current 'normal' Civic is so screens and fonts are less of a headache. The split rear windscreen has gone so the rear view is better and that rather large sits perfectly out of sight, or it does from my driving position at least. One bugbear is the deletion of the 5th seatbelt; hot-hatches were designed to be practical so why make this one less so?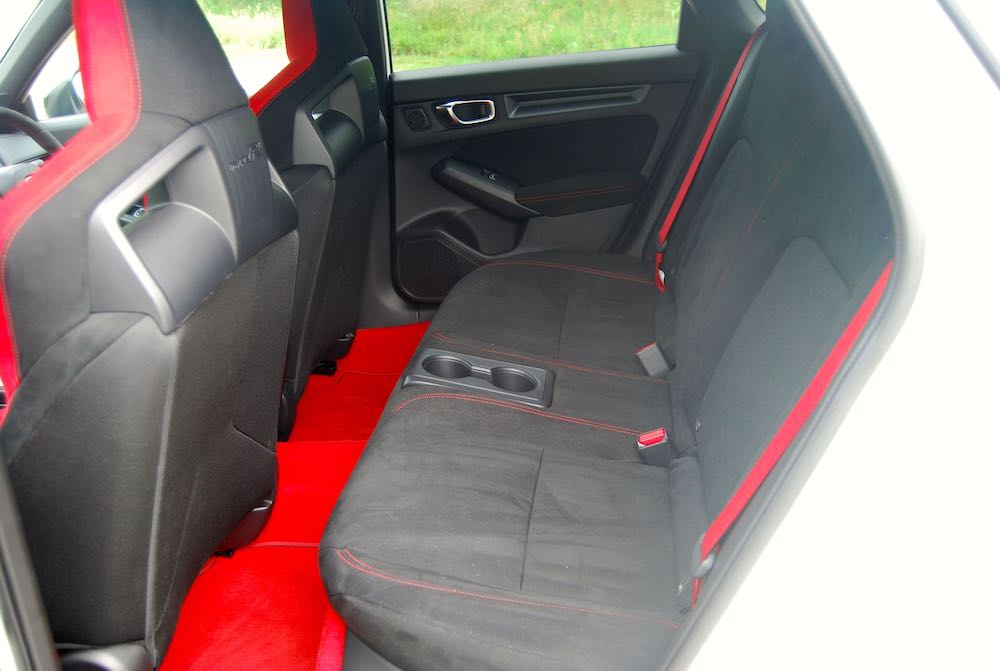 The Type R may be less fussy to look at, but don't think for one minute that means Honda has stopped paying enormous attention to detail to what goes on under the skin. The suspension has been upgraded for improved rigidity, as has the chassis. The steering column has a new torsion bar to reduce deflections. The flywheel is lighter to be more responsive and the bonnet is now aluminium, not steel; 43% less weight for improved centre of gravity.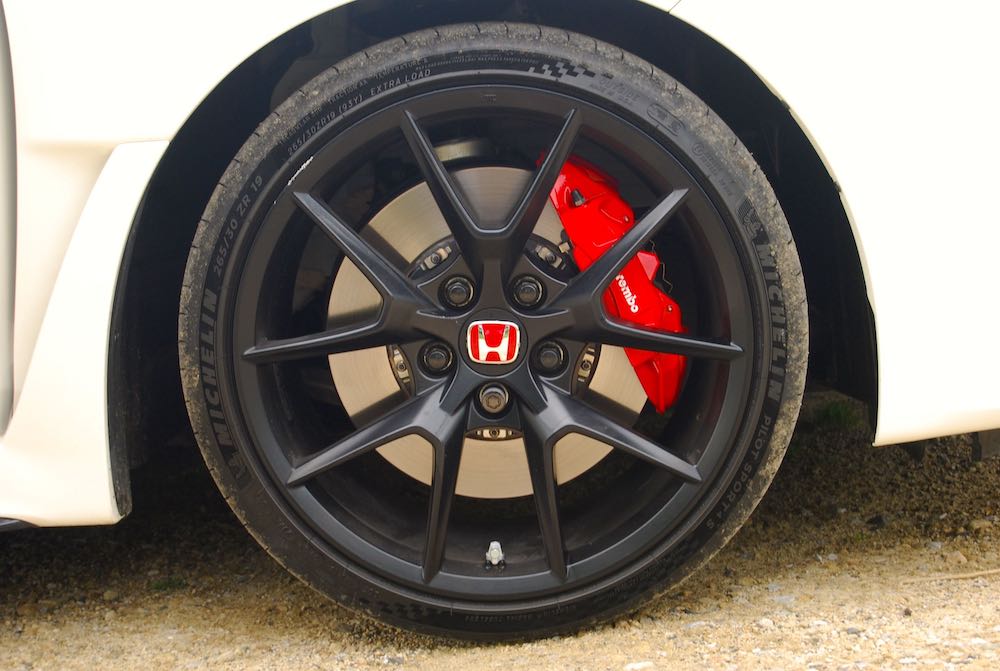 Stick to comfort
On the road this all adds up and the Civic Type R is sharper, more aggressive than ever. 325bhp through the front wheels only will always spin up if you really push things, especially with any moisture on the ground, but the precision with which they manage power and direction is uncanny. There's three driving modes; Comfort, Sport & +R which sharpen suspension, throttle response and exhaust to suit. Do yourself a favour, unless you're on a very smooth track, utilise the option to personalise the modes if you want to spice things up and leave the suspension in Comfort. Anything else just doesn't do well on British tarmac.
Should I buy a Civic Type R?
So; is the Civic Type R the perfect hot-hatch? Does it fly the flag for FWD and a manual 'box where others have either given up or gone for 4WD & DCT? Absolutely it does, the only fly in the ointment is the price. There's no easy way of saying this; it's £49,090 OTR. Yep, just shy of £50k, and that's a whole lot of money, but if you can justify it, it's a whole lot of car too.
By Ben Harrington
2023 Honda Civic Type R Specifications:
Engine – 2.0-l turbocharged 4-cyl, Transmission – 6-speed manual, Layout – Front engine, FWD, Power – 325bhp, Emissions – 186g/km CO2, Economy – 34.4mpg, Maximum Speed – 171mph, Acceleration – 5.4s – 0-62 mph
The 2023 Honda Civic Type R is available now, priced from £49,090. For full details go to: www.honda.co.uk