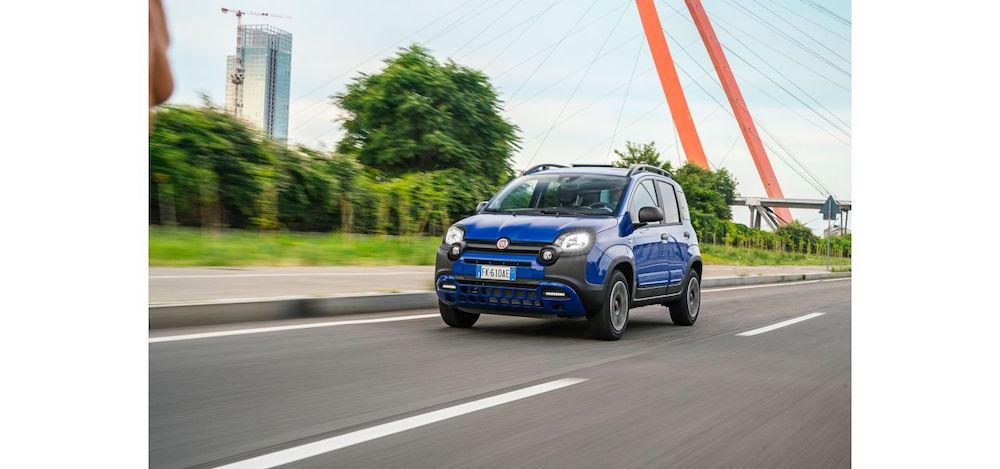 Fiat Panda
Fiat has updated the Panda range for 2021 with a wide variety of new trims; there's seemingly a Panda for every occasion now. The three main flavours of Panda are: Life, Sport and Cross – that's cross as in crossover, by the way, it's not got anger management issues. If you go for the Panda Life or the Cross, you can opt for the darling of every self-respecting European ski resort since 1983; the Panda 4×4.
FWD = Hybrid
It sounds like a slightly complicated range, but thankfully the choice of engines is infinitely more simple. Basically, if you go for a FWD Panda it comes with the 1.0l, 70bhp mild hybrid engine from the 500. Go for the Panda 4×4 and you get the rather good 0.9l Twinair engine with 85bhp.
Panda City Cross
This is the Panda City Cross. It comes with hard-wearing, chunky plastic trim, a reinforced front end with sump guard and raised fog lights; it's basically supposed to look like it's ready for anything. And yet, it's FWD only, which makes sense, because there aren't many ski resorts in cities as far as I know. Being front wheel drive, it comes with that 1.0l hybrid engine so it's clean; 123g/km CO2 & 52.3mpg. The tradeoff is performance, i.e. – there isn't any. 0-62mph comes around in a glacial 14.7 seconds; they never said this was a car for getting around a city quickly. If you're after an automatic gearbox, the Panda isn't for you – it's 6-speed manual only.
The mildest of hybrids
Just as with the 500, you wouldn't know this Panda was a hybrid just from driving it. The assistance it provides only kicks in under harsh acceleration and to make the stop/start process quicker, apparently. The plus-side of this is that it doesn't take much to recharge; coasting and braking will get the battery reserve to rise pretty quickly.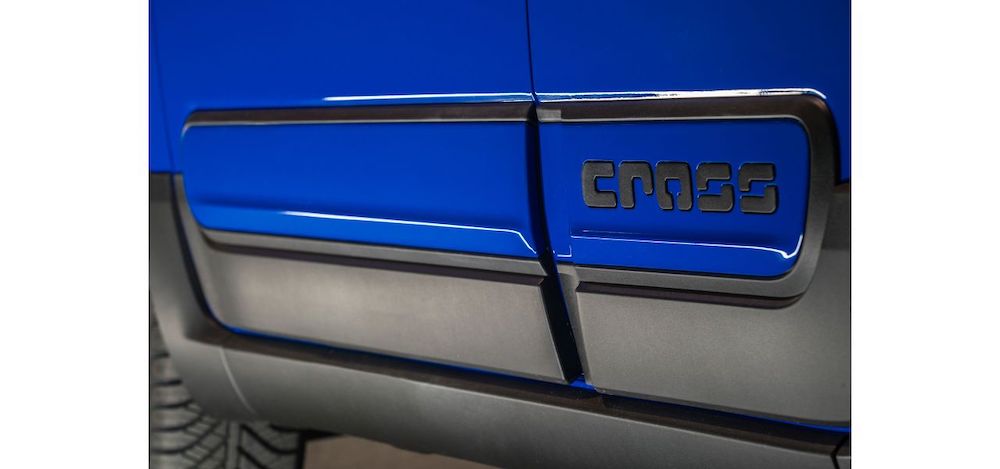 Not that it takes much to get the Panda going in the first place. In a world of constantly expanding cars, the Panda manages to stay relatively svelte at a modest 1055kg. Yes, that's a decent chunk more than the original but when a mini can weigh in at nearly 1.5 tonnes these days, it's positively featherweight. And this lithe kerb weight shows, sometimes when you might not want it to as it skips around over our pockmarked British tarmac.
Simple inside
Inside the Panda is an exercise in keeping things as simple as possible. The original Panda came with some of the most memorably stiff seats; these ones aren't like that at all, they're quite comfortable, just not exactly what you'd call plush. There's decent storage everywhere including large bottle holders in the door bins and the passenger side gets a huge dashboard bin that's perfect for collecting discarded takeaway wrappers.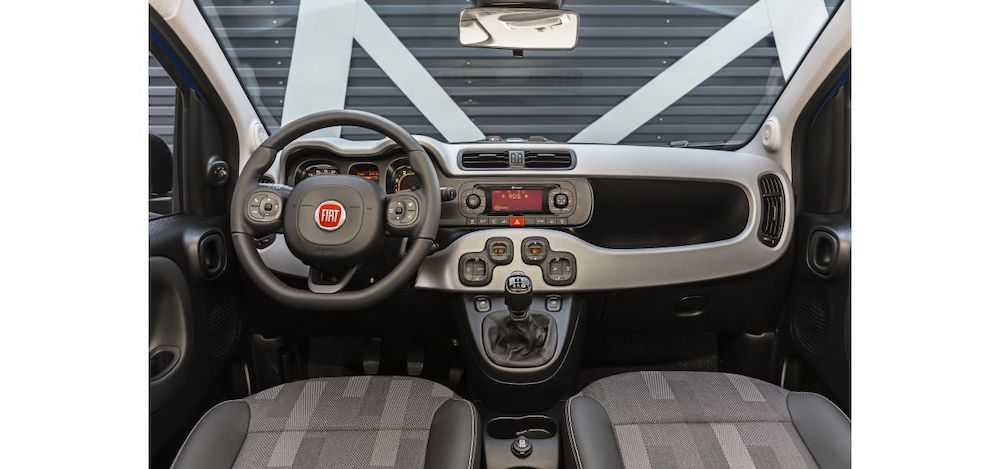 The quality and size of the infotainment system basically comes down to how much you spent on your smartphone. There's a cradle atop the dashboard that locks your phone in place and behind that is a USB port. The song title you're playing then scrolls on a little dot-matrix screen below, but don't go expecting any Apple CarPlay etc; this is smartphone mirroring at its most basic. There is a voice control button on the steering wheel but we could only persuade it to turn on the radio.
City button
Parking the Panda is about as easy as it gets thanks to its square-ish proportions and relatively narrow pillars that don't obstruct your view. Should you want to make the job even less laborious, every Panda comes with a City button that enhances the assistance to the power steering and leaves it finger-tip light. Conversely, only the range-topping Panda 4×4 comes with rear parking sensors as standard; they're part of a £250 Comfort pack on lesser models.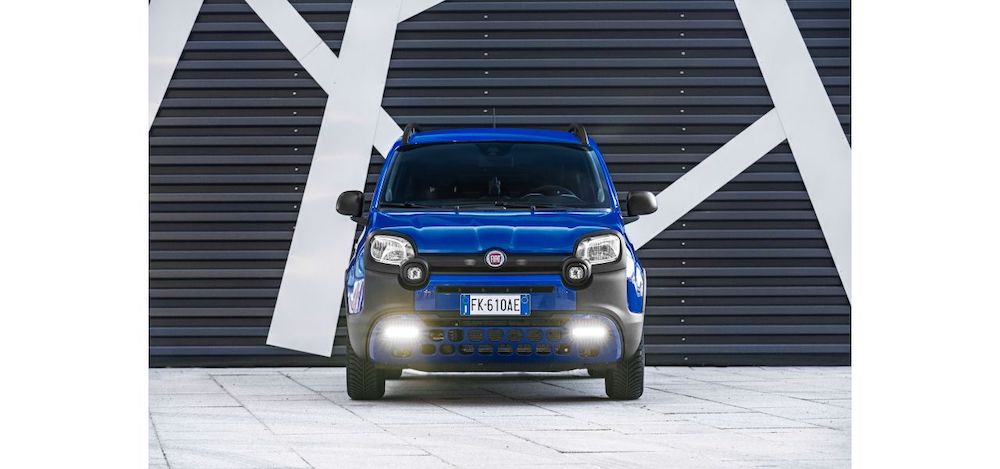 That inherently square shape of the Panda lends itself well to carrying four adults around as the roofline doesn't impinge on rear headroom. There is an optional fifth seatbelt but anyone sitting in it would have to be pretty slim or young, and social distancing just isn't going to happen. At 225 litres, if you want to put anything remotely large in the boot you'll have to lose the rear seats to give you 870 litres. It is a useable 870 litres too, though, with that angular design coming into play again.
Should I buy a Fiat Panda?
The Panda continues to provide cheap, no-frills motoring with the cheapest model starting at £12,025. This Panda Cross only costs £14,125 and it's a lot of car for what's still a modest price. It's only when you look at the £18,125 4×4 Panda Cross that the back-to-basics cabin becomes hard to justify.
By Ben Harrington
2021 Fiat Panda City Cross Specifications:
Engine – 1.0l mild hybrid petrol, Transmission – 6-speed manual, Layout – Front engine, FWD, Power – 70bhp, Torque – 92Nm, Emissions – 123g/km CO2, Economy – 52.3mpg combined, Maximum Speed – 96mph, Acceleration – 14.7s 0-62mph, Price – £14,125 OTR
The Fiat Panda is available now, priced from £12,025. For full details go to: www.fiat.co.uk