Right then, here goes. What could possibly be the easiest car review I've ever written: the Tesla Model X. I say easy because, on paper at least, the Model X is the best all round car in the world. It's spacious, practical, fast, 4WD, clever, cheap to run and it'll even clear your car-driving conscience as it emits not one single nasty, environment/lung unfriendly particle as it wends its merry way.
Tesla Model X: The easiest review I'll ever write?
There; 71 words. Done.
I did say that was just on paper, though, didn't I? I recently spent a week with a Model X to find out what it's actually like for a family to live with on a day to day basis and whether it live up to its own billing.
How big is a Model X?
First up, it's undeniably spacious. At 5052 mm x 1999 mm, this is a big car; longer and indeed wider than a Range Rover. No, not a Sport or a Velar, but a full-fat Range Rover. With no pesky engine or transmission to stow away somewhere and the gigantic lithium ion battery in the floor, all of that interior space is useable. At 2487 litres with the rear seats down, the Model X can carry a lot of stuff. Not only this, but as well as having the conventional boot space, you get an extra storage area where the engine would normally be under the 'bonnet'.
Falcon Wing doors
You'll no doubt have noticed one of the Model X's many standout features; its falcon-wing rear doors. These are no fancy parlour trick, designed to impress friends whilst living out your private Marty McFly fantasies, though. Their double hinged design means they actually take less lateral space to open than a conventional door, so Homer Simpson style child strangulation may be kept to a minimum as car-park dings are no more.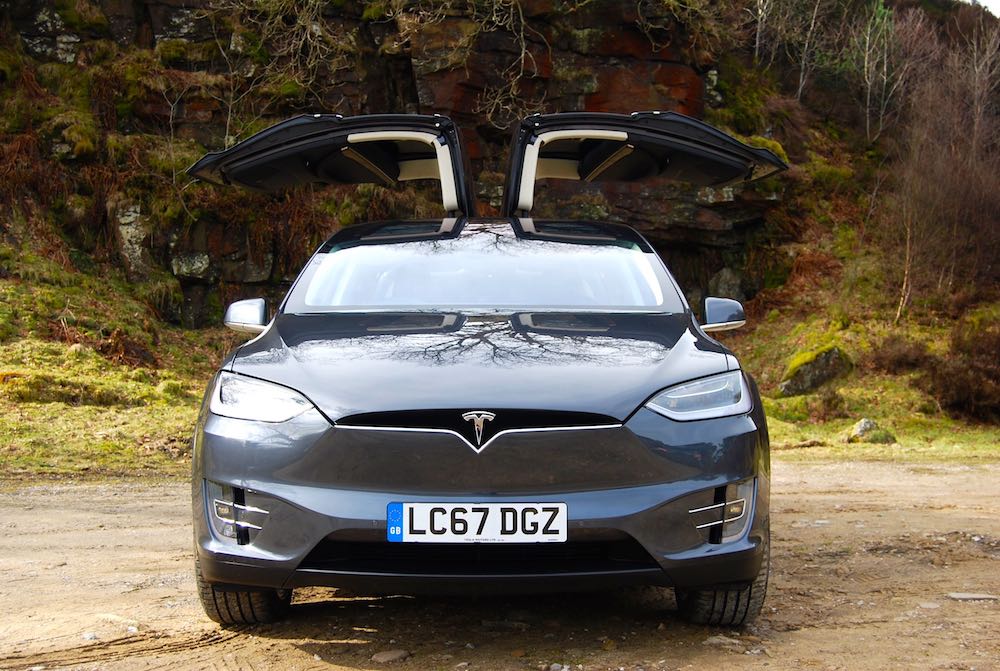 Worried they'll hit the ceiling in a multi storey? Worry not – they're fitted with sensors to stop this happening. I did mention that the Model X was clever, didn't I?
The only down side of the doors may possibly stem from their Californian design. You see, when faced with some 'proper' Northern English weather i.e. rain, the water that gathers on the Model X's roof has a tendency to drop through the roof-hinge when a door's opened, soaking the middle rear seat in the process.
Add to this space, and the clever doors the fact that the Model X can be ordered as either a 5, 6 or a genuine 7-seater, and the Model X ticks the practicality box with aplomb.
It's HOW fast?!!?
Right, the fun bit, just how fast the Model X is. This is the mid-range 100 kWh model so no Ludicrous Speed mode I'm afraid – that's reserved for the P100D. Hey-ho, this Model X will still get from 0-60mph in 4.7s and onto a limited 155mph. Sounds impressive? That's because it is. Anyone who's never been in a fully electric car may be in for something of a shock if they floor the Model X. There's no delay, no lag, no power curve, it's just pure, unadulterated torque, silently getting a 2.5 tonne MPV to faintly ridiculous speeds.
Ah, but can the Model X handle?
Handling? Well, that's possibly more impressive than the Model X's outright speed. With the batteries under the floor and no significant weight at either end, the centre of gravity is practically scraping the blacktop. Add to this the fact that all Model Xes are all-wheel drive and you have what's the most unlikely looking B-road hero to ever grace our roads. Just watch out when things get narrow!
Beast from the East 0 : 1 Tesla Model X
What Tesla don't seem to make much of a fuss about is how the Model X's all-wheel drive handles snow & ice. I was lucky enough to be in possession of a  Model X when 'The Beast from the East 2 – The Return' hit our shores. It may not look like your conventional 4×4, it wasn't even on winter tyres, but the surefooted way the Model X negotiated frozen roads was incredible. It never once felt like it was losing traction and traversing icy hills was a doddle. This is apparently something to do with the way electric motors vs conventional engines approach traction control as it's an instant reaction. Whatever it is – it's impressive.
Can't be bothered driving?
The Model X is very, very clever. Full stop. It's covered in sensors, constantly monitoring not only your position on the road, but other road users, their road position, even whether the car in front is braking and with how much force. If you need to raise the air-suspension to, for example, get over a particularly evil set of speed humps near your home, the sat-nav remembers and automatically raises it the next time you're in that location. For £4,700 you can add the Enhanced Autopilot upgrade which allows your Model X to pretty-much drive itself on motorways. It'll adjust speed, change lane, even change motorway. It'll also park itself and be summoned like a dog.
Think that's good? For another £2,800 your Model X will drive itself with absolutely zero input from a human being. You simply tell it where you're going on any particular day, and the Model X will work out the optimum route and drive you there. Once you're there, it'll let you out and go and find a parking space. It'll even plug itself into a Supercharger and come back to you when you need it. I'm not kidding!
It's definitely worth noting, however, that the legislation to actually use these self-driving modes hasn't been agreed and could well be a long way off being approved, if, indeed it ever is as recent unfortunate setbacks have indicated.
Fun, fun, fun
Personally, the fun of driving a car for me is the whole connection between yourself and an internal combustion engine, ideally via a good manual gearbox. That's fast becoming an antiquated approach, though, and driving is more and more a necessary evil that manufactures are making as bearable as possible for future generations.
Tesla seem determined to keep the fun in driving, though, and it's not just how their cars get faster and faster. The giant, iPad Pro-like central screen turns into a giant sketch pad which kids love, they can even publish their work. Like a mobile phone, the Model X is constantly updated and the best bit of this are their semi-hidden 'Easter eggs'. You can turn your Model X into James Bond's Lotus submarine, a Mars Rover, Santa's sleigh, or even get it to do a dance in Celebration mode (watch the videohere).
The Model X is safe, too, and I'm not just referring to it's unprecedented 5-star Euro NCAP rating in every category. Pay £5,700 for the Premium Upgrade Package, go into the car's climate control settings and you'll find a Bioweapon Defence Mode which filters cabin air through a HEPA system, leaving it medically clean. I'm hoping it's only used to keep city-centre fumes outside but I suppose it's nice to know it's there.
Rarely pilfered
A little known fact about the Model X, and Teslas in general, is how scum-proof they are. By this I mean how few thieves have gotten their grubby little hands on them. Teslas are deemed practically impossible to steal without the key and they're statistically 13 times less likely than any other make of car to be stolen. That's good news, especially when the Model X's £77k starting price (£85K before incentives) is taken into account. Want this 100D? That'll be over £93K, or £844 per month. P100D? £128K or £1,449 a month.
So, yeah, £93K or £844 per month on contract purchase – that's not loose change in any speak. On the plus side, road tax is obviously free and it only costs approx. £6 – 9 to charge at home from flat. Even better, you can charge it for free at one of the increasingly popular Tesla Superchargers that are dotted across the country.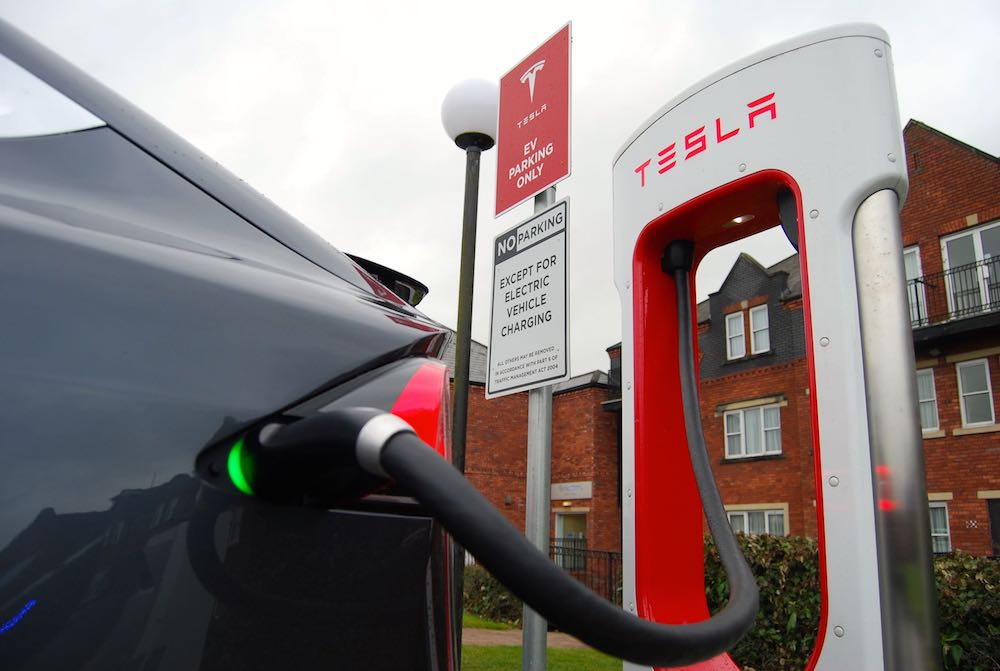 Realistically, how far without charging?
And charge it you will. Tesla claim a 351 mile range on this 100 kWh model, but it's slightly different in the real world. 278 miles was the longest projected range we managed on a full charge, but even that was optimistic. You see, unlike 'normal' engines, cold weather isn't a battery's friend; they actually need to be kept warm – around 30 – 40 degrees celsius. When the temperature's hovering around freezing, as it was during our time with the Model X, even in Range Extending mode which restricts heating etc, you'll get more like 200 miles from a charge. That's taking it easy in 'Chill' acceleration mode, too, have some fast fun in your Model X and you'll not get very far at all.
Should I buy a Model X?
The Tesla Model X can really be all things to all people, as long as you've got the money and you're not bothered about internal combustion, obviously. It's beautifully built, spacious, fast, fun and clean, just like I said in paragraph one. We're getting better, but until the world properly catches up with electric cars i.e. more fast chargers, it'll never be as convenient as filling a petrol or diesel car, and that's just a fact. Tesla's recently revealed Roadster has a claimed 600 mile range, though, so maybe the world doesn't need to catch up; Tesla will just keep making their batteries better.
By Ben Harrington
Tesla Model X 100D Specifications:
Engine –

 100 kWh Dual electric motor,

Layout –

 4WD,

Transmission –

 n/a,

Power –

 525bhp, 

Acceleration – 

0-60mph – 4.7s,

Maximum Speed –

155mph limited,

Maximum Torque –

660

Nm,

Economy –

 n/a,

Emissions –

n/a

,

Price –

 £93,400 OTR

The Tesla Model X is available now. For full details go to; www.tesla.com