Mazda 3
Generally speaking, unless their rump sports the letters RX or MX, Mazdas have quietly gone about their business in the background, almost performing as extras to the starring cast of Fords and Vauxhalls etc. The Mazda 3 is spearheading the marque's campaign to thrust itself into the limelight, though, so just how good is it?
Every manufacturer has their corporate 'face' these days, and Mazda are no exception. Their 'mole rat' look isn't the prettiest, that's for sure, but with the swooshy slashes and lines that also adorn the range – using KODO design language, apparently, and devolved in no small part from their Furai concept, Mazda have developed an easily distinguishable, handsome image.
Boring? Hardly….
The Mazda 3 has pulled off the trick so many have attempted i.e. making a 'boring' 5-door hatchback look anything but. A long, bulbous bonnet, high belt-line and minimal glass-housing suck the car closer to the ground, leaving it with more of a coupe air than family hatch, and that's without using sneaky tricks like hiding the rear door handles.
What price these desirable looks, though? – Do they leave the Mazda 3 with shoddy amounts of room for rear passengers, and do those large C-pillars create a blind-spot nightmare? Well, the answer to that would be no, and no; anyone travelling in the rear may desire a tad more window to watch the world go by on long journeys, but even adults shouldn't feel cramped, and visibility from the driver's seat is good.
Class-leading quality
So, the Mazda 3 looks good on the outside without much in the way of consequence inside, but how does interior feel and quality fare? They say first impressions matter and just closing the door is an accurate indication of what to expect: there's nothing worse than a tinny, flimsy, apologetic slap, and the Mazda 3 gives anything but as it shuts out the outside world with a thorough, profound 'thunk'.
The quality of materials in the cabin and the thought that's gone into their design would embarrass some allegedly more premium brands; Mazda must surely be the foremost of their compatriots in this department. As you slide into the low-slung driver's seat, your feet finding the pedals positioned well ahead of the steering wheel and there's a large, centrally positioned rev-counter and HUD (standard on Sport Nav grade) staring back at you, the feeling that this isn't a 'normal' 5-door hatchback is reinforced.
1.5l diesel
Our test car is powered by the 104bhp, 1.5l diesel engine; it's not the most powerful option, nor is it the weediest, but at 99g/km Co2 and a claimed 74.3mpg combined, it'll likely be the biggest seller. The engine is well matched to its 6-speed manual 'box (a 6-speed auto is also available with certain engines), and performance belies an apparent low power output for what is a fairly heavy car (1420kg).
It's not the keenest to progress up the rev range but it's smooth and pulls well. When it gets to 4,000 rpm, though, the 1.5l diesel runs out of steam in quite definite fashion, hitting something of a wall and demanding a higher gear to go at. Keep it between 1 and 4K rpm and it's great fun without hitting the wallet too hard, whilst cruising on the motorway feels settled and is whisper-quiet.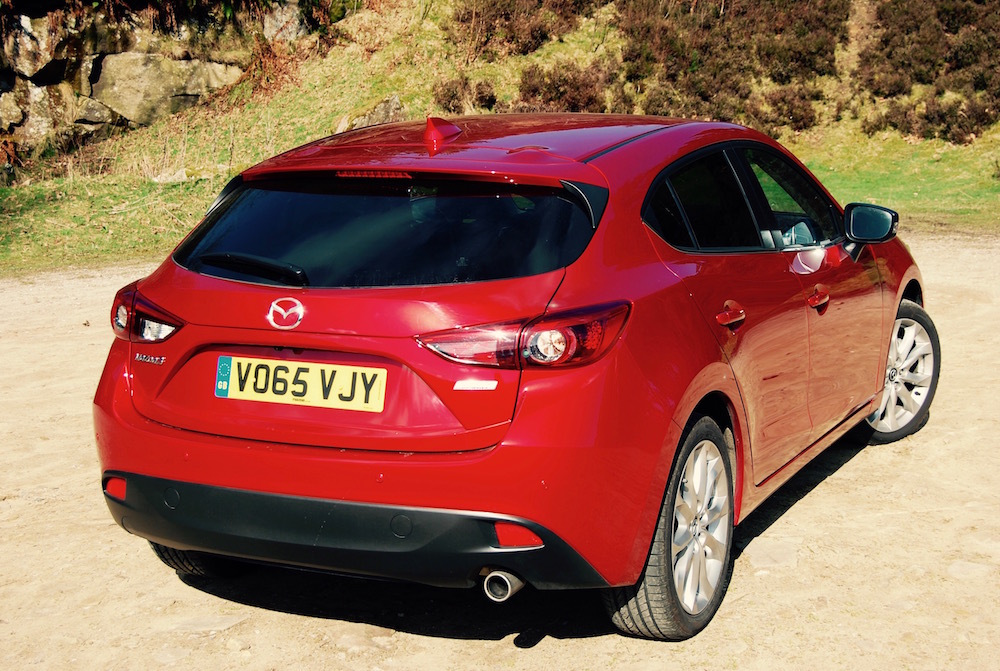 The Mazda 3's handles well, again reinforcing its more sporty credentials as it grips well without sacrificing comfort in the ride. Steering's weighty and not overly assisted, although it does lack feedback somewhat from the driven front wheels.
To conclude, then, I'll take us back to the start; is the Mazda 3 good enough to play a starring role in the C-segment market? Well, it looks original and eye-catching, it's built superbly and oozes quality inside, and it's backed up by some clever, fun engines. I think that answers that question, then.
By Ben Harrington
Specifications; Mazda 3 1.5 105ps Sport Nav Diesel, Engine – 1.5l diesel four cylinder, Transmission – 6 speed manual, Layout – Front engine, FWD, Power – 104bhp, Torque – 270Nm, Emissions – 99g/km CO2, Economy – 74.3mpg combined, Maximum Speed – 115 mph, Acceleration – 11.0s 0-62mph, Price – £21,945 OTR, £22,605 as tested.
The Mazda 3 is available now. For full details, go to; www.mazda.co.uk