Honda CR-V i-DTEC
Way back in October 2012, Driving Torque went on a first date. It was set on the beautiful shores of Loch Lomond with the dramatic peaks of the Trossachs providing a backdrop and the prospective partner in question was Honda's new CR-V i-DTEC. All went well, both parties seemed to get on and looked forward to meeting again. Last week, we did.
The venue this time was the only slightly less pretty town of Macclesfield, complete with its very own forest. This was never going to be a holiday, however, both the CR-V i-DTEC and I were going to see how much we'd blossom under the strains of real life, kids 'n all.
This 4th Generation CR-V was, by its very nature, always going to be best suited to a more torquey Diesel engine than a petrol and the particular model we have on test here is sporting Honda's i-DTEC – it just makes more sense. This 2.2l unit may well become a rare sight on our roads though, as Honda start rolling the CR-V out, equipped with their much-lauded 1.6 lump under the bonnet. This superb little engine is tasked with pushing the relatively hefty CR-V's CO2 emissions under 120g/km and subsequently its owner's tax and fuel bills down a notch or two, whilst still serving up a delicious 300NM torque.
All that's in the future however, so back to the future as they say. One thing that's unlikely to change when the new engine's available is the CR-V's appearance, and personally, I think that's a good thing. I was quite taken with it on launch and the more of them I see on the roads, the more I feel Honda's styling department deserve a pat on the back for their rather gutsy approach.
The most eye-catching detail on the CR-V is undoubtedly that shiny grill and the way it cleverly morphs into those over-size, eagle-eye headlights. Subtle it ain't and I can understand how that whole nose section may spoil the rest of the car for some as it is a rather Marmite feature, but I'm inclined to feel that it offers just enough shoutiness for the stereotypical SUV owner, without going over the top. The CR-V has been the victim of some relatively unpleasant criticism regarding it's looks but look at the competition; the Qashqai is suddenly looking dated, Toyota's styling department have all been fired if the new RAV4 is anything to go by and if imitation is the sincerest form of flattery, Hyundai are extremely complimentary with their Santa Fe.
The cabin on our SR spec test car reeks of quality on an almost Germanic level, it's such a step up from previous generations in terms of feel and ergonomics that it deserves special mention. Features such as the 3-D, stepped nature of the instrument binnacle and its 'floating' speedometer needle really reflect on the effort that's obviously been put into updating the CR-V i-DTEC's interior. It may be a little plain, but it's difficult to argue with an all black approach rather than the half cream effect that's also available, especially with some tasteful swathes of brushed aluminium to add a touch of class. The half leather, half Alcantara seats did take quite a bit of fiddling with to get into an optimum position but, once there, they're comfortable enough, if a little flat.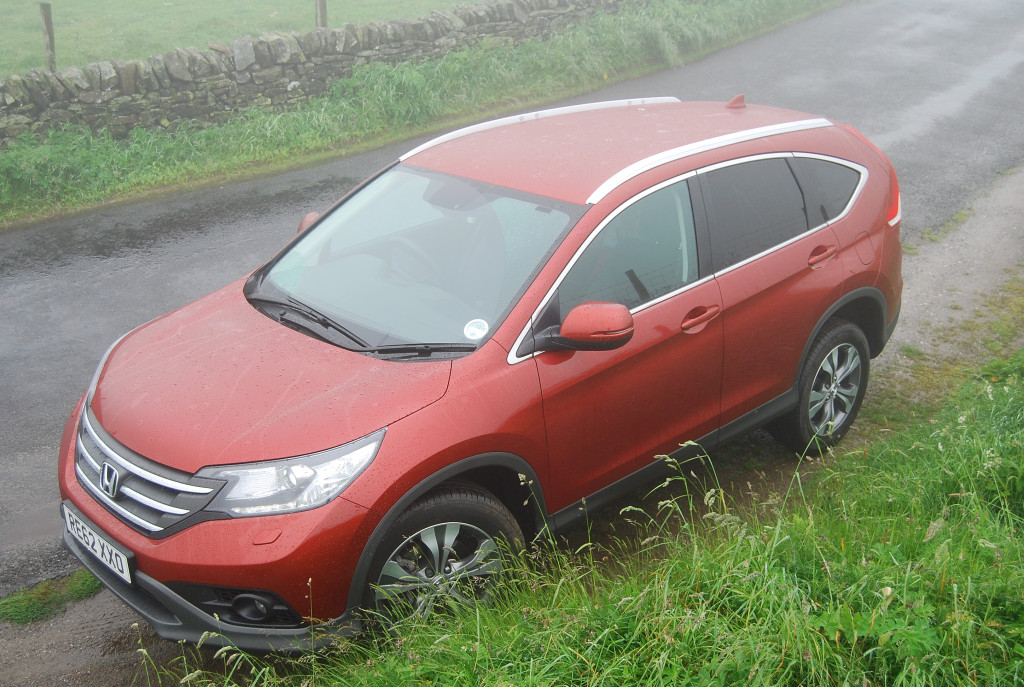 Where the CR-V's interior really shines, though, is towards the rear. Whilst ferrying some friends to the airport, the 589 litre boot happily swallowed all of their luggage due to it's rather helpful, unobtrusive shape, whilst the rear seats have enough head and leg room to keep even the tallest passengers happy. I showed the CR-V to the owner of a Nissan X-Trail and the owner of a Volvo XC60 and they agreed in unison that they could only dream of such a roomy living space – high praise indeed.
If the upcoming 1.6 litre engine aspires to knock its big brother off it's perch, one thing it's got to be is quiet. Honda's Diesel engines of the past had a reputation for a lack of refinement and subtlety – not this one. Even when cold, this 150ps unit melts into the background admirably on the exterior and is almost inaudible inside the cabin. On the go, the story's very similar and a smattering of Diesel rattle is only detectable if you push really hard.
On the road, the CR-V is so compliant and easy to drive that you get a general impression that it's trying to be helpful. The manual gearbox in our test car probably isn't the sportiest 'box you'll ever use but it's feather light and slips between ratios effortlessly. I sampled a CR-V with an auto 'box on it's launch and, unless it's absolutely essential, I'd opt for a third pedal and changing gear oneself every time.
Having 350Nm torque on tap is always going to prove helpful and it really shows in everyday life, noticeably minimising the requirement to slip down a gear. The usability of this engine proved itself undeniably whilst cruising along the motorway in sixth gear, the traffic temporarily slowed down to 40mph and when things started moving again, the CR-V pulled all the way back up to 70mph without so much as a stutter. Very reassuring.
Off the motorway and onto the twisty stuff, the CR-V belies its height and weight well. The chassis may not be quite up to the awesome standards set by Ford's Kuga but the difference isn't startling. If pushed, the CR-V is fairly planted with little body roll – no mean feat when the nature of a SUV is to achieve ground clearance and comfort. Our SR spec CR-V came equipped with some eye-catching 18" alloys but the pay-off for these wheels is when the surface becomes less than perfect and the ride can become a little skittish. I can't emphasise enough that if you cherish comfort over looks, insist on your CR-V being equipped with 17" rims – it may only be an inch but it is noticeable!
So, after a whole week together, did the initial spark survive? Did Driving Torque and CR-V get on? Absolutely! This car does many things well and does very little wrong, especially for those with an active lifestyle and even more active offspring. This SR spec car with its more luxurious touched, could prove a little expensive at £28k though, and unless you're in a huge rush, it may be worth waiting for this great all-rounder to be equipped with Honda's new 1.6l Diesel.
By Ben Harrington
Specifications;

Honda CR-V 2.2l i-DTEC SR, Transmission – manual, Layout – Front engine, 4wd, Power – 150ps @ 4000rpm,

Torque –

350Nm @ 2000rpm,

Emissions –

149g/km CO2, Economy – 50.4 mpg combined,

Maximum Speed –

118mph, Acceleration – 9.7s 0-62mph,

Price –

£28,540 OTR
Related articles