All-New Ford Focus
Believe it or not, the Ford Focus has been on our streets and driveways for 20 years now. 16 million customers later, this is the fourth generation Focus, and we recently attended the launch event of what's an undeniably important 'global' car for Ford.
First impressions; it's sleeker, easier on the eye than the outgoing model. Easier on the eye, in fact than much of the competition. It's grown by 18mm yet the wheelbase has seen a 53mm increase. Not only does this improve space inside for passengers – an area Ford are keen to highlight – but it pushes all four wheels nearer the corners, making for better road-holding characteristics.
New Ford Focus Active
Sporty ST-Line, upmarket Vignale and even an SUV-lite Active version are available from launch, all of which come in either 5-door hatch or estate flavour – Ford prefer the term 'wagon', though. The wagon's been made with dog-owners in mind; a dog cage fits neatly in the boot and the removable tonneau cover can be stowed under the boot floor.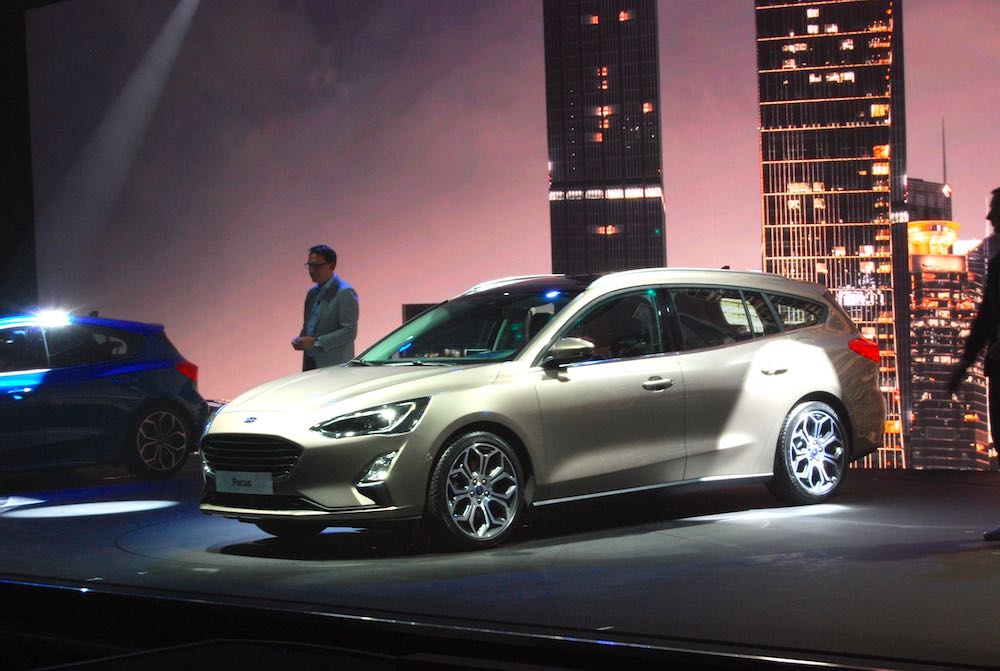 Room inside the new Focus is increased in every direction. Rear seat passengers will benefit most from this as there's plenty of knee and headroom, even with the optional panoramic sunroof that usually impinges on space. Despite the glass-housing appearing to have been squashed somewhat, it actually feels lighter and airier inside the new Focus. This is thanks to a lower beltline and a narrower C-pillar so there's a better view of outside.
The dashboard has seen a reversion from a cockpit-style focus on the driver to a more flat affair which apparently frees up even more room. There's even padding on the transmission tunnel; I'm guessing your average Focus driver's sick of having sore knees.
Very Clever
Not only is it roomier, the new Focus is smarter, too. Ford are calling it the cleverest car they've made thanks to their first, ultra-bright HUD, headlights that adjust to the road via a camera that reads road signs, and their all-new FordPass Connect system. This is essentially an in-built modem, allowing up to ten devices to connect to a wifi hotspot up to 15m away. What's perhaps more impressive is that it allows you to contact the emergency services without the need for a phone. Not only this, it features an app that can lock/unlock the car, start the engine and even give updates on 150 'health' issues, such as a blown brake-light bulb.
Engine choices
From launch there are two petrol engines; a 1.0l in 84bhp, 99bhp & 124bhp guises & a 1.5l with either 149bhp or 180bhp, both if which are 3-cylinder 'Ecoboost' engines. 1.5l & 2.0l diesel engines complete the range, all of which see a 10% improvement in efficiency. Transmission is either via a 6-speed manual 'box or, with certain engines, Ford's new 8-speed automatic is an option. All new Focus' get three selectable driving modes; normal, eco & sport – a first for the model.
Despite being larger, the new Focus is actually 88kg lighter than the outgoing model, plus it sees an increase in torsional rigidity. How this translates to the driving experience remains to be seen, but Ford have fitted all Focuses with some clever rear suspension so I'd say they're keen to maintain its reputation for the driver's car of choice.
By Ben Harrington
For full details of the All-New Ford Focus, click here; www.ford.co.uk