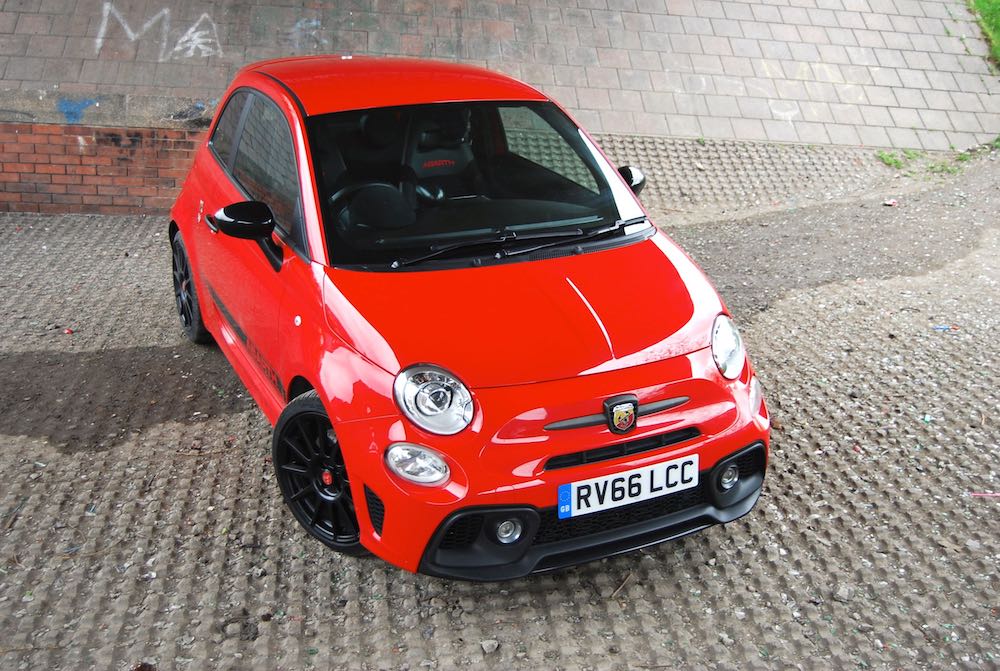 The original Abarth 595 from the swingin' 60s took the workaday Fiat 500, upgraded the engine from 479cc to a whopping 595cc and added some trick carbs and exhaust. It weighed less than 600 kg so you can imagine how well it performed.
Abarth 595 Competizione
That's right – absolutely dreadfully. 0-60mph took nearly 30 seconds, and that's because there's only so much power to be gleaned from a 1950s design, two-cylinder, air-cooled engine. In this case – 27bhp.
Fast forward half a century or so and the Abarth name is now part of the gigantic FCA group, and that oh-so-cool scorpion badge is finding itself on pretty-much every Fiat with a speedy bent. In this case; the Abarth 595 Competizione.
The Fiat 500 may be the epitome of butter-wouldn't-melt cuteness as it pootles inoffensively around pretty-much every town and city on Earth, but the Abarth's a bit more grown-up. Look at it like the moody, rebellious teenager, cigarette drooping from its lip to the 500's primary school kid if you like.
Many, many Abarth logos
There's skirts and there's skirts. The Abarth 595's body modifications leave it appearing to be literally sucking the ground like a hovercraft. They're evidently very keen to reinforce that this is an Abarth, as there are badges and motifs splashed liberally around. The lower front grille's latticework spells out Abarth (easier to see when it's highlighted in white), there's scorpions on the side, there's even a polished Abarth fuel filler cap and a 595 badge on the roof. In fact, the only 500 references you'll find are on the dashboard and the infotainment system.
Look closely at the Abarth 595 and you'll see that the various grilles, scoops and spoilers aren't just there for show. Peek inside the grille just ahead of the offside front wheel, for example, and you'll find the intercooler for the turbo; it's not F1 technology but this car isn't mucking about.
How powerful is the Abarth 595 Competizione?
Cars just don't weigh 600 kg anymore, not ones you'd walk away from a serious collision in, anyway, and the Abarth 595 tips the scales at 1045 kg. Thankfully, cars don't come with under 30bhp anymore, either. In this case, the 1.4 l, T-Jet engine has been tuned to a state of 180bhp, meaning 0-62mph comes up in 6.9 seconds and it doesn't stop accelerating until it tops out at 140mph.
This power is fed to the wheels via a 5-speed manual 'box. For an extra couple of grand or so, there's an alternative 5-speed 'box that'll change gear for you. Don't do it. The 'proper' manual is an absolute treat. It's notchy and every gear is where you'd expect it to be; it just adds so much to the drive. Trust me – if manual 'boxes are eventually a thing of the past, it's ones like this that we'll miss. Do yourself a favour – save the £2K and change gear yourself.
The Abarth 595's ride is firm, there's no getting away from it, but with a name like Competizione, what would you expect? It's not bone-breaking, though, even in the optional, £1,200, carbon-fibre backed Sabelt sports seats, which are without doubt the closest things to racing seats I've ever sat in.
Koni shocks and TTC
Handling is pin-point accurate, thanks in no small part to Koni front shocks that come as standard, although it does have a tendency to push wide if you take too much speed into a bend. The Abarth 595 has a TTC system (Torque Transfer Control) which basically acts like an LSD. It detects which front wheel may be slipping and instantly sends power to it. You don't notice it working until you turn it off – the difference to handling is dramatic.
There's the most satisfying feedback through the Alacantara steering wheel that you'll be hard pushed to believe it's not unassisted. The trade-off for such a fabulous steering setup at speed is a turning circle that the QE2 would embarrass; three point turns are tricky.
The most bizarre sound 
So, the Abarth 595 Competizione looks the part, goes well enough and the handling is communicative and fun. What you might not expect from a 1.4, 4-cylinder is the sound it creates. The standard 'Record Monza' exhaust system wakes with a bark  and then goes through what can only be described as a rock guitarist's entire pre-gig tuneup, thoroughly testing every effect on his pedal. It sounds like nothing else and is instantly recognisable as an Abarth – great fun and adds no end of character.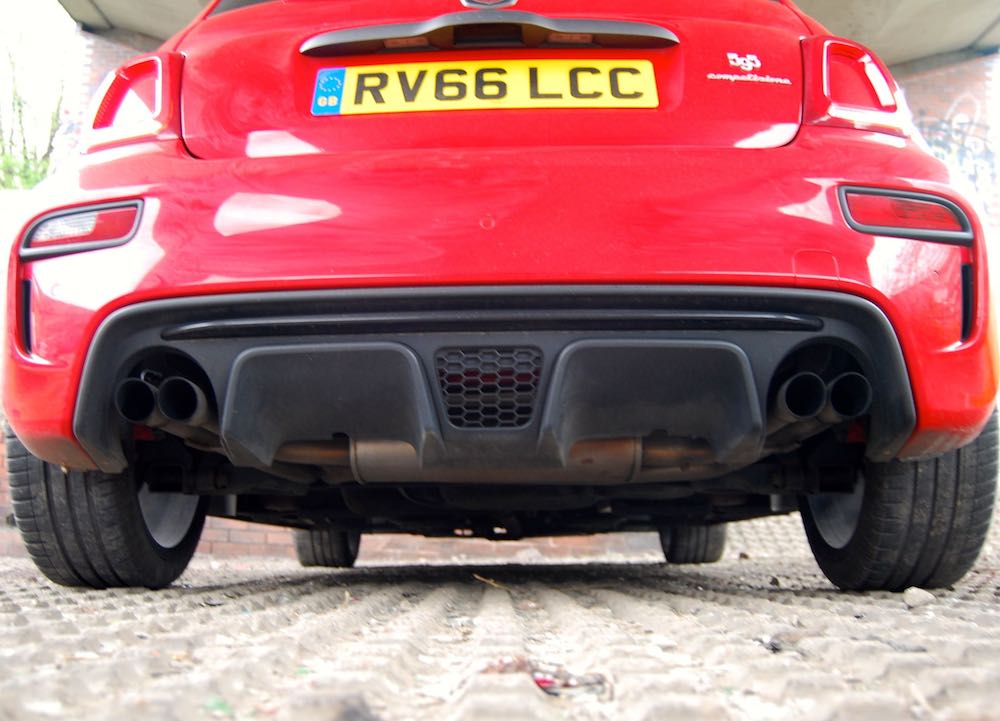 Should I buy an Abarth 595 Competizione?
The Abarth 595 Competizione isn't the most modern hot-hatch on the market – it's 'only' got a 5-speed 'box and doesn't even have stop-start tech. Stop the turbo from spinning, though, and it's economical enough, we found its claimed 47.1mpg combined pretty accurate. What it undeniably is, though, is a whole lot of fun for just over £20K, just don't expect to go anywhere unnoticed.
By Ben Harrington
Abarth 595 Competizione Specifications:
Engine –

 1.4l 4-cyl petrol,

Layout –

Front engine, FWD,

Transmission –

 5-speed manual,

Power –

 180bhp, 

Acceleration –

0-60mph – 6.9s,

Maximum Speed –

140mph, Maximum Torque – 230Nm,

Economy –

 47.1 mpg combined, Emissions –

139

g/km CO2,

Price –

£20,715 OTR

The Abarth 595 is available now. For full details go to; www.abarthcars.co.uk