Way back in 2011, Toyota created much hype at the New York Motorshow by displaying their all new model, the Scion FR-S. The strategy was simple, it was to be a rear-driven, 2+2 sports car whose sole mission was to bring fun, affordable driving back to the masses. Being a joint venture with Subaru, it was to be powered by a flat four, boxer engine to provide a low centre of gravity, similar to the one found in that proven provider of smiles – the Impreza. Unlike Subaru's old favourite, however, the FR-S was to be sold sans turbo.
Toyota GT86 Automatic
The final result is the Toyota GT86 and Driving Torque recently spent some time in the company of one equipped with an automatic gearbox. Could it live up to its own hype? Is it really THAT good? Here's what we thought.
First Impression
They say that you never get a second chance to make a first impression, in the case of the GT86, this doesn't provide too much of an issue. Whichever angle you look at it from, it's visually startling. Some may say it's not an especially pretty car but it's virtually impossible to ignore. I took great pleasure in gauging reactions from all walks of society and 99% of them were dropped jaws. From the gangs of teenagers, unashamedly pointing and whooping, to the knowing nod of appreciation from a helmet-clad biker, people enjoy seeing this car – I'll take that as a huge tick in the 'plus' box.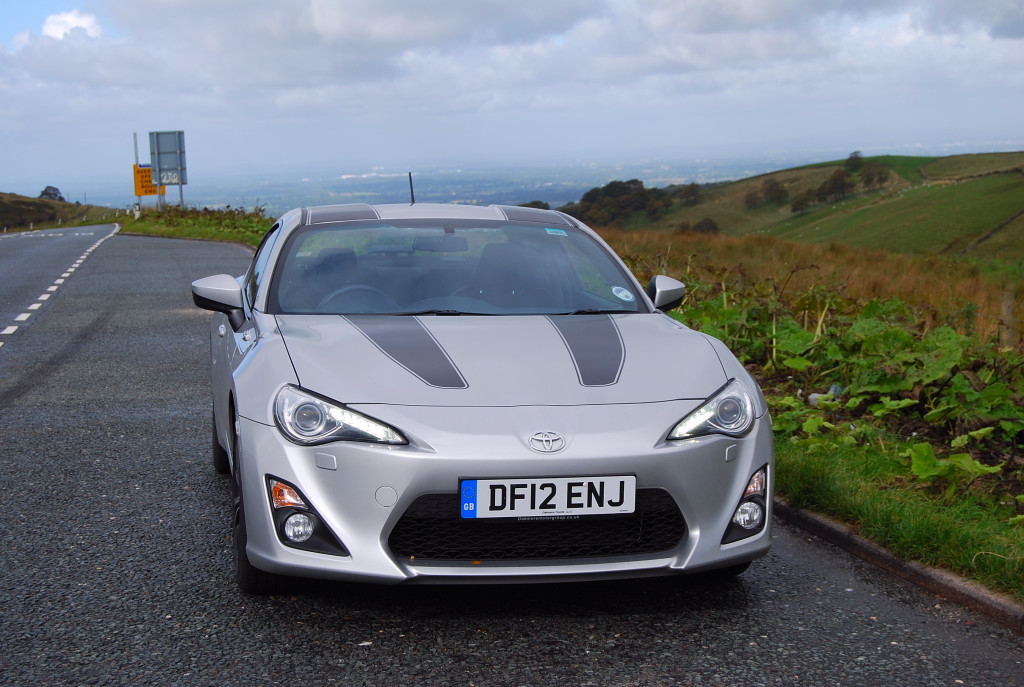 It's a rarity in automotive terms for a car to make it through the many filters it encounters from concept to production without being watered down to the point of almost anonymity but I think the GT86 has got through pretty much unscathed. It's laden with interesting little angles and features. From its jutting, angular jaw-line, equipped with aggressive, demonic teeth, to the bulges on the roof, cleverly highlighted by our test car's optional stripes, to a boot spoiler which would be relatively subtle, were it not for the two skyward facing end sections, giving the impression of a forked-tail. Toyota have obviously shown resolute determination in their quest to produce an original piece of design and allow it to see the light of day. All credit to them for this.
Inside the GT86
The focus on design stretches into the GT86's cabin with some neat little touches such as the blood-red stitching adding to the impression of fun and mischievousness. The soft-touch plastics and general ergonomics of the cabin are a step up on most offerings from previous Toyotas although if one were to be completely unaware of the car's origins, there is one little feature that spills the beans – the clock. Yet again, all that hard work that's been put into making the GT86's cabin a pleasurable environment with some clever visual treats is undone by that ubiquitous digital clock found in Asian cars. Surely it wouldn't add too much to the car's R+D budget to come up with a decent alternative, would it?
The occupants of the front seats in a GT86 are fairly well catered for with ample leg and head room and all controls are thoughtfully positioned and in easy reach. If it's rear passenger or boot space you're after though, the GT86 may represent too much of a compromise. This is a true 2+2, in every sense. Our test car had Isofix child seat anchors in the rear which are very helpful but anything larger than a child's first car seat would struggle to be accommodated. Any adult under 6ft CAN squeeze in but, with the transmission tunnel adding to the issue, they would welcome their freedom after a short journey. After a small argument involving the boot and a standard Maclaren buggy, we proved that transport for any children onboard will just about fit in. Anything bulkier than a lightweight buggy may prove a bridge too far though.
Although quite low down as you'd imagine, visibility is generally very good. The humps atop the wheel arches provide a point of reference which is very reassuring with the GT86's relatively long bonnet. The large C pillars do result in some slight guesswork when reverse-parking although Toyota have very kindly provided some slightly oversized door mirrors to try to alleviate any visibility issues.
Our test car sported the 6 speed automatic gearbox, complete with paddle shifts and various driving modes to suit differing moods and conditions. Slip the 'box into drive and it's more than happy to effortlessly waft around with the minimum of driver input and hassle, seamlessly changing into the appropriate gear. There are sport and snow options available which will either allow the engine to rev all the way into the sweet 6-7k rev range before changing up or, in snow mode, will start off in second gear to avoid wheel spin.
For real driver involvement however, the gear lever should be slid across into manual mode, thus activating the steering wheel mounted paddle shifts. I've never been the world's biggest fan of paddle shifts, always preferring the smooth, predictable feeling of a 'proper' gear-stick. This GT86 felt different though. No matter whereabouts in the rev range I was or however hard I was accelerating, this 'box changed between ratios seamlessly and smoothly, not once feeling jerky or forced. The 'Nanny State' attitude that some sequential gearboxes can adopt, changing up or down against your will, wasn't overly present in the GT86 either. There were literally a couple of occasions when the 'box decided I was wrong and overruled me and, in hindsight, it was probably a good job.
Just next to the centrally positioned rev-counter is a little LED, displaying the selected gear. This also incorporates two arrows, one pointing up, one down. They are essentially change-up or down lights and show which direction is available at that specific moment. These two little arrows may not sound like much but they prove to be a very welcome feature that can become addictive.
Ride and Handling
One attraction which the GT86 proudly boasts are it's rear-driven wheels. It would have been far cheaper and easier for Toyota to opt for safe, predictable front wheel drive but this is where the car really shines. With all the standard safety modes selected, the deliberately skinny rubber will allow for a certain amount of slide and oversteer when pushed but it quickly reels the rear end back in before exuberance outweighs talent. Select 'sport' handling and the fun really starts; a warning light appears, informing the driver that the traction control is off but this isn't entirely true. It simply allows more of a degree of sideways action before calling a halt to proceedings, inspiring levels of driver confidence that, although possibly a touch artificial, are hugely satisfying anyway. There is an option to turn all driver aids off completely but, given the fun-factor already available, I wouldn't recommend doing this unless your self-confidence isn't even slightly over-inflated or you're driving on a track.
To achieve the direct, precise handling of the GT86, the suspension is obviously set up in quite a focused manner to minimise body roll and drifting. The ride is one aspect of the car that is non-adjustable, whether this is the right decision is obviously down to each individual's point of view. Personally, I found the car just about forgiving enough, even on cobbled roads and over potholes. To add adjustable suspension to the GT86 would have taken the price up and would possibly have diluted it's modus operandi. If it's a softer ride you're after, this car may just not be for you. I, for one, am all for this determined attitude.
Quiet Exhaust Note
Protruding from the F1 style, Venturi effect rear splitter are two purposeful looking exhausts. As is usually the way with Japanese cars however, there seems to have been a certain reluctance to allow the decibels produced  match their visual impact. Quite contrarily, the engine noise has more of an impact from the cabin than the rear as this is one of the new breed of cars to pipe a growly tune directly into its occupants. The lack of exhaust note  represents little concern though as it's surely the easiest of easy fixes. Toyota's own in-house tuning wing, TRD are already offering upgrades for the GT86 which will possibly make it even more appealing for the UK market.
In Conclusion
In conclusion, the GT86 represents the sportiest, most adventurous model from Toyota for a long time and long may it continue. More than this though, I feel that the GT86 is a perfect reflection of the global attitude as a whole; yes, we're in recession, no, we haven't got the expendable income we once had but that doesn't mean that we're content with misery and gloom all the time. We still want to have fun and thrills, they've just got to be cheap thrills.
By Ben Harrington
Specifications; Toyota GT86, Price –  from £24,995, Engine –  2.0l Boxer 4cyl, Layout – Front engine,  RWD, Power –  200bhp, Acceleration – 0-60mph 7.7s, Maximum Speed –  140 mph, Economy – 44mpg combined.
Huge thanks to Oakmere Toyota, Northwich, Cheshire.
Related articles