There seems to be an overwhelming requirement to pigeonhole everything these days, and cars aren't exempt. Every brand has an underlying reputation of one type or another – some of a positive nature, others – slightly less so.
Where do Suzuki stand?
But just where are Suzuki placed in the big, wide world of things; what direction would the stereotypical pub conversation turn towards if the subject was this slightly quirky Japanese marque? For years, my pub-bore fact about Suzuki has been that the Swift Gti of the '90s was the quickest 1.3 on the market at the time, but anyone who has the slightest interest in off-roading will hold the extremely capable SJ410 and SJ413 models in very high regard as they were more than qualified to keep up with the likes of Land Rover and Jeep, despite their diminutive proportions. All of this brings us neatly round to what we have on test here; the difficult-to-put-in-a-niche SX4 S-Cross.
What exactly is an SX4 S-Cross, then?
It's not an SUV in the truest sense of the word, it's not even a small SUV like an EcoSport or similar, as the silhouette is more estate car than anything else. Estate car doesn't quite cut the mustard either though – it's more than that, thanks to an increased ride-height, some go-anywhere bits of chunky trim, and, in the case of our test car, the fact that all four wheels can aid propulsion (you'll have to spec your SX4 S-Cross with ALLGRIP, though).
So, the SX4 S-Cross could be described as a slightly scaled-down Subaru Forester, and the obvious competitor in that particular little pigeonhole is the Peugeot 2008 – a car that we found to punch above its weight in most departments.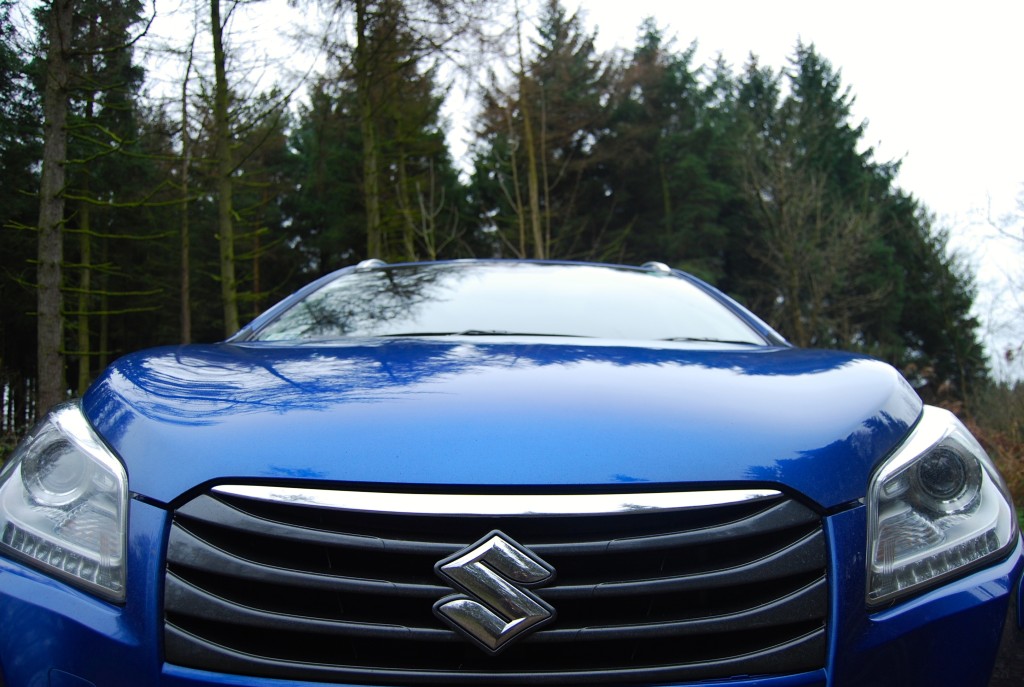 You'd be hard-pressed to find someone who'd describe the SX4 as beautiful, however much they like the car. The nose starts fairly close to the ground and then rises up over a slightly bulbous bonnet, with some cartoon-ish, oversized headlights dominating the rest of the front.
Practical enough inside – just think twice about that sunroof
Like the 2008, glazing is kept fairly sleek and minimalist with all five doors consisting of more metal, steering safely away from the 'Popemobile' look that does nothing to add appeal to any car. Thankfully, Suzuki have been sensible enough to raise the rear seating proportionately; there's nothing worse than children getting bored or feeling sick because they can't see out of the rear windows. If it's fully sized humans that are going to be sat in the back seats, however, I'd make sure you stay well clear of the panoramic sun-roof. Pretty as it is, it eats into headroom too much and takes away from the SX4's practical appeal.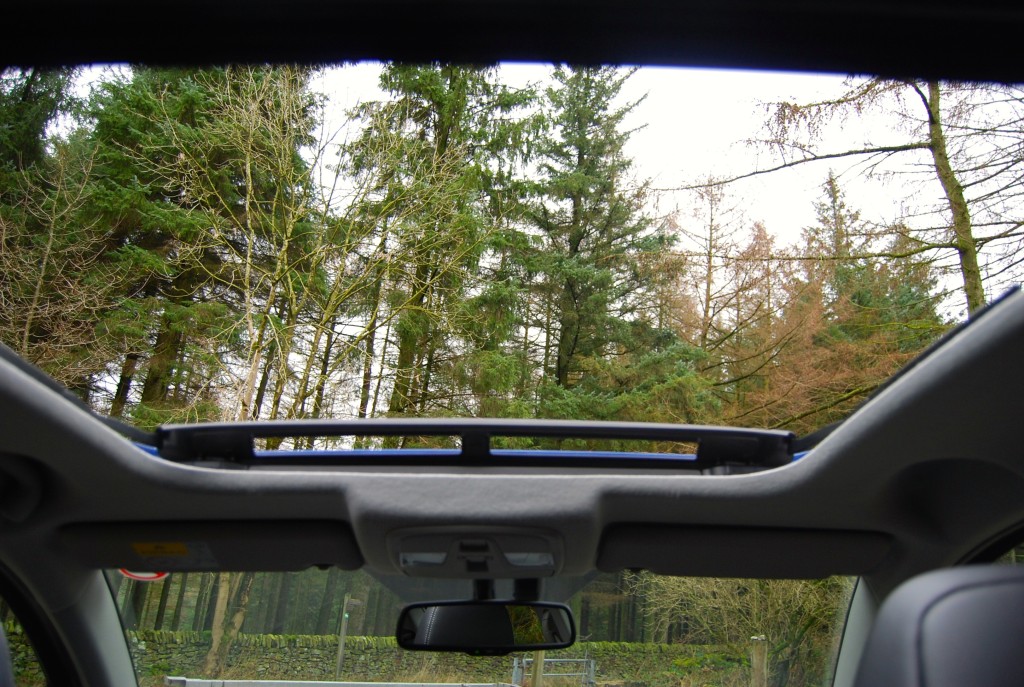 When it comes down to loadspace and headroom, pretty curves are the enemy and right angles are what's required. The SX4 pulls off the clever trick of being conducive enough to fitting large objects in, without taking on the appearance of a Transit van. This basic shape, combined with a very useful dual-level boot floor and an 875 litre max capacity adds up to an eminently practical car that'll fit in more than you'd probably warrant.
Inside the SX4, it's a slightly less eye-catching affair than the exterior. There's nothing wrong with what's staring back at you from the dashboard per se and the materials used are of a high enough quality to not let the rest of the car down, there's just a glaring lack of imagination and the whole thing's a bit dull and uninspiring. That said, the standard Garmin infotainment system works a treat and does everything well, and the bright blue rings around the dials are a nice touch.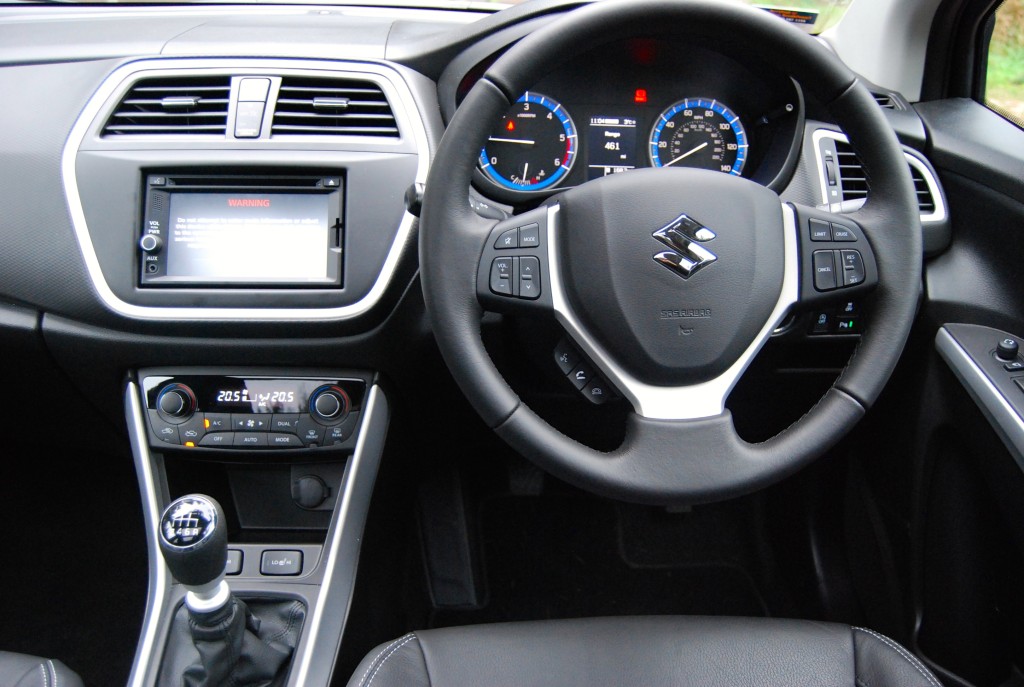 I doubt you'd have a problem getting comfortable whilst driving the SX4, whatever size or shape you come in; the seats are supportive and forgiving, and if you opt for a model with heated seats, you'll be treated to the first 'low' heat setting I've found that genuinely means 'low' and won't leave you wondering if your pants are about to combust.
Far more fun than you might expect
On the move is undoubtedly where the Suzuki S-Cross excels, and where Suzuki's engineering prowess becomes apparent. The 1.6l Diesel unit in our test car may take an age to warm up (heated seats come into their own again here), but when it has, it's responsive enough to the point of being really good fun – not something you'd automatically expect from this type of power plant. Throttle response from this Fiat-sourced engine is impressive and, although it may not be the most refined unit in the world, the handling is direct and honest. When combined, they have enough character to make the SX4 engaging and a bit of a hoot.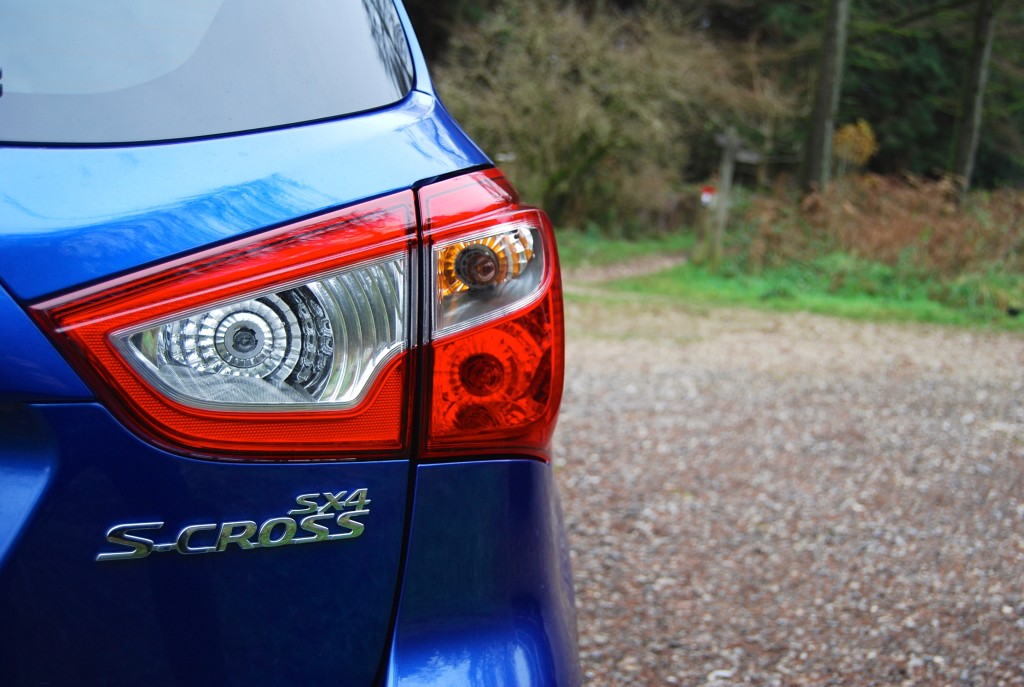 This range-topping SZ5 model is absolutely packed to the rafters with standard kit including leather and auto lights and wipers, yet its £23,549 price tag may take some by surprise. I think this comes back to just where Suzuki stand in the market as, although they don't have a reputation for building rubbish, £24K list prices aren't necessarily what you'd associate with the brand either.
The strange thing is, this still undercuts much of the competition, but Suzuki's official figures state that the most popular spec is the SZ-T, which is priced at the £18 – £19.5K mark. It just doesn't quite have the kerb appeal of the likes of the Qashqai or the Yeti, but when you're paying under £20K for your S-Cross, I suppose it doesn't need to. You still get one hell of a car at the mid-range level, especially if you can live without the ALLGRIP 4WD system; the snow mode may be reassuring for a week in January and it seems to work beautifully whilst being completely unobtrusive, but I think the majority of buyers would survive just fine without it.
Is it for me?
Overall, Suzuki's SX4 continues the brand's tradition of producing understated, quality items and you'd not find many faults with it at all. The 1.6 Diesel is a great engine and undoubtedly the one to go for, I'd just exercise a degree of caution with how much you spend on what should be a bit of a bargain.
By Ben Harrington
Specifications;

 Suzuki SX4 S-Cross, 1.6l DDiS, ALLGRIP SZ5,

Transmission –

6 spd manual,

Layout –

Front engine, FWD,

Power –

 120PS,

Torque –

320Nm,

Emissions –

 114g/km CO2,

Economy –

 64.4 mpg combined,

Maximum Speed –

108mph limited,

Acceleration –

 13.0s 0-62mph,

Price –

£23,549 OTR, £23,979 as tested
For full details, go to: http://www.suzuki.co.uk/cars/cars/new/sx4-s-cross/sx4-s-cross