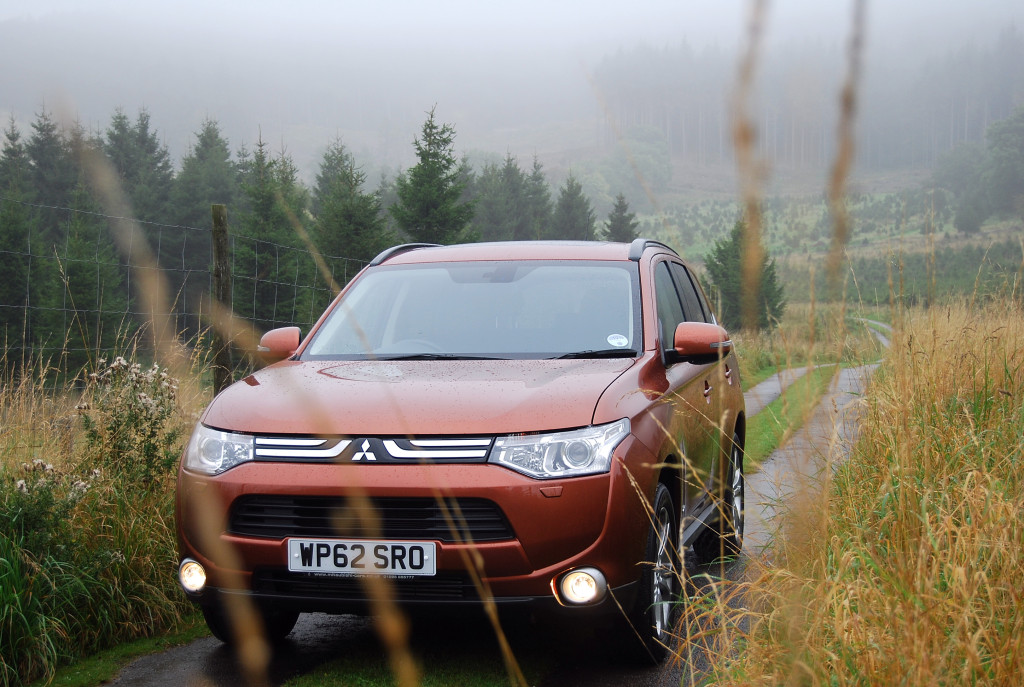 It may be perceived as a little contrary to begin a car review with its conclusion but I feel its important to get one thing straight from the off, no flim-flam, no messing about; This Mitsubishi Outlander is a VERY GOOD CAR. Obviously that's not my review done and dusted and I'm going to give you a myriad of reasons to support my sweeping statement, but there's something about the Outlander that compelled me to want to pass this nugget of information to all and sundry.
Mitsubishi Outlander GX5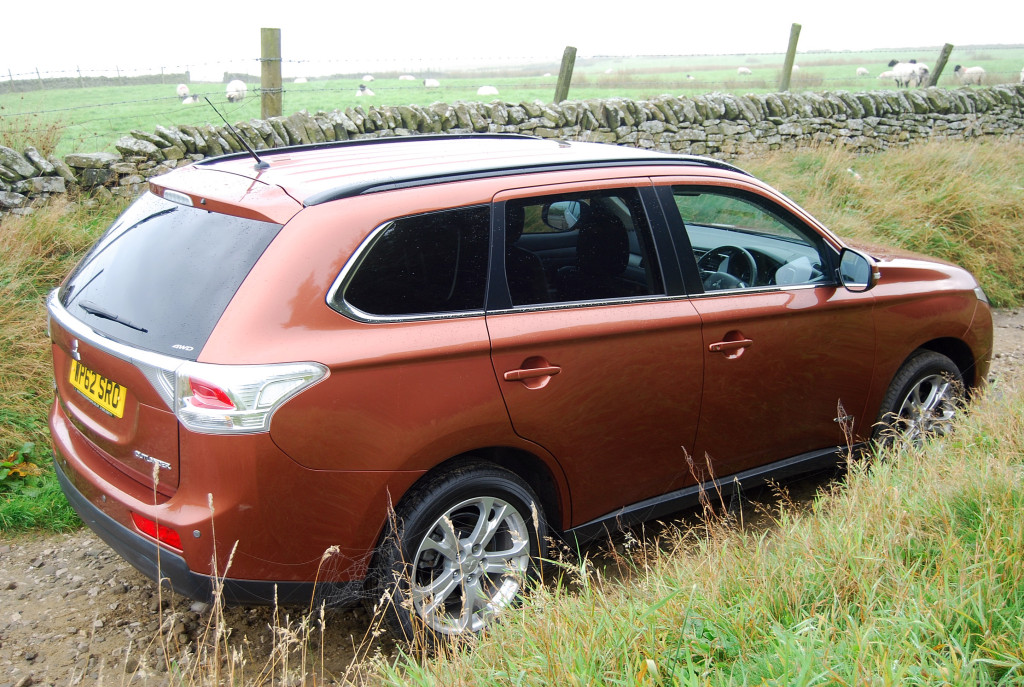 It's possibly a defence mechanism as, if not all, then definitely sundry seemed determined to pour scorn on this mid-sized 4×4, with their derogatory comments mainly directed towards the Outlander's general appearance: talk about judging a book by its cover. Unfortunately though, everyone can't be wrong and even I'm forced to admit that it's not the prettiest car in the world. There are some pleasant features and even some, namely the front and rear headlights that are strangely reminiscent of the latest Range Rover – no bad thing I'm sure you'll agree. Conversely, there are reflections of the original BMW X1 – a car rarely noted for its aesthetic qualities. I'm fairly sure it's the Outlander's apparently small wheelbase and large front and rear overhangs that are the crux of the issue but without that seemingly voluminous rear-end, it just wouldn't be the same car – I'll explain why later.
Inside the cabin is a breath of fresh air due to it's easy layout and use of modern, top quality materials. Some of Mitsubishi's interiors could be described as anything other than contemporary but a lot of effort has obviously gone into the Outlander to ensure it's a credible competitor in its class. Piano black seems to be the colour of choice this year when picking out cabin plastics and our Outlander was no stranger to this fashionable look. All of this hard work would be for nothing if, say, the switchgear etc. wasn't positioned correctly as little niggles can rapidly turn into big deals when they're tackled every day but I found everything to be user-friendly and tactile.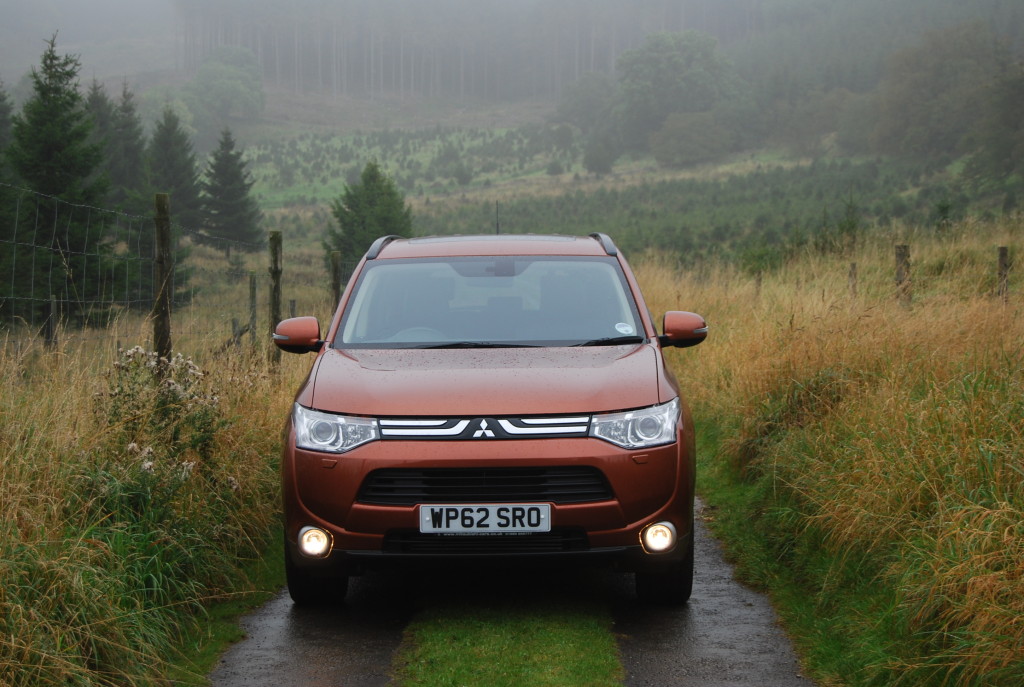 The Mitsubishi Outlander is only available with a 2.2l oil-burner (unless you opt for PHEV). This could be looked upon as a somewhat brave decision as if a potential buyer takes a dislike to it, that's the end of the story and they'll simply move onto a different manufacturer. Thankfully, there's very little to dislike about it: it's smooth and refined although things can get a little clattery around the 2k revs mark. There is some noticeable lag but this is only when setting off from standstill – on the go, it's quick to respond and surprisingly eager to power through the rev range. Perhaps more importantly, it's easy on the wallet too; the engine is capable of CO2 emissions of 138g/km and over 50mpg. This did suffer in our range-topping GX5 automatic though, with figures of 153g/km and 48mpg, due in part to the absence of stop/start technology on auto Outlanders.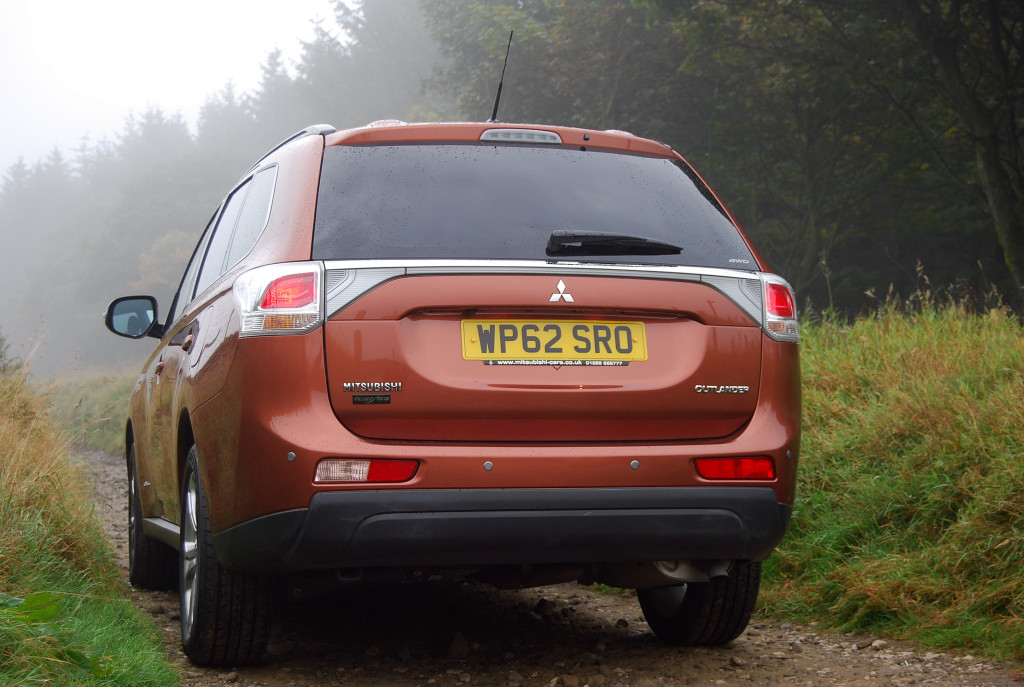 Mitsubishi have managed to shave 100kg from the kerb-weight of the outgoing model – no mean feat when modern safety regulations generally mean slimming down is nigh-on impossible. They're also very proud of the Outlander's multilink suspension set-up, with good reason in my opinion; You see, it's the way the Outlander drives that really sets it apart from the crowd.
There are three modes for the 4WD system; Eco, which powers the front wheels and only engages the rear ones if necessary; Auto, which Mitsubishi refer to as the 'normal mode', with 4WD permanently engaged, offering optimum grip at each corner, all the time; Lock, for when the going gets tough and the system requires locked differentials to get you back on the straight and narrow. I alternated between 'Eco' and 'Auto' and, to be honest, the difference from the driver's seat is barely detectable. Whichever mode the Outlander in, it performs the great trick of abandoning it's SUV limitations and does a plausible impression of a regular car. In fact, not a regular car but a capable car with a sorted chassis that inspires confidence and, would you believe, fun?
This inspiring performance on the road is really what sets the Outlander apart from the competition. Mitsubishi appear to have used some of the guile that made the Lancer such fun, and translated it into this relatively tall 4×4, the result being the best of both worlds – useable space and useable driveability. The fact that Mitsubishi have opted to supply the Outlander shod with Toyo rubber – a brand renowned for its sticky characteristics, is, for me, a true indication of just which direction they wanted the Outlander to go in when it came down to on-road performance.
So, we've established that it's driving experience is class-leading and, being a Mitsubishi, it'll be sturdy and reliable to the point of obsession, but what else makes the Outlander worthy of my initial high praise?
To answer this, we need to go back to my previous point about it's relatively large overhangs and just why they're necessary: The Outlander has seven seats – nothing to write home about in this sector you may think, but there's having a third row of seats, and having a third row of seats. Occupants six and seven are treated as unwanted guests in some vehicles – tolerated but not really welcome.
Not so, in the Outlander. Mitsubishi have gone to great lengths to ensure they're comfortable and relaxed; they've extending the leg-room available to them; they've eliminated the clambering in aspect sometimes associated with the rearmost seats by providing a second row that slides and tilts forwards properly; they've also provided two sprung, inviting seats – complete with headrests, not just a big bench that appears to have been lifted from your local park. The cherry on top of this increasingly tempting cake is that the Outlander has been engineered to offer some room for your luggage, even when crammed to bursting point with people. It's not a lot of room, granted, but compared to some of the competition, it's better than nothing.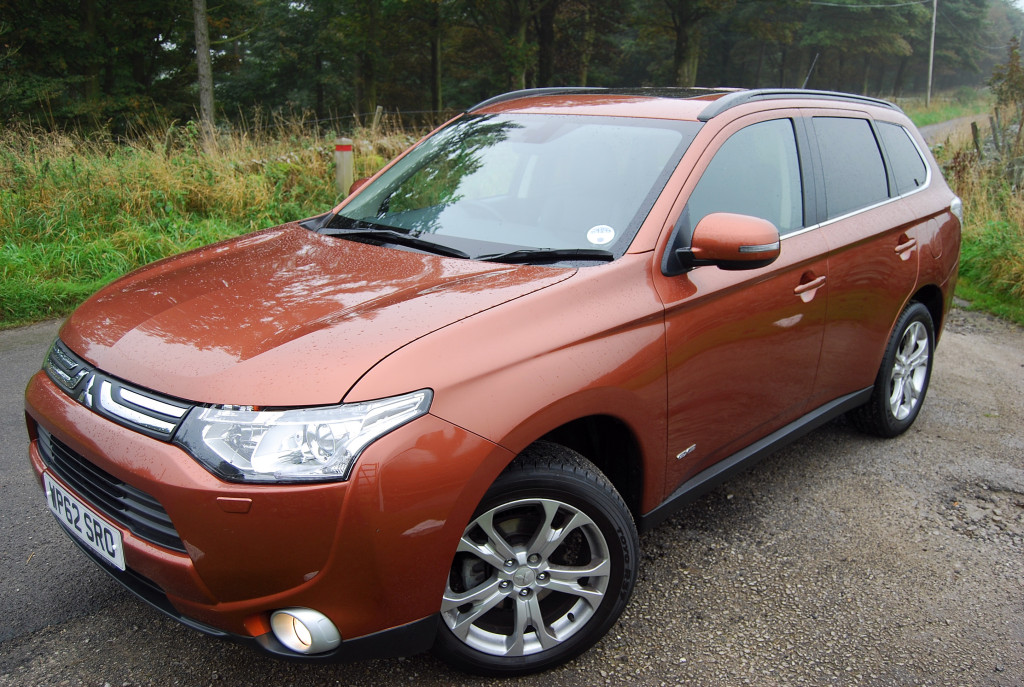 So, the Mitsubishi Outlander drives well, is thoughtfully made and offers hitherto unseen levels of useable space for cargo and livestock. There are some drawbacks, obviously, not least of which being the lane departure warning system (LDW) which has a minor panic attack if you dare to stray over the white lines. This is very useful on a long motorway journey and could possibly save lives but on a B-road, it just gets annoying. Salvation comes slightly in turning it off but, unfortunately, it's default setting is on and it reactivates every time the start button is pressed. Minor irritations aside though, I can't stress enough that the Mitsubishi Outlander is a VERY GOOD CAR.
By Ben Harrington
Specifications; Mitsubishi Outlander GX5 2.2l Automatic, Transmission – 6 spd automatic, Layout – Front engine, 4WD, Power – 150ps, Torque – 360Nm @ 1500 – 2750RPM,

Emissions – 

153g/km CO2, 

Economy – 

48.7 mpg combined,

Maximum Speed – 

118MPH, Acceleration – 11.7s 0-62mph,

Price – 

£33,999 OTR.
Related articles